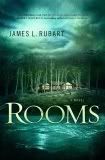 A young Seattle software tycoon inherits a home on the Oregon coast that turns out to be a physical manifestation of his soul.
Before we meet today's novelist, I'd like to announce that the winner of the drawing for Eleanor Gustafson's novel,
The Stones
,
is:
tiff@ . . .
Congratulations! I'll contact you today for your snail mail address, and we'll get your book to you right away. I encourage readers to
keep commenting and/or subscribe at right in order to participate in future book give-aways!
And now let's meet novelist
James L. Rubart
, author of
Rooms
(B&H Fiction, April 2010).
Tell us about yourself, Jim.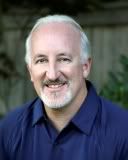 Water skier, guitar player, dirt biker, cliff jumper, husband to my amazing wife for almost 24 years, dad to two awesome sons, 17 and 14, ad agency/marketing company owner by day, novelist by night. I graduated from the University of Washington in '85 with a degree in broadcast journalism. The plan was to be a TV reporter, but I ended up doing an internship at a radio station and three months after the internship ended they hired me. So I did the radio on-air thing, then moved into selling radio ads. I did that till '94 when I opened my first ad agency. My wife, sons and I live just outside of Seattle.
Please tell us a bit more about the plot of Rooms.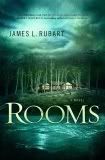 It was just a letter. Cryptic, yes. Absurd? Absolutely. But Seattle software tycoon Micah Taylor can't get it out of his mind--this claim that a home was built for him, by a great uncle he never knew, on the Oregon coast. In Cannon Beach. The one place he loves. The one place he never wants to see again.
Micah heads for Cannon Beach intending to sell the house and keep his past buried, but the nine thousand square feet home instantly feels like it's a part of him. Then he meets Sarah Sabin at the local ice cream shop. Maybe Cannon Beach can be a perfect weekend getaway.
But strange things happen in the house. Things Micah can't explain. Can barely believe. All the locals will say is the house is "spiritual." Unsettling, since Micah's faith slipped away like the tide years ago. And then he discovers the shocking truth: the home isn't just spiritual, it's a physical manifestation. Of his soul.
Will Micah run--or will he risk everything to see what waits for him deep within the house's
Rooms
?
Which character in your novel most interested you while you wrote?
Probably has to be Rick. He's wise, strong, challenging, and much more than he appears to be. I'd love to have a Rick in my life.
Why will readers enjoy your novel?
Because I took out every single boring part. I love this revue I got on Amazon from a reader: "I know it's cliché to say this, but I literally could not put this book down except to wipe tears from my eyes a few times."
And because it will challenge them to their core; entertain them wildly--both at the same time. It will help set them free and help them step into their God designed destiny.
Wow, those are some pretty enticing motivations!

If you were the casting director for the film version of your novel, who would play your lead roles?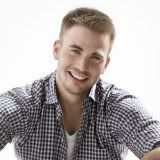 Micah -- Chris Evans (He played Johnny Storm/The human torch in The Fantastic Four).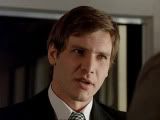 Rick -- Harrison Ford if you could take ten to fifteen years off his age.
Sarah -- my wife, Darci. No, she's not an actress, but heck, if I'm the casting director I get to choose, right?
Absolutely. But we'll leave Darci's picture out of this. We don't want her being hounded by the paparazzi.
How many points of view do you typically use in a novel? If you vary, what have you found you enjoyed the most?
I like to use three, four max. If I were to break it out with percentages it would look like this: Main protagonist -- 70% Main support character # 1 -- 15% Main supporting character # 2 -- 10% Character # 4 -- 5%. This gives me the chance to show my main character in a different light, without spending too much time in the supporting player's heads.
What facet of the writing craft comes easiest to you?
Editing/rewriting.
What do you struggle with?
Getting the plot right. Once the story is on paper I find it fairly easy to step back and see what's wrong. Not everything, that's why beta readers and a good editor are critical. But I can look at the story objectively enough to reshape and remold the rough spots. But during that first draft, getting the plot to work without holes? That's tougher. I once read, "Writing a novel means having the ability to keep an entire 350 page story in your head at one time." I agree. And sometimes that's a challenge.
Choose an inanimate object to represent you. Explain what you have in common with that object.
A river. Rivers are always moving. They can provide extreme excitement, a mile further down be serene. They can carve a path where none existed before. When a day is scorching they offer refreshment and escape.
What is the last book you read that moved you?
Thin Places
, by Mary DeMuth. They say great writing is opening a vein and letting your heart pour out on the page. If that's true then Mary has achieved greatness. For anyone who has ever been wounded by life,
Thin Places
is a must read. It made me face my own insecurities and disappointments and at the same time offered healing and hope.
What are you working on now?
Book of Days
which will release in January 2011. It's the story of a man who goes on a quest to find God's Book of Days--described in Psalm 139--that has recorded the past, present, and future of every soul on earth. Also, I'm working on
The Chair
which will release in the fall of 2011. And in the land of surreal, a number of film production companies are interested in both
Rooms
and
Book of Days
, so we're starting to explore possibilities there.
How exciting! So Chris Evans might actually be getting a call somewhere along the line!
Where else can readers find you or your writing online?
Here are most of the places:
-- Author Web site:
www.jimrubart.com
-- Marketing Web site:
www.barefootmarketing.com
-- E-mail: jim@jimrubart.com
-- Facebook: James L. Rubart
-- Twitter: jimrubart
Where you can pick up
Rooms
:
-- Brick and Mortar- Barnes and Noble, Lifeway, Family Christian Stores, Borders, Books a Million, etc.
-- Online:
Amazon (button at left),
CBD
, and at Barnes and Noble, below:
Thanks, Jim, for visiting with us and telling us about Rooms.
Readers, Jim has offered to give a copy of his novel to the winner of our drawing on Thursday, April 22.
To enter, leave a comment for Jim, below.
Leave your email address, in case you win, like so: trish[at]trishperry[dot]com.
Check out my interviews with

Kathi Macias

, and

Mae Nunn

, below, and leave a comment under their interviews to be entered in drawings for signed copies of their novels.
Annoying legal disclaimer: drawings void where prohibited; open only to U.S. residents; the odds of winning depend upon the number of participants. See full disclaimer
HERE
.