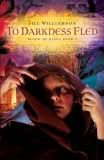 Achan, Vrell, and the Kingsguard knights flee into Darkness to escape the wrath of the former prince and rescue their own army from the Ice Island prison.
Before we meet today's novelist, I'd like to announce that the winner of the drawing for Lynette Eason's novel,
Too Close to Home
, is:
sunny_girl_anna@ . . .
Congratulations! I'll contact you today for your snail mail address, and we'll get your book to you right away. I encourage readers to
keep commenting and/or subscribe at right in order to participate in future book give-aways!
And now let's meet novelist
Jill Williamson,
author of
To Darkness Fled
, Blood of Kings, book 2 (Marcher Lord Press, April 2010).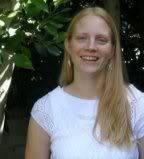 Jill Williamson is a novelist, dreamer, and believer. She grew up in Alaska with no electricity, an outhouse, and a lot of mosquitoes. Thankfully it was the land of the midnight sun, and she could stay up and read by the summer daylight that wouldn't go away. But in the winter, there was nothing better to do than daydream. Both hobbies set her up to be a writer.
VOYA
magazine named
By Darkness Hid
as one of the Best Science Fiction, Fantasy, and Horror novels of 2010.
Jill has served alongside her youth pastor husband for the past twelve years and loves working with teenagers, especially to encourage young writers. She gives writing workshops at churches and schools.
Please tell us a bit more about the plot of To Darkness Fled.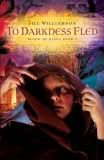 To Darkness Fled
is the second book in the Blood of Kings trilogy. It's about Achan, a young man who wanted to become a knight, and Vrell, a girl who is dressed as a boy to hide from the man who wants to marry her. Book two picks up where
By Darkness Hid
left off.
Here is the back cover copy for
To Darkness Fled
(Blood of Kings, book 2):
They have no choice. Chased by an evil prince, Achan, Vrell, and the Kingsguard knights flee into Darkness. They head north, for Tsaftown and Ice Island, where they must free an army that can help them fight for Er'Rets.
Darkness sickens Vrell. How long can she keep her secret without being caught? Achan already suspects her of lying. If she is not careful, he will suspect her of treason as well. She hopes he will let his suspicions go until they reach her home.
Achan wanted freedom, but this new journey has bound him more than ever. Sir Gavin's claims are so far fetched. First, that there might only be one God, and second, that this God chose Achan to push back Darkness, the magnificent curse of Er'Rets. Him. Achan. Barely a man himself.
Each setback Darkness brings seems minor compared to the one choice only Achan can make. What will he choose?
Which character in your novel most interested you while you wrote?
Achan. He tries to be tough. He's technically a man, by Er'Retian standards, though he feels insecure about stepping into that role and taking charge. He's stubborn, and that trait often causes him a lot of heartache. His sarcasm and heroic nature work well, I think. Sometimes you want to scowl at him--boys will be boys--but you can't help but love the guy.
Why will readers enjoy your novel?
I have been told that I write characters with very human and realistic hopes and fears that the reader would relate to if they were in my characters' boots. The series also has an unpredictable, fast-paced plot. Teen girls like that Vrell is disguised as a boy, especially when her story comes together with Achan's and he thinks she's a pest. There is some romance in book two that readers also like. If you want to read what readers are saying, check out the "What people are saying" page on my website (see link, below).
If you were the casting director for the film version of your novel, who would play your lead roles?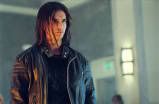 Steven Strait would be the perfect Achan if he looked just like he did as Warren Peace in
Sky High
.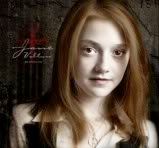 Dakota Fanning could play Vrell, with brown hair, though.
Not the best Dakota Fanning picture, but her hair is a little darker here, and I think it's a pretty current shot.

How many points of view do you typically use in a novel? If you vary, what have you found you enjoyed the most?
I use two points of view in the Blood of Kings series: Achan and Vrell. But, because of Achan and Vrell's ability to bloodvoice, they are able to look in on other character's occasionally, which allows me to see a few other points of view.
Oh, I like that, Jill! We can't get away with that in many storylines, can we?

What facet of the writing craft comes easiest to you? What do you struggle with?
Brainstorming new story ideas comes easiest to me. I start by finding a unique premise, then I work on my characters, then the plot.
I struggle with finding time to write all my ideas. I get easily distracted with promotion and emails and Facebook. I also struggle with remembering to describe people and rooms as soon as they are introduced. Jeff Gerke, my editor, has been training me on this, though, and it's becoming easier.
Choose an inanimate object to represent you. Explain what you have in common with that object.
Hmm. I always get stuck on this one.
Yeah, I should have sent you a different question here, Jill. (Readers, last time Jill said a textbook, because she was full of lots of different information.) You're a good sport to answer it a second time.
I wanted to answer differently than I did last time, so I asked my husband for help. He says, "A keyboard. It's always sitting in front of the computer screen." LOL
There you go. That works!

What is the last book you read that moved you?
I just finished
The Outsiders
by S. E. Hinton. This is a classic YA novel from 1967. I was very impressed by how real the author showed the life of these boys and got the reader to empathize and see things from all sides.
What are you working on now?
I am working on
From Darkness Won
(Blood of Kings, book 3).
Where else can readers find you or your writing online?
My website is
www.jillwilliamson.com
. I'm also on Facebook, MySpace, Shoutlife, Shelfari, GoodReads, Twitter, and Amazon.
On top of that, I run two blogs. The first is Novel Teen Book Reviews at
www.novelteen.com
. It's a website that reviews clean teen fiction. This is a great resource to see what books are available in the Christian market for teens. The other blog is for teen authors, though adult authors may find some useful tips too.
www.teenageauthor.com
.
And if you are looking to buy one of my books online go to Amazon.com, through the button at left or go to Barnes and Noble via the button below:
The book is also available thorugh
MarcherLordPress.com
. Or you can also buy an autographed copy from me through my website. Many libraries have the first book and if they don't they would likely order it if you ask. And you can request your local bookstore order my books too.
Thanks, Jill, for visiting with us and telling us about To Darkness Fled.
Readers, Jill has offered to give a copy of her novel to the winner of our drawing on Saturday, May 1.
To enter, leave a comment for Jill, below.
Leave your email address, in case you win, like so: trish[at]trishperry[dot]com.
Check out my interviews with

Stephanie Grace Whitson

, and

Vanessa Miller

, below, and leave a comment under their interviews to be entered in drawings for signed copies of their novels.
Annoying legal disclaimer: drawings void where prohibited; open only to U.S. residents; the odds of winning depend upon the number of participants. See full disclaimer
HERE
.