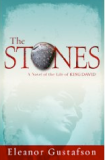 The Stones is drama served up hot--a biblical novel that takes in the sweep of King David's life from his encounter with Goliath to the devastating consequences of counting his fighting men.
Before we meet today's novelist, I'd like to announce that the winner of the drawing for Sandra Glahn's novel,
Informed Consent
,
is:
sugarandgrits@ . . .
And the winner of the drawing for Miralee Ferrell's novel,
Finding Jeena,
is:
ohiobuckeye91@ . . .
Congratulations! I'll contact you today for your snail mail addresses, and we'll get your books to you right away. I encourage readers to
keep commenting and/or subscribe at right in order to participate in future book give-aways!
And now let's meet novelist
Eleanor Gustafson
, author of
The Stones: A Novel of the Life of King David
(Whitaker House, January 2009).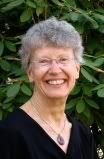 Eleanor K. Gustafson has been publishing both fiction and nonfiction since 1978. Her short stories and articles appeared in a number of national and local magazines. The Stones is her fourth novel. In many of her stories, Eleanor explores the cosmic struggle between good and evil in light of God's overarching work of redemption. A graduate of Wheaton College in Illinois, she has been actively involved in church life as a minister's wife, teacher, musician, writer, and encourager. She has enjoyed a variety of experiences, from riding horses to building houses, all of which have helped bring color and humor to her fiction.
She and her husband live in Massachusetts, where he teaches philosophy. They travel extensively, spend time with their three children and eight grandchildren, and enjoy camping at the family forest in Chester, Vermont.
Please tell us a bit more about the plot of The Stones.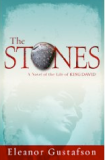 For a version of the story substantially shorter than
The Stones,
read the Bible account in 1 and 2 Samuel, 1 Kings, 1 Chronicles. In a nutshell, though: An unlikely shepherd boy kills a giant and is tapped to serve as the king's antidepressant and top warrior. When the king's spears start coming at him too thickly, David leaves to cobble together an unlikely army and eventually is made king, first over Judah, and then over the northern tribes. All is well until the new king starts panting after the gal next door. As God likes neither adultery nor murder, David's life from then on is marked by one disaster after another. The ironic twist of this sordid tale is that God sees David as "a man after his own heart" and promises that one of David's descendants will forever be on the throne. The ultimate irony--the Shepherd of Israel becomes the Lamb of God.
Which character in your novel most interested you while you wrote?
Joab is both the villain of the story and, you might say, its hero. He is a superb general, and without this ruthless commander-in-chief, David probably could not have carved out the kingdom that God had promised to Abraham. They shared no love but needed each other to fulfill their individual agendas.
Why will readers enjoy your novel?
Men like the book, not only for its warrior aspects (blood running deep from beginning to end), but for deep issues that come up in terms of David's sin, poor parenting, and his all-consuming passion for God. Women like the book for the sweep of the story and character development. Many did not want it to end. One woman said, "I found myself re-reading the preface, the printing notes, anything to keep from closing it." Another said, "The book shook me up so much that I had sleepless nights and had to read slowly, as I could only take it bit by bit. I normally race through books I am enjoying." Most readers say that the book not only brought David and the Psalms alive but also made them grapple with his gigantic character.
Fine praise, there!
If you were the casting director for the film version of your novel, who would play your lead roles?
This is wild. What do I know about movies?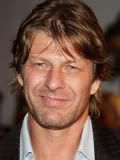 With my grandchildren's suggestions and some research on my own, I would cast Sean Bean as David, though he's a bit scrawny.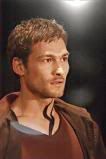 Andy Whitfield as Joab.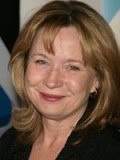 And Debra Jo Rupp as Abigail.
I know nothing about these people (and would certainly want to question their character), but I definitely would not have the reedy stick of a man I once saw in a movie dancing before the ark! If you have suggestions for these characters, I'd love to hear them. The men have to be warrior types, and Abigail is small, efficient and wise. See my email address below.
How many points of view do you typically use in a novel? If you vary, what have you found you enjoyed the most?
The narrator of
The Stones
is Asaph, one of David's chief musicians and himself a psalmist. Other points of view come in, as he explains, through conversations he has had with the principles.
Most of my books have only one or two POVs, but if the main character becomes unconscious, then
somebody
has to pick up the slack. I like the freedom to switch back and forth in a logical, though not distracting, fashion.
What facet of the writing craft comes easiest to you? What do you struggle with?
I love to edit, polishing each paragraph, each line to a fine patina. The hard part is getting the first draft on paper, so to speak. All downhill after that, even though I normally go through each novel at least 50 times.
Yes, Richard Mabry also talked about enjoying the editing process, last week. I'm with you both there.
Choose an inanimate object to represent you. Explain what you have in common with that object.
I have on my hearth a chunk of franklinite, an astonishingly heavy rock that I got at an old mine in Franklin, NJ, near where I grew up. That rock is solid and grounded, which I try to be. I also try to be weighty in writing, helping readers beyond the superficial to the substantive aspects of our spiritual walk with God. I don't write to entertain, to sell books, or to make a name for myself. I do, above all else, desire to focus readers' attention on Yahweh, the I AM.
What is the last book you read that moved you?
My answer to this question may seem self-serving, if not narcissistic. A few months ago, I decided to add my first novel to our bedtime reading ritual. Had not read it since its publication in 1984. As my husband read, I became emotional over episodes and characters I had once known intimately. Had trouble going to sleep and was sad when the book was over. Why did I not want to read my published books? Fear was probably a factor: finding bad writing or things I would now handle differently. Actually, the book was surprisingly good, given its shaky start. In 1984, I was totally untrained. I had a good story, I was told, but it needed tightening. But how do you write tight? No one had time to tell me. Zondervan did pick it up, but then the edited manuscript came back with chapters and characters deleted and sentences demolished. We had just bought our first computer, and to rewrite the book in the allotted time, I had to learn basic cut-and-paste
and
tight writing--quickly! Yes, rereading that book affected me deeply, perhaps in ways no other book as done.
I always mean to go back and read my books, but I constantly have something else to finish reading--with so little reading time available, it's hard to make time for your own books, let alone work up the courage!
What are you working on now?
I am writing a story in which a five-gaited horse serves as a metaphor for a man's passion for God and his fear of God.The long and short of it, Jeth Cavenaugh is terrified of God. For starters, how often does a hard slap send a person into the Kingdom? Good things, bad things, make him moan plaintively, "Does God ever work this way with anyone else? I feel like I'm being set up for something."
He is, indeed.
Nothing in Jeth's life is predictable--not even God.
Where else can readers find you or your writing online?
The Stones
can be accessed via the button at left, and at
Barnes and Noble
.
My website:
www.eleanorgustafson.com
My email: egus@me.com Please write me. I love talking about David. To my surprise, a unique and effective ministry has surfaced in the form of group discussions and formal presentations. Authors normally promote their books by talking about plot, characters, and whatever point they're trying to get across--all without giving away the story line. But with David, most people already know the story, and I can talk freely about every aspect of it. In addition, this book carries a message far deeper than my other novels, and I can address issues ranging from blood and sex to cherem and the fear of God. This helps people understand who David was as a key player in Israel's holy destiny, and I often see a look on faces that says, "Yeah--I
get
it!" While selling books does of course lengthen the shelf life of
The Stones
, my deeper concern is to make David come alive and accessible to average readers.
Readers, Eleanor also offers a study guide for The Stones, available by clicking the button at left.
Thanks, Eleanor, for visiting with us and telling us about
The Stones
. Readers, Eleanorhas offered to give a copy of her novel to the winner of our drawing on Thursday, April 15. To enter, leave a comment for Eleanor, below. Leave your email address, in case you win, like so: trish[at]trishperry[dot]com.
Check out my interviews with

Richard Mabry

, and

Judy Duarte

, below, and leave a comment under their interviews to be entered in drawings for signed copies of their novels.
Annoying legal disclaimer: drawings void where prohibited; open only to U.S. residents; the odds of winning depend upon the number of participants. See full disclaimer
HERE
.