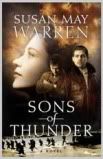 Sophie Frangos is torn between the love of two men and the promise that binds them all together.
On occasion I feature a new release, apart from my interviews with authors.
Rather than giving the author's book away, I simply add commenters' names an extra time to existing drawings.
This week let's take a look at
Susan May Warren's
novel,
Sons of Thunder
(Summerside Press).
A bit about Susan: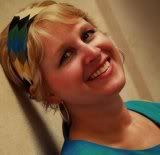 Susan May Warren is the RITA award-winning author of twenty-four novels with Tyndale, Barbour and Steeple Hill. A four-time Christy award finalist, a two-time RITA Finalist, she's also a multi-winner of the Inspirational Readers Choice award, and the ACFW Book of the Year.
Susan's larger than life characters and layered plots have won her acclaim with readers and reviewers alike. A seasoned women's events and retreats speaker, she's a popular writing teacher at conferences around the nation and the author of the beginning writer's workbook: From the Inside-Out: discover, create and publish the novel in you!. She is also the founder of www.MyBookTherapy.com, a story-crafting service that helps authors discover their voice.
Susan makes her home in northern Minnesota, where she is busy cheering on her two sons in football, and her daughter in local theater productions (and desperately missing her college-age son!) A full listing of her titles, reviews and awards can be found at: www.susanmaywarren.com. Connect with Susan on Facebook: http://www.facebook.com/SusanMayWarrenFiction
What's the book about?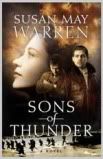 Markos Stavros loves Sophie from afar while battling his thirst for vengeance and his hunger for honor. Dino, his quiet and intelligent brother, simply wants to forget the horror that drove them from their Greek island home to start a new life in America. One of these "sons of thunder" offers a future she longs for, the other--the past she lost.
From the sultry Chicago jazz clubs of the roaring twenties to the World War II battlefields of Europe to a final showdown in a Greek island village, they'll discover betrayal, sacrifice, and finally redemption. Most of all, when Sophie is forced to make her choice, she'll learn that God honors the promises made by the Sons of Thunder.
Read an excerpt
here
:
And Susan is holding a contest related to her new novel's release:
Enter Susan's Memory Prize Pack contest:
Each one of us has a wealth of stories from the past--while they might not all be as sweeping and dramatic as that of Sofia and the Stravos brothers (swoon), your family history is a treasure nonetheless.
Well--let's hear them! Were your great-grandparents 'fresh off the boat'? Was your great uncle a war hero? Did your grandmother make unbelievable sacrifices to help or protect the family? Did your father harbor a family secret until his death? Are you related to someone famous (my assistant is related to presidents Harrison and Jackson--wow! Who knew?) Do you have a family treasure? Maybe you just have some lovely memories. Whatever it is that is unique in your family history--share it with us.
Have a photo to go with your story? Even better!!!! Email those to amy@susanmaywarren.com !
One grand prize winner will win a Memory Prize package containing a gift certificate to create your own hard cover photo book, a 6 month membership to Netflix (to satisfy that flick fix!) and a signed copy of Sons of Thunder! 5 runners up will also win signed copies of Sons of Thunder! Contest ends March 31st. Winners will be announced April 2nd.
TO ENTER THE CONTEST VISIT THE SONS OF THUNDER WEBSITE:
brothersinarms.susanmaywarren.com
AND CLICK ON THE SHARE PAGE!
Leave a comment for Susan, below, to be added an additional time to the drawing on Thursday, April 1. Leave your email address (in case you win) like so: trish[at]trishperry[dot]com.
Annoying legal disclaimer: drawings void where prohibited; open only to U.S. residents; the odds of winning depend upon the number of participants. See full disclaimer
HERE
.