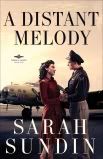 Allie is promised to a man she doesn't love, but a furloughed B-17 bomber pilot captures her heart--will she honor her family's wishes or take a chance on true love?
Before we meet today's novelist, I'd like to announce that the winner of the drawing for Sandra Byrd's novel,
Piece de Resistance
,
is:
cathiecaffey@ . . .
Congratulations! I'll contact you today for your snail mail address, and we'll get your book to you right away. I encourage readers to
keep commenting and/or subscribe at right in order to participate in future book give-aways!
And now let's meet novelist
Sarah Sundin
, author of
A Distant Melody
(Revell, March 2010).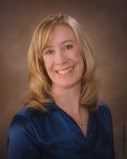 Sarah Sundin's first novel,
A Distant Melody
, was released in March 2010 by Revell. She lives in northern California with her husband and three children. When she isn't ferrying kids to soccer and karate, she works on-call as a hospital pharmacist and teaches Sunday school and women's Bible studies. She is a member of Christian Authors' Network and American Christian Fiction Writers.
Please tell us a bit more about the plot of

A Distant Melody

.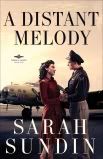 Lt. Walter Novak flies a B-17 bomber in battles over Nazi-occupied Europe during World War II, while Allie Miller serves in the Red Cross against the wishes of her wealthy parents and controlling fiancé in California. Walt and Allie meet at a wedding and begin a correspondence. As letters fly between Walt's muddy bomber base in England and Allie's mansion in an orange grove, their friendship binds them together. But can they untangle the secrets, commitments, and expectations that keep them apart?
Which character in your novel most interested you while you wrote?
I adore Walt and Allie, my hero and heroine, but the character who interested me most had to be Cressie Watts. I didn't plan for her--she just showed up. Allie, a wealthy, well-mannered young woman, goes for a walk after a horrendous day and enters a rundown church. She needs to get away from her parents' superficial congregation, so I thought she might talk to the pastor. Instead, Allie and I both find--to my surprise--this feisty older woman who ropes Allie into helping her air out the pew cushions. She's Allie's opposite in every way--exactly the mentor Allie needs at this point. I adore her brusque ways, her deep faith, and her humor. And there's a funny story regarding her name too.
Ah, you're a tease! Besides learning the origin of Allie's name, why will readers enjoy your novel?
May I quote my review from Historical Novels Review? "An impressive World War II romance full of courage, sacrifice, and lessons learned. The time Sundin has put into researching aviation during the war is evident, and she does an excellent job weaving those details into the story. Perfectly plotted, dramatic and full of tension, this is an excellent start to the new Wings of Glory series. Highly recommended."
I do believe I'd have that review framed and mounted on the wall above my computer if I were you.

If you were the casting director for the film version of your novel, who would play your lead roles?
That would be hard! Neither Allie nor Walt is considered good-looking--except in each other's eyes--and almost all Hollywood types are gorgeous. I haven't seen anyone who matches the characters in my mind--including the very cute cover models.
Yeah, actually, from what I can see of the heroine on your cover, she favors a brunette Scarlett Johansson. If you're going for not-so-gorgeous, I suppose we'll have to leave this one blank.
This month we're looking at opening lines. What are the first lines of your novel? What did you hope to convey with those opening lines?
One whole delicious week together. Allie Miller clung to her best friend's promise and to the train ticket that would deliver it.

Allie followed an inlaid marble pathway through Union Station and breathed in the glamour of travel and the adventure of her first trip north. Anticipation trilled a song in her heart, but the tune felt thin, a single line of melody with no harmony to make it resonate.
I hoped to convey the sense of hope and anticipation Allie has for the coming trip, coupled with the sense of emptiness and discontent she has in her current life. The trip will change everything.
Really well done--that thin tune says it all.

What facet of the writing craft comes easiest to you? What do you struggle with?
Dialogue comes easily to me, especially light banter. Love it. The very first book I wrote was full of light banter. And that was about all. It should never, ever be published. What's most difficult to me is description. In my rough draft it always feels like the drivel I wrote for creative writing in high school. Gag. In rewriting I try to work in story-related and character-related details and metaphors to enrich it and remove the gag-factor.
Choose an inanimate object to represent you. Explain what you have in common with that object.
I struggled with this question. All my life I've had this weird phobia against being labeled. I had friends in high school but didn't belong to a "group." I joined a sorority in college (bad idea) but took defiant pleasure in being the only chemistry major in the house--and being the only sorority girl in the chem department. So I think I'm a spork. Not a spoon. Not a fork. A little of both. I'm a Sunday school teaching carpool soccer mom--but that's not all. I'm a pharmacist. I'm a published author. I'm a candidate for serious therapy.
LOL! Aren't we all?

Everyone struggles with this question, I think. But I love (and I think the readers do, too) the creativity that's sparked by having to step so far outside the norm in explaining something about who you are.

What is the last book you read that moved you? How did it affect you?
I just finished
The Shape of Mercy
, by Susan Meissner. Besides being a generally moving story, it made me think about how we judge others, how we filter other people through our own experiences and expectations and background. To a certain extent, this can't be avoided, but we need to be constantly aware of it and conscious of our inability to judge people's motives.
I've had Susan's book on my TBR list for quite awhile now, and I read anything about it with one eye closed--always concerned I'll learn too much about the plot. I'm dying to get to it!

What are you working on now?
I'm waiting on Revell's copy edit of
A Memory Between Us
, Book Two in the Wings of Glory series, and I'm polishing Book Three before turning it in to my editor. Meanwhile, I'm planning out another series, also set during World War II.
Where else can readers find you or your writing online?
Website:
www.sarahsundin.com
Blog:
www.sarahsundin.blogspot.com
Facebook:
www.facebook.com/sarahsundin
Twitter:
twitter.com/sarahsundin
A Distant Melody can be purchased through:
Amazon
ChristianBook.com
Revell
Barnes & Noble
Borders
And at your local bookstore!
Thanks, Sarah, for visiting with us
and telling us about
A Distant Melody
. Readers, Sarah has offered to give a copy of her novel to the winner of our drawing on Thursday, March 11.
To enter, leave a comment for Sarah
, below. Leave your email address, in case you win, like so: trish[at]trishperry[dot]com.
Check out my interviews with Annalisa Daughety and DiAnn Mills, below, and leave a comment under their interviews to be entered in drawings for signed copies of their novels
Annoying legal disclaimer: drawings void where prohibited; open only to U.S. residents; the odds of winning depend upon the number of participants."