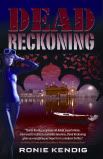 Trapped by a nuclear terrorist plot in Mumbai!
Before we meet today's novelist, I'd like to announce that the winner of the drawing for DiAnn Mills's novel,
Sworn to Protect
,
is:
jackie.smith@ . . .
Congratulations! I'll contact you today for your snail mail address, and we'll get your book to you right away. I encourage readers to
keep commenting and/or subscribe at right in order to participate in future book give-aways!
And now let's meet novelist
Ronie Kendig
, author of
Dead Reckoning
(Abingdon Press, March 2010).
Ronie Kendig has a B.S. in Psychology and is a wife, mother of four, and avid writer. Her novels include
Dead Reckoning
(March 2010, Abingdon Press) and
Nightshade
(July 2010, Barbour Publishing), Book#1 in The Discarded Heroes series. She speaks to various groups, volunteers with the American Christian Fiction Writers (ACFW), and mentors new writers.
Please tell us a bit more about the plot of

Dead Reckoning.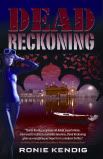 When Shiloh Blake's first large-scale underwater archeological dig traps her in the middle of an international nuclear arms clash, she is forced to flee for her life into the streets of Mumbai, India. Is the man trailing her an enemy, or is he sent by her CIA father to protect her? Whoever he is, the only way to end this nightmare and prevent a nuclear meltdown is to join forces with former Navy SEAL Reece Jaxon.
Which character in your novel most interested you while you wrote?
The hero--Reece. Why? Well, because he's amazingly simple and yet so very complicated. I worked hard to make him believable and plausible as an operative. He is confident, yet his confidence is shaken by the heroine, Shiloh. He has a past that haunts him, making every encounter with Shiloh difficult emotionally and also dangerous to them both.
Why will readers enjoy your novel?
Don't you know that you shouldn't ask a person like me black/white questions? LOL Okay . . . well, I think readers will enjoy the clean, fun action-adventure elements that mingle well with the very real plausibility of the political climate in and around India. The action and adventure provide thrills, yet the story is clean and (as one reviewer said) free of cheesy stuff.
If you were the casting director for the film version of your novel, who would play your lead roles?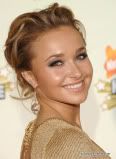 I think Hayden Panetierre would be a good Shiloh (as long as her hair was auburn).
This is as close to auburn as I could find, Ronie--we'll squint our eyes.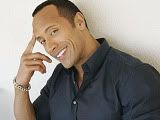 And someone like Dwayne "The Rock" Johnson (not when he was oozing muscles, but in recent family-friendly movies), although he doesn't "look" like I envisioned Reece, he has the build and temperament.
This month we're looking at opening lines. What are the first lines (or the first line, if you prefer) of your novel? What did you hope to convey with those opening lines?
Shafts of light pierced the blue-green waters and formed a silhouette of the dive rig that hovered on the surface. A mesmerizing kaleidoscope of colors glistened on the Arabian Sea. A wrasse scuttled past. Its tiny fins worked hard to ferry the brightly striped fish to safety.
The point of the opening lines is to paint the serene, idyllic peace the heroine Shiloh Blake finds in being in the ocean, admiring its beauty and simplicity.
What facet of the writing craft comes easiest to you? What do you struggle with?
Initial story concept and development--as my dear friend Sara Mills calls it, "New story smell"--is my absolute favorite and comes the easiest. It's the creative adrenaline rush that I adore. Creating the characters, sketching their personalities, those first few chapters are my absolute favorite part of writing.
The part that I struggle with is the editing. People toss in my face all the time that this part of the process is what makes the story better/stronger, and that is (mostly) true, but I don't like this phase of the writing process. I do the editing, and I think I do it well, but I don't like it.
Choose an inanimate object to represent you. Explain what you have in common with that object.
Seriously? Um . . . wow. Okay, let's see . . . maybe a sponge? I soak up what I see around me. I'm deeply empathetic, and I tend to soak up the joy or sadness that is around me. Some see it as a flaw. I see it as a gift God uses to help me relate to people, to be sensitive to those around me.
You betcha, girl. That's why you and I were both Psych majors. I absolutely identify. I love those empathetic moments.
What is the last book you read that moved you?
Oliver North's
American Heroes: In the Fight Against Radical Islam
is a book that touched my heart and mind, forced me to realize some of what our soldiers are going through . . . things so hard to accept and acknowledge, it makes me wonder how our troops are surviving it. Colonel North gives a boots-on-ground peephole into the daily activities, battles, encounters with insurgents. It shows our guys, their (good) guys, and the radicals trying to ruin everything for everyone.
I've cried a lot, laughed at other things, taken lots of notes, and found myself praying for our soldiers.
Our servicemen are truly amazing. And I can't imagine what it's like for their families to wait for them to come home. I'm glad movies like Academy-Award-winning

The Hurt Locker

have been popular enough to remind people of the sacrifices our guys make for us every day.

What are you working on now?
I am in the proofs phase of editing for
Nightshade
, just finished
Digitalis
(book #2), and now I'm working on proposals that I plan to turn in later this year to my agent. I'm also brainstorming and plotting out book #3,
Wolfsbane
, that will need to be written before the year's end.
Where else can readers find you or your writing online?
Dead Reckoning
can be purchased
here
.
I can be found just about anywhere online:
Website:
www.roniekendig.com
.
Facebook:
www.facebook.com/ronie.kendig
.
Twitter:
twitter.com/roniekendig
.
Shoutlife:
www.shoutlife.com/roniekendig
.
Thanks, Ronie, for visiting with us
and telling us about
Dead Reckoning
. Readers, Ronie has offered to give a copy of her novel to the winner of our drawing on Monday, March 15.
To enter, leave a comment for Ronie
, below. Leave your email address, in case you win, like so: trish[at]trishperry[dot]com.
Check out my interviews with Sarah Sundin and Robin Miller, below, and leave a comment under their interviews to be entered in drawings for signed copies of their novels
Annoying legal disclaimer: drawings void where prohibited; open only to U.S. residents; the odds of winning depend upon the number of participants.