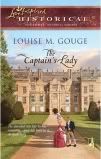 Torn between love and duty, American Patriot James Templeton must deny his heart to help win his country's freedom.
Before we revisit with today's novelist, I'd like to announce that the winner of the drawing for Diane Burke's novel,
Midnight Caller
,
is:
peachykath79@ . . .
Congratulations! I'll contact you today for your snail mail address, and we'll get your book to you right away. I encourage readers to
keep commenting and/or subscribe at right in order to participate in future book give-aways!
And now let's meet novelist
Louise Gouge
, author of
The Captain's Lady
(Steeple Hill Love Inspired Historical, March 2010).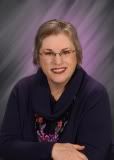 Award-winning Florida author Louise M. Gouge writes historical fiction, calling her stories "threads of grace woven through time." In addition to numerous other awards, Louise is the recipient of the prestigious Inspirational Readers' Choice Award for her 2005 novel,
Hannah Rose
. With her great love of history and research, Louise loves to visit museums and travel to her stories' settings to ensure accuracy.
She has been married to David Gouge for 45 years. They have four grown children and six grandchildren. She earned her BA in English/Creative Writing at the University of Central Florida in Orlando and her Master of Liberal Studies degree at Rollins College in Winter Park, Florida. Louise is also an adjunct professor of English and Humanities at Valencia Community College in Kissimmee, Florida.
Please tell us a bit more about the plot of The Captain's Lady.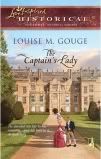 Captain James Templeton's orders from General Washington are clear. His target: Lord Bennington, a member of George III's Privy Council. The assignment: find Bennington's war plans. The risks: the future of the East Florida Colony, Jamie's life . . . and his heart. In spite of the dangers of their hopeless situation, he's fallen in love with Lady Marianne Moberly, Lord Bennington's daughter. Desperate to protect his country, Jamie carries out his orders with a heavy heart. But Marianne's persistence is a challenge he never expected. With love and faith, they must navigate troubled waters to win their future together.
Which character in your novel most interested you while you wrote?
Although I loved all of my characters, even the "bad" ones, in this story my heart went out to my hero, Captain Jamie Templeton, a man with conflicting love interests--but not as one might think. Jamie loves his country, the budding United States of America, and all the ideals that go into its foundation. But Jamie, being a red-blooded man, also loves Lady Marianne Moberly, the daughter of his patron, who was also his nemesis. The conflicts of a dedicated Christian (who sought to do God's will and yet had been ordered to spy against those who trusted him) must have been nearly overwhelming during the American Revolution. Jamie doubts a successful outcome every step of the way! Read the book to see how it turns out. Not the war, but Jamie's part in it. LOL!
Why will readers enjoy your novel?
This story really does have everything: excitement, adventure, intrigue, romance, danger, mystery, and suspense. No matter what your favorite genre may be, you'll find something to enjoy in
The Captain's Lady
.
If you were the casting director for the film version of your novel, who would play your lead roles?
Honestly, I lay awake last night trying to think of whom I would cast, and I couldn't think of any modern actors for my hero and heroine.
That's all right. Sometimes we travel back in time for the ideal actors for this question!
I would like for Peter O'Toole to play Lord Bennington, father of my heroine and patron/nemesis of my hero.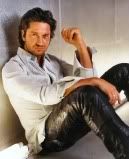 On second thought, I'm sitting here watching Good Morning, America, and Gerard Butler looks pretty good. Maybe I'd cast him as Jamie, if he can pull off an American accent.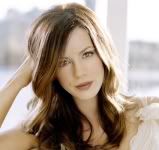 For my heroine, Lady Marianne, I sort of like Kate Beckinsale as she was in her earlier days before she took on vampires. Wow, being a casting director is hard! I'd be willing to take suggestions from anyone who's read
The Captain's Lady.
This month we're looking at opening lines. What are the first lines (or the first line, if you prefer) of your novel? What did you hope to convey with those opening lines?
Lady Marianne peered down through the peephole into the drawing room while her heart raced. Against her back, the heavy woolen tapestry extolling one of her ancestors' mighty deeds pushed her into the wall of her father's bedchamber, nearly choking her with its ancient dust. Yet she would endure anything to observe the entrance of Papa's guest.
What I hoped to convey: Today's writers are encouraged to open their stories with a bang, to hook and enthrall their readers from the first word or at least the first sentence. But in reality, some stories need a tiny bit of setup before the reader can plunge into them. In my above opening, I wanted to show that our heroine, Lady Marianne Moberly, is willing to endure anything to catch a glimpse of our hero, the man she loves. In addition to showing that their love is forbidden by the disparity in their social ranks, the opening scene foreshadows all that Marianne will do to gain her objective, no matter how much discomfort it causes her.
I'm with you, Louise, on the fact that not all stories work well with a big-bang opening. I think sometimes we treat novels like fast food--I want it all right now!
What facet of the writing craft comes easiest to you? What do you struggle with?
I love to write dialogue, especially scenes in which the heroine and hero are arguing . . . or confessing their love. This comes from my amateur acting days when I enjoyed bringing characters to life on the stage. I bring a lot of that into my writing. And while it's not exactly a struggle, I do find it a challenge to smoothly include setting details. Long ago, authors laid out the setting in detail at the beginning of a story, but today's readers expect the setting to be shown more gracefully. That takes much more time.
Now that's a change I embrace. You're right. It's more difficult for the writer, but I think it's definitely an improvement. As a reader I don't want to come across sections I can skip.
What is the last book you read that moved you?
Oh, there are so many good ones to pick from. Off the top of my head, I would say DiAnn Mills's
A Woman Called Sage
. I got to read it before its upcoming release, and it's a wonderful, spiritual adventure. Check out her website at
www.diannmills.com
and find out more about her wonderful novels.
What are you working on now?
I'm working on the third book in my Revolutionary War series. Books One and Three take place in British East Florida, a colony that served as a refuge for Americans loyal to England during the American Revolution. I live in Florida, and it's great fun to explore our history and imagine what those Loyalists endured while the Revolution was going on in the thirteen northern colonies. As a diehard American Patriot, I find it quite different to imagine how it must have been to be loyal to the Crown.
Where else can readers find you or your writing online?
I have a quirky bio on my website, one I wrote for our local paper,
The Orlando Sentinel
, in answer to a call for stories about people who found new life after fifty. That's exactly what happened to me. I've had no less than three "careers" after my fiftieth birthday, including published author, television marketing coordinator, and college professor. In fact, I've added another one. I have an online copyediting business, and I love to work with budding authors to make their manuscripts shine.
My website and contact information are
blog.Louisemgouge.com
. Come on over and visit me! And you can purchase
The Captain's Lady
at
Amazon.com
, cbd.com, and barnesandnoble.com.
Thank you so much for having me on your blog, Trish! I love your questions. You really made me think!
Thanks, Louise, for visiting with us
and telling us about
The Captain's Lady
. Readers, Louise has offered to give a copy of her novel to the winner of our drawing on Thursday, April 1.
To enter, leave a comment for Louise
, below. Leave your email address, in case you win, like so: trish[at]trishperry[dot]com.
Check out my interview with

Ann Shorey

and my focus on Pearl Girls, by Margaret McSweeney, below, and leave a comment under their interviews to be entered in drawings for signed copies of their novels.
Annoying legal disclaimer: drawings void where prohibited; open only to U.S. residents; the odds of winning depend upon the number of participants. See full disclaimer
HERE
.