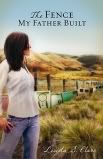 In the high desert of Central Oregon, a woman who has always longed to know her half Nez Perce Indian father finds her legacy: a rundown trailer surrounded by a fence made from old oven doors.
Before we meet today's novelist, I'd like to announce that the winner of the drawing for Robin Miller's novel,
Deliver Us From Evil
,
is:
ppwbookplace@ . . .
Congratulations! I'll contact you today for your snail mail address, and we'll get your book to you right away. I encourage readers to
keep commenting and/or subscribe at right in order to participate in future book give-aways!
And now let's meet novelist
Linda S. Clare
, author of
The Fence My Father Built
(Abingdon Press, October 2009).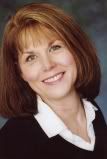 Linda S. Clare grew up in Phoenix, Arizona and taught art as well as elementary school in public and private schools. She has published four books, including her debut novel
The Fence My Father Built
. She has won several fiction awards, teaches college writing classes, and works as a mentor and editor. Her husband of thirty-two years and their four adult children, including a set of twins, live in Eugene, Oregon, along with five wayward cats, Oliver, Xena Warrior Kitty Paladine, Melchior, and Mamma Mia!
Clearly we should expect series from you, Linda, with all those multiples in your life!

Please tell us a bit more about the plot of

The Fence My Father Built

.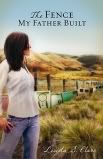 Muri Pond has always longed to know her biological father, who left when she was a small child. Years later, she's still reeling from learning that it's too late: Her father, a half-Nez Perce Indian named Joseph Pond, has died, leaving her an inheritance of property in Central Oregon. As Muri and her two children, Nova, 16, and Truman, 11, make their way from Portland out to the tiny town of Murkee, Muri has lost a lot: her librarian job, her marriage and her faith in God.
When she arrives at her newly-inherited property, she's shocked: it's little more than a ramshackle trailer, surrounded by a fence made from old oven doors. As she tries to make the best of things, she grapples with Joe's charismatic sister Aunt Lutie, her husband, Tiny, who keeps potbellied pigs and mountains of bicycle parts for needy kids and Linc Jackson, a conniving neighbor who threatens to sue over water rights.
Muri struggles to accept her father as he was and in doing so rediscovers the faith he somehow never abandoned.
Wow, I really see this as an indy film, Linda. Very quirky and character driven.

Which character in your novel most interested you while you wrote?
I'm fascinated by dear Aunt Lutie, who in spite of challenges such as poverty and ethnic discrimination, has a grip of steel when it comes to her faith. Why? Lutie is the equalizer in the book. She is nonjudgmental, practical and kind. Besides, she knows how to handle Muri's feisty teenaged daughter Nova.
Why will readers enjoy your novel?
So many of us have missing pieces in our lives--parents who divorced, died or were otherwise absent. Many of us deal with family members who suffer from alcoholism or substance abuse. It's very important to see these people as many times loving God and loved by God, instead of defining people only by their flaws. Muri is on fire to know her roots. I for one have always been desperate to know my family heritage, which was difficult because I am the daughter of a mother who was herself adopted and I was adopted by my stepfather. Until I was able to locate my birth father (only a few years ago) I had a family shrub instead of a tree.
If you were the casting director for the film version of your novel, who would play your lead roles?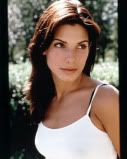 I usually think of Sandra Bullock as Muri.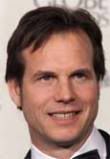 And perhaps Bill Paxton for Rubin the veterinarian.
But I also realize that the Hollywood stars are changing fast--I don't want to brand my characters as old.
We pull our actors from whatever time frame we need for this question, Linda, so it doesn't matter what age they become. We're dreaming, so we can stop time if we want!
This month we're looking at opening lines. What are the first lines (or the first line, if you prefer) of your novel? What did you hope to convey with those opening lines?
Sprawled across the bed, you slept facedown, wearing that red cowgirl shirt and the velvet skirt you love. I stood by and watched your breathing. Your hair, so straight and black, reminded me of my people, our people, and I wondered what you dreamed. Years ago, the Nez Perce surrendered to broken treaties, broken dreams. I'm sorry, daughter, but I'm surrendering too.
These words are from Muri Pond's father Joseph's journal, which she finds among his things. I wanted to evoke a sense of great love and great loss, and the unfailing way in which fathers and Fathers hold out hope for their children.
Very poignant beginning, Linda.

What facet of the writing craft comes easiest to you? What do you struggle with?
The writing craft should always be evolving for me. I am perhaps more able now to envision a character whose high stakes goals clash with those who would obstruct the goals. But fiction always boils down to scene writing. Am I conveying the story movement necessary? Have I chosen the best things to dramatize? Am I listening hard to the characters as they express their emotions? These things, more than others, are not hard for me but I do struggle with pivotal scenes sometimes. I have a slight bent toward the melodramatic. Struggle equals rewriting until the scene is right.
Choose an inanimate object to represent you. Explain what you have in common with that object.
I think of myself as a bucket. A holey bucket at that. The reader is longing to connect to ideas and emotions through character and story. I'm trying to become a receptacle for those things. My bucket has holes because it can never be full if it serves that reader. Words, stories, characters--all are limitless. I let myself down into the deep holy well where stories are born and do my best to set them into action. If I'm successful, my story helps readers grow, change, think or see things in a new way.
Love it!

What is the last book you read that moved you?
I've been reading Mary De Muth's fabulous
Thin Places: A Spiritual Memoir
(Zondervan 2010). I like to pretend Mary is my long lost sister. We think a lot alike. She has succeeded in plumbing the depths of that well and bringing up a book full of fresh and original honesty. She's not afraid to say, "Look! My bucket's full of holes!" You gotta love that.
Mary's awesome. Gifted and humble.

What are you working on now?
I'm finishing a stand-alone novel called
Hiding From Floyd
. It's the story of Abi Welles who ten years earlier, lost a son while he played hide and seek with his very strange brother James. Nobody knows if James was involved or if he tried to save his brother. As the tenth anniversary of Floyd's death looms, Abi must uncover the truth about James, her marriage and her faith. Here are the first lines:
Ever since my son passed away, I've been an expert on grieving. I tell those who take my "God's Good Grief" workshops that grieving is all about the living, even when living is the most painful thing on earth. Whoever said time heals all wounds never outlived a loved one. Named after his grandpa, Floyd--isn't Floyd a funny name for a child?--was only in second grade.
Where else can readers find you or your writing online?
Since I teach writing at Lane Community College in Eugene, Oregon, I blog about writing tips at
www.GodSongGrace.blogspot.com
.
Buy
The Fence My Father Built
at
Abingdon Press
.
Thanks, Linda, for visiting with us
and telling us about
The Fence My Father Built
. Readers, Linda has offered to give a copy of her novel to the winner of our drawing on Saturday, March 20.
To enter, leave a comment for Linda
, below. Leave your email address, in case you win, like so: trish[at]trishperry[dot]com.
Check out my interviews with Ronie Kendig and (Tiffany) Amber Miller Stockton, below, and leave a comment under their interviews to be entered in drawings for signed copies of their novels
Annoying legal disclaimer: drawings void where prohibited; open only to U.S. residents; the odds of winning depend upon the number of participants.