A stranger's request, a secret key, a handsome man, a series of escalating threats--Kristie faces them all as she boards at an Amish farm.
Before we meet today's novelist, I'd like to announce that the winner of the drawing for Ronie Kendig's novel,
Dead Reckoning
, is:
jthauge@ . . .
Congratulations! I'll contact you today for your snail mail address, and we'll get your book to you right away. I encourage readers to
keep commenting and/or subscribe at right in order to participate in future book give-aways!
And now let's meet novelist
Gayle Roper
, author of
A Stranger's Wish
(Harvest House, February, 2010).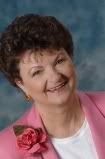 Gayle Roper is the author of more than 45 books. She says, "I have been in love with story all my life. Give me a novel with strong characters and a captivating plot, and I'm one happy reader. Or writer."
Two of Gayle's books have been named Book of the Year, she's won a RITA Award for Best Inspirational Romance, won three Holt Medallions, received a Reviewer's Choice Award, and finaled repeatedly for the Christy Award.
She lives in Southeast Pennsylvania with her husband Chuck. She teaches frequently at writers conferences and speaks at women's events across the country. She loves her kids and grandkids, and enjoys eating out whenever she can talk Chuck into it.
Wow, Gayle, I'm in awe of your accolades! You're Superwoman! I think Chuck should take you to dinner whenever you darned well please!
Please tell us a bit more about the plot of

A Stranger's Wish

.
Kristie Matthews, artist and teacher, moves to an Amish farm. On her first day she's bitten by the family's German shepherd and rushed to the hospital by a handsome neighbor. There she meets an old man having a heart attack. He gives her a key to keep for him and makes her promise to tell no one she has it. Trouble and romance follow until she solves the mystery of the key.
Which character in your novel most interested you while you wrote?
I like all the characters of this novel, but one of my favorites is Mary Zook, the Amish mother who is a closet artist. In her culture, art is frowned upon, but she has this gift and a compulsion to use it. When Kristie, our heroine and an artist, comes to board, Mary's world suddenly expands, but she has to decide how much she can step outside what is comfortable and right.
Why will readers enjoy your novel?
A Stranger's Wish
has suspense, mystery, interesting characters, and it's a great story. There are also lots of interesting facts about Amish life, something that interests a lot of folks. How should we balance law and grace?
There's certainly no denying the appeal of Amish fiction. I think it was literary agent Chip MacGregor who wrote the other day that he believes Amish fiction is here to stay (versus a passing fad)--a permanent genre of its own.

If you were the casting director for the film version of your novel, who would play your lead roles?
The guy who plays
The Mentalist
(Simon Baker) can be Clarke, our hero.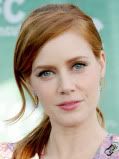 And Amy Adams can be Kristie.
This month we're looking at opening lines. What are the first lines (or the first line, if you prefer) of your novel? What did you hope to convey with those opening lines?
By the time Jon Clarke What's-his-name drove me to the hospital, my terrible inner trembling had stopped.
I hoped to intrigue readers enough to make them read on and find out what had happened to Kristie.
Yes, it already poses a number of questions!

What facet of the writing craft comes easiest to you? What do you struggle with?
I can usually see the opening and the finale though not in great detail. I know who my bad guy will be. I try hard not to use the same devices over again. One car chase in one book is it. I think the hardest thing is delving into personalities of characters who are different from me. What would they think, what would they do in a specific situation when they are so different from me?
What is the last book you read that moved you?
I'm a sucker for a good romantic suspense, mystery or romance. I've been reading several contemporary romances as a judge for the RITA Awards. I read a new author, Susan Mallery, a title called
Straight from the Hip
. An unusual set-up, characters of depth, and a satisfying ending. I find some romances have the big break-up and then the last two pages are the rekindling of the affection--too little too late. I don't buy that fences can be mended that quickly.
What are you working on now?
I'm writing a short romantic suspense for Love Inspired Suspense called
Hear No Evil
. It's the second of three about a trio of teachers who share a house. Lucy is the impetuous, leads with her heart character whose personality will be fun to capture.
Where else can readers find you or your writing online?
I have several short stories posted on my web site,
www.gayleroper.com
. They're there just for friends and visitors to read. There's lots of information about my other books there too. All the titles can be purchased at a local book store or through
christianbooks.com
or
Amazon.com
.
Thanks, Gayle, for visiting with us
and telling us about
A Stranger's Wish
. Readers, Gayle has offered to give a copy of her novel to the winner of our drawing on Monday, March 22.
To enter, leave a comment for Gayle
, below. Leave your email address, in case you win, like so: trish[at]trishperry[dot]com.
Check out my interviews with Amber Miller Stockton and Linda S. Clare, below, and leave a comment under their interviews to be entered in drawings for signed copies of their novels
Annoying legal disclaimer: drawings void where prohibited; open only to U.S. residents; the odds of winning depend upon the number of participants.