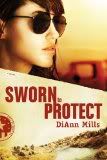 Border Patrol Agent Danika Morales has sworn to protect the southern borders of our nation, but that oath has cost her, and now someone is out to kill her.
Before we meet today's novelist, I'd like to announce that the winner of the drawing for Kay Marshall Strom's novel,
The Call of Zulina
,
is:
jssmcg@ . . .
Congratulations! I'll contact you today for your snail mail address, and we'll get your book to you right away. I encourage readers to
keep commenting and/or subscribe at right in order to participate in future book give-aways!
And now let's meet novelist
DiAnn Mills
, author of
Sworn to Protect
(Tyndale Publishers, April 1).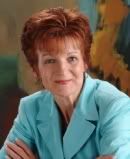 DiAnn Mills believes her readers should "Expect an Adventure." She is a fiction writer who combines an adventuresome spirit with unforgettable characters to create action-packed novels. Currently she has fifty books in print with over a million and a half copies in print.
Five of her books have won placements through American Christian Fiction Writer's Book of the Year Awards 2003-2008, and she is the recipient of the Inspirational Reader's Choice award for 2005 and 2007. She was a Christy Awards finalist in 2008.
DiAnn is a founding board member for American Christian Fiction Writers, a member of Inspirational Writers Alive, Advanced Writers and Speakers Association, and a mentor for the Christian Writer's Guild. She speaks to various groups and teaches writing workshops.
She and her husband live in Houston, Texas.
Please tell us a bit more about the plot of

Sworn to Protect

.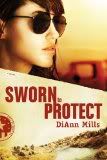 Border Patrol Agent Danika Morales has sworn to protect the southern borders of our nation, but that oath has cost her. Two years ago, her husband, Toby, was killed trying to help the very immigrants Danika was responsible for sending back to Mexico. His murder was never solved. But now, a recent string of attacks and arrests leads her to believe that someone in McAllen is profiting from sneaking undocumented immigrants into the country . . . and it may somehow be tied to Toby's death. When Danika is unsure who she can trust, she's forced to turn to a man who may be behind a plot to kill her.
Which character in your novel most interested you while you wrote?
Danika Morales could have been bitter after her husband's murder. She could have turned her vengeance against every illegal immigrant she encountered. She could resent her husband's Hispanic family, and she could have resented her hearing-impaired daughter. She could have left the South Texas area with her small daughter and begun life all over again.
But she didn't. She'd sworn an oath to protect US borders and to find out who killed her husband. I'm not sure I could have been that dedicated to my job and the enforcement of US laws. Danika has a strength about her that moved me to be a better person. She realized her weaknesses and understood a power greater than hers orchestrated the universe.
Isn't that something, to have one of your own characters inspire you? I love that.

Why will readers enjoy your novel?
To "Expect an Adventure." Any woman who enjoys a suspenseful read about a woman in a non traditional role who is romantically linked to an unlikely hero will enjoy this story.
If you were the casting director for the film version of your novel, who would play your lead roles?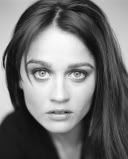 Danika Morales: Robin Tunney from The Mentalist.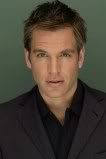 Dr. Alex Price: Michael Weatherly from NCIS.
This month we're looking at opening lines. What are the first lines (or the first line, if you prefer) of your novel? What did you hope to convey with those opening lines?
The Rio Grande was not just murky. It was toxic.
I wanted to show the Rio Grande was deadly in every aspect. I also used the river as a symbol of life.
Here is the first paragraph:
The Rio Grande was not just murky. It was toxic. Danika Morales respected the river's temperament--lazy and rushing, crystal and muddy, breath-taking and devastating. To many illegal immigrants, its flowing water signified hope and an opportunity for a better tomorrow, while others viewed the river crossing as a means of smuggling drugs or spreading terrorism. But for Danika, the depths meant death, and it didn't discriminate among its victims. That was why she chose a Border Patrol badge and carried a gun.
What facet of the writing craft comes easiest to you? What do you struggle with?
Easiest: The mixture of what-ifs in weaving character and plot. That's fun--bringing the impossible and unpredictable together to create a credible story.
Struggle points: Working out the details. I see the grand picture of things, but the details of the near impossible are not my expertise. Thank goodness my husband is detail oriented, and he's a huge help with this part of writing.
Choose an inanimate object to represent you. Explain what you have in common with that object.
This is hard! Possibly a travel guide because I never know where I want to go next--in my writing.
Oh, I like that!

What is the last book you read that moved you? How did it affect you?
A non fiction by Joseph Petro.
Standing Next to History : An Agent's Life Inside the Secret Service
. The writer did an outstanding job of showing the dedication of Secret Service agents for their role in protecting key persons in our government. The patriotism moved me more than once.
What are you working on now?
A romantic suspense set in the high desert area of New Mexico. The time period is 1935 when our country was in a turmoil resulting from the Great Depression, organized crime, and world powers. It's about a woman running from an assailant.
I've said this before--I have such respect for the research gifts of historical fiction writers. I love that you're writing a novel involving early organized crime but setting it in such an unexpected place. Intriguing.

Where else can readers find you or your writing online?
www.diannmills.com
is a great place to visit and subscribe to my newsletter or drop me an email. I'm in the midst of a new web design, so keep checking back!
Readers can purchase
Sworn to Protect
where books are sold:
www.cbd.com
www.barnesandnoble.com
Amazon.com
Coming May 1, is a historical novel published by Zondervan:
A Woman Called Sage
.
Thank you so much. I appreciate you!
Thank you, DiAnn, for visiting with us
and telling us about
Sworn to Protect
. Readers, DiAnn has offered to give a copy of her novel to the winner of our drawing on Monday, March 8.
To enter, leave a comment for DiAnn
, below. Leave your email address, in case you win, like so: trish[at]trishperry[dot]com.
Check out my interviews with Annalisa Daughety and Sandra Byrd, below, and leave a comment under their interviews to be entered in drawings for signed copies of their novels
Annoying legal disclaimer: drawings void where prohibited; open only to U.S. residents; the odds of winning depend upon the number of participants."
Finally, here's a glimpse at new inspirational fiction releasing this month!
1.
A Distant Melody, Wings of Glory, Book One
by
Sarah Sundin
An historical from Revell, a division of Baker Publishing Group. Allie is promised to a man she doesn't love, but a B-17 pilot captures her heart--will she honor her family's wishes or take a chance on love?
2.
A Woman Called Sage
by
Diann Mills
An historical from Zondervan. A woman bounty hunter fights bitterness and revenge to find the killers of her husband.
3.
Beaded Hope
by
Cathy Liggett
Women's fiction from Tyndale. A moving story about women helping women and lives changed across continents, inspired by a non-profit organization of the same name.
4.
Beguiled
by
Deanne Gist
and
J. Mark Bertrand
A suspense/mystery/thriller from Bethany House. A dog-walker and a journalist pursue a thief (and each other) in atmospheric Charleston.
5.
Cowboy Protector
by
Margaret Daley
A Suspense/Mystery/Thriller from Love Inspired Suspense. When Hannah Williams comes to help Austin Taylor with his injured daughter, she draws him into an intrigue that threatens their relationship--and their lives.
6.
Dead Reckoning
by
Ronie Kendig
Suspense/Mystery/Thriller from Abingdon. Trapped by a terrorist plot in Mumbai!.
7.
Disarming Andi
by
Elizabeth Goddard
A Contemporary Romance from Heartsong Presents. Contractor Andi Nielsen has another chance to discover what ís hidden inside the missile base she was hired to remodel. Is she prepared to detonate her feelings for the new owner?
8.
Fatal Burn; Big Sky Secrets, Book 2
by
Roxanne Rustand
A Suspense/Mystery/Thriller from Love Inspired Suspense. In Montana's wide open spaces, danger and love are waiting....
9.
Forget Me Not, Crossroads Crisis Center series, Book 1
by
Vicki Hinze
A Contemporary Romance from Waterbrook-Multnomah. Someone's robbed her of her identity and goes to great lengths to convince her she's someone else; someone who wants her dead.
10.
Gold in the Fire/Light in the Storm
by
Margaret Daley
A Romance from Love Inspired. Stories of love and loyalty
11.
Groom in Training
by
Gail Gaymer Martin
A Contemporary Romance from Love Inspired. Friends, Four-legged Friends and Love.
12.
Kansas Courtship, After The Storm, No. 3
by
Victoria Bylin
An Historical Romance from Love Inspired. Dr. Nora Mitchell came to heal the town of High Plains. She stayed to heal Zeb Garrison's heart.
13.
Katie's Redemption, The Brides of Amish Country
by
Patricia Davids
A Romance from Love Inspired. A young woman returns to her Amish roots but can she find her way back to her faith.
14.
Katy's New World, Katy Lambright Series
by
Kim Vogel Sawyer
General Fiction from Zondervan. An Old Order Mennonite girl holds to her convictions while attending public high school.
15.
Liberty's Promise
by
Amber Stockton
An Historical Romance from Heartsong Presents. Feel the heartbeat of a chaotic new country through the lives of three Pennsylvania women who seek to know to whom they can entrust their hearts.
16.
Love Finds You in Bridal Veil, Oregon
by
Miralee Ferrell
A Romance from Summerside Press. A schoolteacher must choose between a man from her past and one who could be her future, while risking her reputation to rescue two runaway orphaned children.
17.
Love Finds You in Homestead, Iowa
by
Melanie Dobson
A Romance from Summerside Press. A widowed father and his young daughter find healing and hope in the communal Amana Colonies.
18.
Morning's Refrain, Book 2 in Song of Alaska series
by
Tracie Peterson
An Historical from Bethany House. Adventure and Romance in 1800's Sitka, Alaska.
19.
Once in a Blue Moon
by
Leanna Ellis
Women's Fiction from B&H Publishing. Faith is the first step to soaring.
20.
Romance by the Book
by
Myra Johnson
A Contemporary Romance from Heartsong Presents. A shy young woman's crush on her favorite romance author leads her to the man who will finally claim her heart.
21.
Scattered Petals
by
Amanda Cabot
An Historical from Revell. Tragedy broke her spirit -- will love mend her heart?
22.
The Captain's Lady
by
Louise M. Gouge
An Historical from Steeple Hill. Torn between love and duty, American Patriot James Templeton must deny his heart to help win his country's freedom.
23.
The Easter Edition
by
Robin Shope
A romance from White Rose. Bridal shop owner Carol Horn feels she will never find a love of her own until a new pastor comes to town, turning up by accident at her mother's funeral.
24.
The Family Way
by
Michelle Levigne
A romance from Desert Breeze Publishing. Pregnancy brings their shaky marriage to the breaking point, and Lisa and Todd must rediscover their love, their faith, and what true marriage means.
25.
The Mockingbird's Call
by
Diane Ashby
and
Aaron McCarver
A Romance from Barbour. Amelia Montgomery, torn between her family's traditions and her own convictions against slavery, must also choose between her duty and her heart as she works for the Underground Railroad.
26.
The Promise of Morning, Book 2, At Home in Beldon Grove series
by
Ann Shorey
An Historical from Revell. When loss drives them apart, can their faith bring them back together?.
Happy reading!