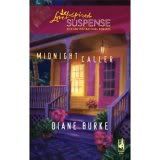 Single mom, Erin O'Malley knows bad things happen to everyone but evil is supposed to happen to somebody else---or not?
Before we meet today's novelist, I'd like to announce that the winner of the drawing for Amber Miller Stockton's anthology,
Liberty's Promise
, is:
sarahackerman@ . . .
Congratulations! I'll contact you today for your snail mail address, and we'll get your book to you right away. I encourage readers to
keep commenting and/or subscribe at right in order to participate in future book give-aways!
And now let's meet novelist
Diane Burke
, author of
Midnight Caller
(Steeple Hill Inspirational Romantic Suspense, March 2010).
Diane Burke lives just above central Florida in speedway territory. She has two grown sons, two wonderful daughter-in-law's and three grandchildren. She resides with her two "babies," a Border Collie named Thea and a Golden Lab named Cocoa.
Her first manuscript
Whispers In The Dark
won the Daphne du Maurier Award for Excellence in Mystery and Suspense in the Inspirational category in 2008, was purchased by Steeple Hill as
Midnight Caller
in 2009 and debuts in March 2010.
After unexpectedly losing her husband two years ago, Diane feels blessed by the Lord for being given the opportunity to spend her time writing the kind of books that blend suspense, romance and faith into a happily-ever-after tale.
Please tell us a bit more about the plot of

Midnight Caller.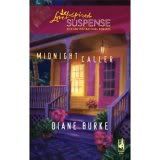 Erin O'Malley, single mom of a five-year-old handicapped child, is disturbed when she receives a series of anonymous calls. But when local women turn up dead after reporting their calls to the police, she is terrified. Especially when the calls escalate and she can't shake the feeling that she is being watched.
Detective Tony Marino believes he is not family material because of his dangerous career. But when a small boy unexpectedly tugs at his heartstrings---and the boy's mother captures his heart, Tony puts everything on the line to protect the family that feels like his own.
Because there no longer is any doubt---Erin is next on a serial killer's list.
Which character in your novel most interested you while you wrote?
Surprisingly, Patrick Fitzgerald. Although I came to love all my characters for reasons unique to them, I most admired Fitz. He was an elderly gentleman facing more days behind him than ahead. Yet, he dared to fall in love, accepted challenges without complaint and was able to open his heart and his home to those he cared about the most. The conversation between Tony and Fitz over lunch was a moving moment for me when I had the opportunity to show what kind of man Fitz really was.
Why will readers enjoy your novel?
I hope my novel fills the bill for being suspenseful, romantic, and touching--a slice of life depicting ordinary people faced with extraordinary circumstances and how they coped.
If you were the casting director for the film version of your novel, who would play your lead roles?
Eyal Podell would play Tony.
And Jennifer Christiana Finnigan would play Erin.
This month we're looking at opening lines. What are the first lines (or the first line, if you prefer) of your novel? What did you hope to convey with those opening lines?
His fingers tapped an angry rhythm against the handle of the scalpel hidden in his pocket. Where was she? He checked his wristwatch for the third time in as many minutes. Her shift had ended thirty minutes ago. She should be standing in that doorway by now. Alone. Vulnerable.
What I was trying to do was to let the reader know right off the bat that evil had come knocking on the door of an every day, ordinary, hard working woman. I hoped to create empathy for her and curiosity about how the bad guy was going to be caught.
What facet of the writing craft comes easiest to you? What do you struggle with?
Dialogue comes easiest for me. I see and hear my characters like I'm watching a movie in my mind. My struggles come with plotting. Most of my ideas come to me as individual scenes or snatches of dialogue. I find it very, very challenging to try and pull it together in a tight, cohesive plot.
Choose an inanimate object to represent you. Explain what you have in common with that object.
I'd have to say a large, soft feather pillow. I'm soft and mushy both inside and out.
LOL, I like that, Diane.

What is the last book you read that moved you?
Hands down it would have to be
Where Mercy Flows
by Karen Harter. I heard about Karen three weeks after I returned from the RWA San Francisco conference. Her second book
Autumn Blue
had been nominated for a Rita. Karen had been valiantly fighting cancer for years and shortly after the conference she passed away. I was so impressed by the fact that she helped her husband plant a church, started a special program for young people and wrote two books all AFTER learning she had cancer that I felt compelled to order her debut novel.
I wasn't disappointed. It was a marvelous book that explored the relationship between a father and a daughter and the subject of forgiveness touched my heart. I don't honestly know whether it was the book by itself or the story of the author behind it (not that it mattered) but I couldn't put it down, sobbed my heart out at the end of the story, and found it a place of honor on my keeper's shelf.
What are you working on now?
I just finished my second manuscript, tentatively titled
Deception
, about a woman who wakes up one morning to discover that everything she thought she knew about herself and her family was a lie. It is sitting on the editor's desk waiting for a yeah or nay. While waiting, I've just started my third manuscript which will also be a romantic suspense.
Where else can readers find you or your writing online?
Readers can contact me at
www.dianeburkeauthor.com
. I am also on Face Book and welcome new friends.
My book can be purchased at
Amazon.com
or
christianbooks.com
Thanks for having me!!
Thanks, Diane, for visiting with us
and telling us about
Midnight Caller
. Readers, Diane has offered to give a copy of her novel to the winner of our drawing on Thursday, March 25.
To enter, leave a comment for Diane
, below. Leave your email address, in case you win, like so: trish[at]trishperry[dot]com.
Check out my interviews with Linda S. Clare and Gayle Roper, below, and leave a comment under their interviews to be entered in drawings for signed copies of their novels
Annoying legal disclaimer: drawings void where prohibited; open only to U.S. residents; the odds of winning depend upon the number of participants.