A bitter French Mercenary who has sworn off God, falls in love with the pious woman he intends to sell as a slave to the Spanish.
Before we meet today's featured author, I want to announce that the winner of the drawing for one of my novels, is:
jrs362@ . . .
Congratulations! I'll contact you today for your snail mail address, and we'll get your book to you right away. I encourage readers to
keep commenting and/or subscribe at right in order to participate in future book give-aways!
And now let's meet novelist
MaryLu Tyndall
(M.L. Tyndall), author of
The Raven Saint
(Barbour Publishing, January 2010).
M.L. Tyndall, a Christy Award Finalist, and best-selling author of the "Legacy of the King's Pirates" series is known for her adventurous historical romances filled with deep spiritual themes. She holds a degree in Math and worked as a software engineer for fifteen years before testing the waters as a writer. MaryLu currently writes full time and makes her home on the California coast with her husband, six kids, and four cats. Her passion is to write page-turning, romantic adventures that not only entertain but expose Christians to their full potential in Christ.
Please tell us a bit more about the plot of

The Raven Saint

.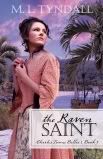 When Grace Westcott is kidnapped by a French mercenary, tossed aboard his ship, and told she will be sold to a Spanish Don in Columbia, she cannot imagine what she has done to deserve such a horrid fate. She has spent her entire life serving God and helping the poor, not to mention trying to save the souls of her two wayward sisters. Thinking perhaps God has sent her to preach to the vile captain and his crew, Grace's every attempt to correct their sinful ways is rewarded with only mockery. When Grace's situation grows far worse than she could imagine, she is forced to face her own human weaknesses. But she isn't prepared to face her biggest weakness of all--falling in love with the nefarious God-hating captain, Rafe Dubois.
Which character in your novel most interested you while you wrote?
You know, I thought it would be the hero, Rafe Dubois, who would interest me the most because he's my favorite type of character to write--the wounded bad boy. But as I got into the story, it was Grace who intrigued me. She started out being such a pious prude, trying to convert everyone around her to Christianity while snubbing her nose at the sins of others. I loved watching how God changed her heart and humbled her through various harrowing situations--each one revealing more and more that beneath her religious exterior, darkness lurked within her own heart.
Why will readers enjoy your novel?
The Raven Saint
is a swashbuckling tale set in 1718 Caribbean. There's action, adventure, romance, all interwoven with a strong spiritual theme. Think
Pirates of the Caribbean
meets
Titanic
.
If you were the casting director for the film version of your novel, who would play your lead roles?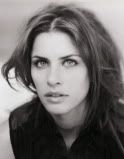 Amanda Peet would play Grace.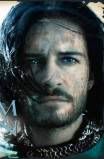 And Orlando Bloom would make a perfect Rafe Dubois.
Such intense eyes on both of those actors! I can see fiery scenes coming from those two.

This month we're looking at character motivations. Let's say you're working on a new novel in which a minor character, an elderly woman, simply dislikes your protagonist. Your protag eventually learns why. What's the problem?
Jealousy. And not the jealousy one would expect of an elderly woman toward a younger lady. Not jealousy of her youth. For at first glance, that seems to be all Claire has going for her. She's not particularly good looking. She hasn't got a lot of money. Her career as a grocery store clerk is not one that draws a jealous eye. No, it's Claire's zest for life. Claire has a radiance that shines on her face. She is always happy, always excited about something new she's doing or some new hobby she's discovered. She takes pleasure in the simplest things and lives life as if every moment were precious. She is positive and makes people feel loved when they are around her. Consequently people flock to her. And Agnes hates her for it. In her youth, Agnes had everything, beauty, money, prestige, yet she dragged her feet through life, loathing every mundane moment. Claire's exuberance and joy when she has absolutely nothing to warrant it, infuriates Agnes more than anything else in her bitter life.
Love

that, MaryLu! Thanks for getting so into the characters for us!

What is the last book you read that moved you?
Francine Rivers'
A Voice in the Wind
. It's an incredible story of a young Jewish girl brought to Rome as a slave. This book encouraged me to be a better witness of my faith to others.
What are you working on now?
I'm starting a new series called "Surrender to Destiny." The three books in the series are set in Baltimore during the War of 1812 and follow the adventures of three women who, against their will, are thrust into the center of the war but who end up greatly affecting its outcome. It's a series about finding your God-given destiny, and each story will be filled with adventure, action, and lots of romance!

Wow, you historical writers blow me away. As a contemporary writer I'm so impressed by what you undertake, research-wise!

Where else can readers find you or your writing online?
Website:
www.mltyndall.com
Blog:
crossandcutlass.blogspot.com
Link to buy
The Raven Saint
at
Amazon
Link to buy
The Raven Saint
at
Cbd.com
Thanks, MaryLu, for visiting with us
and telling us about
The Raven Saint
. Readers, MaryLu has offered to give a copy of her novel to the winner of our drawing on Thursday, January 14.
To enter, leave a comment for MaryLu
, below. Leave your email address, in case you win, like so: trish[at]trishperry[dot]com.
Check out my interview of
Mary Connealy
below, and leave a comment to be entered in a drawing for her novel,
The Husband Tree
. I'll draw a name this Monday, January 11.
Annoying legal disclaimer: drawings void where prohibited; open only to U.S. residents; the odds of winning depend upon the number of participants.
Also on January 11, we'll talk with Roseanna White, author of
A Stray Drop of Blood.
.