A geeky computer engineer is out of his element when he must accompany his young niece on a two-week wagon train tour in the Wyoming wilderness, but when problems occur from the start, he helps the pretty wagon master try to figure out who is sabotaging the tour.
Before we revisit with today's featured author, I want to announce that the winner of M.L. Tyndall's
The Blue Enchantress
is:
bousmama@ . . .
Congratulations! I'll contact you today for your snail mail address, and we'll get your book to you right away. I encourage readers to
keep commenting and/or subscribe at right in order to participate in future book give-aways!
And now let's talk with novelist
Vickie McDonough
, author of
A Wagonload of Trouble
(Heartsong Presents, September 2009).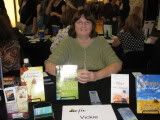 Vickie McDonough is an award-winning inspirational romance author. She has written 16 novels and novellas. Her Heartsong books,
The Bounty Hunter and the Bride
and
Wild At Heart
both placed third in the Top Ten Favorite Historical Romance category in Heartsong Present's annual readers' contests. Her stories frequently place in national contests, such as the ACFW Book of the Year contest and the Inspirational Readers Choice Contest.
Vickie has also written books reviews for over eight years. She is a wife of thirty-three years, mother of four grown sons and grandma to a feisty three-year-old girl. When she's not writing, she enjoys reading, gardening, watching movies, and traveling.
Please tell us a bit more about the plot of

A Wagonload of Trouble

.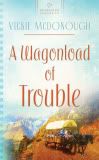 After attending college in Denver, Bethany Schaffer has no desire to return to her family's guest ranch in the mountains of Wyoming. But when her dad calls and asks for help, she goes anyway, only to find the ranch is in financial distress and mysterious events are putting their property and guests in danger.
Evan Parker is completely out of his element. Despite a pressing deadline, he agrees to accompany his niece on a two-week wagon train tour with her American history class. The deeper the group goes into the wilderness, the farther out of his comfort zone Evan finds himself. To make matters worse, the pretty gal heading up the tour thinks he's a geek extraordinaire, but he can't help his attraction to her.
As the adventure progresses, danger escalates. Can Bethany and Evan uncover the perpetrators before someone is seriously injured--or the ranch is driven into bankruptcy?
Which character in your novel most interested you while you wrote?
Evan. I had a lot of fun putting Evan in circumstances that made him squirm. My husband and one of my sons are both computer guys, so I know a lot about what makes them tick. I thought it would be fun to take a Beta male computer geek and toss him out in the wilderness with bugs and critters--some place where his cell phone didn't work and he didn't have power for his laptop--and he had an urgent deadline approaching.
Why will readers enjoy your novel?
It's suspenseful, funny in places, and has a heart-tugging romance about two people who are complete opposites.
If you were the casting director for the film version of your novel, who would play your lead roles?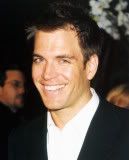 Though he's a bit older than Evan, I used Michael Weatherly of
NCIS
and previously of
Dark Angel
as my model for my hero. In
Dark Angel
, he played more of a techno-geek character than he does in
NCIS
, but he had the look I wanted. Cute, spikey hair that often looks rumpled, killer smile.
Goodness. I've never watched either of those shows, so this was a new face to me. Cute.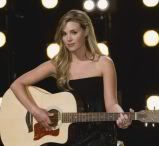 Jessica Price had the look I was going for in Bethany. Blond hair, brown eyes, sweet but spunky.
This month we're discussing dialogue. How would you advise a newer author to make her characters' dialogue ring true?
Listen to dialogue around you when you're in a restaurant or another public place. People don't talk in complete sentences, so we shouldn't write it that way. Still, when writing dialogue, it needs to make sense. Don't overuse dialect or meaningless chatter, but use dialogue to move your story forward and to accomplish something with it.
If you could spend an hour with any author from any time, who would that be, and why?
Oh, that's really a tough question, but I'd like to spend an hour with Tracie Peterson and learn about researching stories from her. I love the historicals that she writes and the interesting settings and events of the day that she uses.
What is the last book you read that impacted you?
I just finished reading
Love Finds You in Revenge, Ohio
, by Lisa Harris. It was an interesting book with some good suspense. It was the story of two people, both who needed to forgive someone but found that difficult to do. One character especially was driven by revenge and nearly let it ruin his life.
What are you working on now?
The Anonymous Bride
. It's a long fiction book that will be published by Barbour and is due to be released next April. It's the story of a marshal who suddenly has three mail-order brides arrive in his small town, each expecting to marry him. The only problem is: he never ordered a bride.
Where else can readers find you or your writing online?
My website is
www.vickiemcdonough.com
and you can see the covers of all my books and read a little about each one. I do a quarterly drawing and anyone who signs my guestbook is entered in a drawing for a free book.
I'm also a regular blogger on
www.bustlesandspurs.com
Please include the link for purchasing your book. Once my book is released, readers can purchase it here:
www.heartsongpresents.com/
Or, if they prefer, they can get it on Amazon:
Amazon.com
Also, if they'd like an autographed copy, they can email me at
fictionfan1@cox.net
Thanks, Vickie, for visiting us again and telling us about A Wagonload of Trouble.
Readers, Vickie has offered to sign a copy of her book for the winner of our drawing on Monday, September 7.
To enter, leave a comment for Vickie
, below. Leave your email address, in case you win, like so: trish[at]trishperry[dot]com. If you subscribe to my blog, at right (or if you're already subscribed),
you'll be entered an additional time
to this drawing and all future drawings. The odds of winning depend upon the number of participants.
This Thursday we'll talk with Diana Brandmeyer, author of
Hearts on the Road
, and we'll draw the winner of Nicole O'Dell's
All that Glitters.
And before we close for today, two items:
You have a chance to win a copy of
Sunset Beach
on
Stormi Johnson's blog
. See her August 27 post and click on the number after the word "Comment" at the top of the interview.
Also, if you need a copy of
Too Good to Be True
and have been unable to get it on Amazon or Barnes & Noble, contact me at
trish@trishperry.com
. I have plenty of copies, and I can offer the discounted price of $8 per signed copy, which includes postage.
Happy reading!