A vivid story of a private grief, a secret painting and one woman's search for hope.
Before we meet today's featured author, I want to announce that the winner of Janet Dean's
Courting the Doctor's Daughter
is:
dheath211@ . . .
Congratulations! I'll contact you today for your snail mail address, and we'll get your book to you right away. I encourage readers to
keep commenting and/or subscribe at right in order to participate in future book give-aways!
And now let's meet novelist
Tina Ann Forkner
, author of
Rose House
(Waterbrook Press, May 2009).
Tina Ann Forkner is a women's fiction author who grew up in a small Oklahoma town and eventually settled in Wyoming where she lives with her husband, their three children, and a faithful mutt.
Please tell us a bit more about the plot of Rose House.
Amid a tangle of rose blooms and thorns, widow Lillian Diamon's private moment of grief is captured in a painting on display in a present-day, Sonoma Valley, California, art gallery. Her quest to find the artist unravels a greater mystery changing everything about her loss--and her future.
Oh, I like that, Tina. Great idea. And I know I've already mentioned this to you in the past, but I love your cover. Now I see the reason for it's having an antique flavor.

Which character in your novel most interested you while you wrote? Why?
I think I answer about a different character every time I am asked this question. Certainly, Kitty, who is from my first novel,
Ruby Among Us
, interested me just as much in the second novel. I love her "let's get it done" attitude. She is the kind of person who is wise and encouraging without wasting time on moping around.
I also found Truman Clark, the artist, to be very interesting. I have had readers ask me if he is real. He is fictional, but wouldn't it be cool if he stepped off the page? Of course my husband would want to shove him back into the book where he belongs.
How funny! Yes, it's much easier for a man to be perfect if he's fictional.
I never thought I would write about a man who is so dashing and tempting, but he just kept showing up until I finally put him in the story. Of course, I have a very dashing husband and he inspired Truman's amazing good looks and charming personality.
Well, you should have him read your interview answers, Tina. What a nice description!

Why will readers enjoy your novel?
I think they will enjoy it for the romance and mystery. I also hope they will enjoy it for the hope it brings. The idea of
Rose House
is not just about a house, but it's about where we go to find hope. Where is home? Where is our shelter? Our own personal "Rose House" is not always a house or even a place. Sometimes we find it where we least expect it.
If you were the casting director for the film version of your novel, who would play your lead roles?
Well, I guess I don't really watch enough television, so I had to think about this one a bit.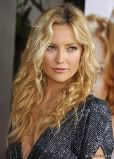 Kate Hudson might make a good Lillian. She has that purity about her personality, like Lillian does, but she could also pull off the troubled parts of Lillian's character.
I might choose Cameron Diaz as Geena because they both have that tall lean, sexy look.
As for Truman, I am not sure. He has to look good bald. He has to be mature and not one of the really youngish actors.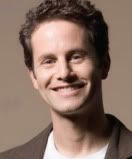 Would Kirk Cameron look good bald?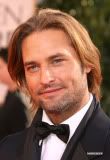 I thought the man who plays Sawyer on Lost might work, but then I don't know how he would look bald or if he could pull off the really good, sincere side of Truman. What do you think?
Sawyer (Josh Holloway) would most definitely get my vote--that man would look good bald, hairy, dreadlocked, or mohawked, as far as I'm concerned. I was unable to find bald pictures of either actor, but I did manage to find one of Cameron:
It seemed a waste not to use the picture here, since "Cameron Diaz" and "bald" both figured in your interview. She even looks good bald, doesn't she? A great smile can work wonders.

But I digress.What facet of the writing craft comes easiest to you? What do you struggle with?
The initial creation is the easiest part for me. I love developing a new story and discovering all the different aspects of my characters and the story. I'm always sad to see the story end because I fall in love with my characters.
As far as struggles, keeping up with my blogs, etc., is sometimes hard to work into my author schedule, but I do it because I love connecting with my readers and I think it's wonderful that it's so easy for them to send me an email if they have a question or that I can update them with news about books that might interest them.
You're the last of my May authors, Tina. This month I've asked authors for their thoughts on Print on Demand (POD). Let's say an unpublished writer is tired of the rejections and is considering using POD for her novel. What advise would you give her?
POD can be good if you are recording a family history or have a niche idea that would focus on a very small population of readers. If a writer isn't in that type of situation, then I encourage him or her to wait on a traditional publisher. Use the waiting time to improve their craft and then they will feel so much better about the process when it happens.
I agree, as did most of the May authors. I would encourage any beginning writers to look over the POD comments made by my May interviewees to benefit from the experience represented here.

Now, Tina, let's have you choose an inanimate object to represent you. Explain what you have in common with that object.
I would choose my old antique manual typewriter. It is just sitting there waiting for someone to change the old ribbon and peck out a story. I like an Emily Dickinson line that says "I dwell in possibility." That's how that typewriter is, waiting for someone to inspire its words. I am like that too, waiting for someone or something to inspire the words of my next story.
Lovely! What is the last book you read that impacted you? How did it affect you?
What the Bayou Saw
, by Patti Lacy. I loved her prose and I loved the depth of the story. The whole book inspired me as an author to write better and dig deeper. The topic, which deals with friendship and race, challenged my spirit and inspired me to be a better person and a better American. It's one of those books that you can't stop thinking about when you put it down.
What are you working on now?
Right now I am working on two new novels that I'm really excited about. They are a bit different than
Rose House
and
Ruby Among Us
, but are still Women's Fiction.
Where else can readers find you or your writing online? Please include the link for purchasing your book.
You can find me at
www.tinaannforkner.com
. I have a blog tab at that site and love to hear from readers.
My books are available at your favorite local bookstores and online stores. This is a good link to buy the book at too:
Christianbook.com
Thanks, Tina, for telling us about yourself and Rose House.
Readers, Tina has offered to sign a copy of her book for the winner of our drawing on Thursday, June 4.
To enter, leave a comment for Tina
, below. Leave your email address, in case you win, like so: trish[at]trishperry[dot]com. If you subscribe to my blog, at right (or if you're already subscribed),
you'll be entered an additional time
to this drawing and all future drawings.
And check back this Monday, when we'll hear from novelist Sharlene MacLaren, author of Maggie Rose.
We'll also hold the drawing for Ramona Richards novel,
The Taking of Carly Bradford.
You can still enter your name for that drawing,
under Ramona's interview, below.