A high school senior embarks on an intellectual and spiritual odyssey seeking the truth about God while knowing that the belief he ultimately embraces may separate him forever from the girl he loves.
Before we meet today's author, I'd like to announce that the winner of the signed copy of Eileen Rife's book,
Restored Hearts
, goes to:
pleblanc_1@ . . .
Congratulations! I'll contact you today for your snail mail address, and we'll get your book to you right away. I encourage readers to
keep commenting and/or subscribe at right in order to participate in future book give-aways!
And now let's meet novelist
Donald J. Parker
, author of
All the Stillness of the Wind
(Sword of the Spirit Publishing, 2008).
Tell us about yourself, Don.
In 2006 I had a dream that I heard a voice telling me to write a book about evolution. I rolled over and went back to sleep. In the morning I remembered that experience and went immediately to prayer with the words "Lord, did you ask me to write a book about evolution last night?" I heard a small still inaudible voice say just as clearly as anything I've ever heard, "And when you're done with that, I want you to go after Harry Potter and the sexual revolution. I obeyed and went from a bench warmer on the God squad to an author, blowing the trumpet in Zion. I've taken a few darts from the enemy, but I battle on. I have no clue where this odyssey is going to end. My goal is to put God's word in the hands of people that need it to find their way to eternal life or to be equipped to contend for their faith. I felt led to make my ebooks available for free download on my website.
Tell us a bit more about your novel's plot.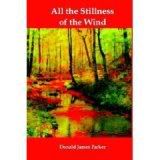 What makes you think there's a plot? Twain said that anyone looking for a plot in
Huckleberry Finn
would be shot . . .
Jeremy went from being an atheist in the prequel to believing the world must have a creator. In
Stillness
, he makes the journey to discover what such a creator would require of him. He's totally in love with Maria, a beautiful girl who refuses to be unequally yoked with an unbeliever. Jeremy refuses to sell out his intellectual integrity even to win her love. With a sworn promise not to honor any sacred cows in his search for the truth, Jeremy dives into the confusing world of religion with no fear of hitting his head on the bottom. His probing questions navigate in and out of treacherous waters of doctrine in search for absolute truth.
Which character in your novel most interested you while you wrote? Why?
This is a no-brainer. The story is Jeremy's. I lived part of that journey, so getting this on paper was a way for me to reflect on my own journey to find truth. Jeremy is a good kid, the kind we wish our sons would grow up to be, making it easy to feel the angst he suffers at being torn between competing versions of the truth and the desire he has to be compatible with Maria.
Why will readers enjoy your novel?
My characters usually have the art of mock verbal warfare down to a science. They lovingly joust throughout the book with what I hope is witty repartee. Humor, like beauty, is in the eye of the beholder, however, so some people may find this irritating. The book presents a challenge intellectually and spiritually, yet provides a romantic backdrop that intrigues anyone who can be drawn into a fictional unfolding of young love.
If you were the casting director for the film version of your novel, who would play your lead roles?


If we could turn back the hands of time, I'd recruit a teenage Maria Osmond to play Maria.
And Jeremy would be portrayed by a young Kurt Russell.
In the present age I would use Victoria Emmons and Austin Kearney from the movie
Come What May
, a story concerning the Wade vs Roe case.
What facet of the writing craft comes easiest to you? Explain.
Dialogue. I have a distinctive style of writing (which bothers some people) because I write almost pure dialogue. People's words flow out of my fingers, but I have to strain to write anything descriptive. For this and other reasons, I'm going to start writing movie scripts in the near future instead of books.
What do you struggle with in your writing?
Manufacturing description and trying to follow arbitrary rules about how a good novel should be crafted. I have never been much of a follower. I hope to blaze my own trail in regard to the form of the novel if I continue writing them. Novelists shouldn't be put in a box any more than God is. After all, writing is an art and not a science. I want to write what God wants in content and form--not what man wants.
A new writer is struggling to make her main character less "flat." In three sentences or less, give her your advice.
Make the person somewhat double minded--unable to decide to walk down one path in life without entertaining tempting thoughts to wander off unto the other route. A flesh-versus-the-spirit type of thing, where the character has to agonize over the pros and cons of each way, is perfect. Unfold a potpourri of emotional situations so the character experiences joy, sadness, anger, tenderness, etc., revealing many facets to their personality.
Choose an inanimate object to represent you. Explain what you have in common with that object.
This is the hardest interview question I've ever faced. I'd have to say a computer. My cerebral CPU (Central Processing Unit) is always firing at high clock speed, multitasking, spewing output just like my computer. I started out with lots of memory and drive, but have become outdated and am in need of having my parts replaced.
What is the last book you read that impacted you? How did it affect you?
The Final Quest,
by Rick Joyner is one I just finished this morning. It deals with a vision that he had from the Lord. The most striking thing was the reference to the cloak of humility as a badge of honor among those in Heaven. One of the people he meets in his vision (in Heaven) was a famous writer who said that his books were garbage containing human reasoning instead of God's pure word. That was a big wake up call for me because I include a lot of humanly wisdom in my books. The goal is to draw people to the Lord via my books, not to draw people unto my books or me.
Another impactful book is
Not Peace but a Sword,
by Vance Havner. It reinforced my resolve to present God's word in love but without compromise. The time for playing church is at an end. It is now that time that Jesus said would come--a time to worship in spirit and in truth in an era when people have itching ears and will not endure sound doctrine.
What are you working on now?
I'm working on a novel dealing with sexual pressures on teenagers. It's going to get a little edgy as it branches out into controversial topics like Planned Parenthood and abortion laws that permit a minor to get an abortion without their parents' knowledge, while doctors can't perform any other type of surgery on a child without the express written permission of the parents. If that little tidbit of information doesn't tip you off as to the condition of our society, nothing will.
Where else can readers find you or your writing online? Please include the link for purchasing your book.
My book is sold at all the online book markets such as
Amazon
and
Barnes and Noble
. A signed copy is available for ten dollars at my publisher website at
www.SwordOfSpirit.net


Thanks, Don, for telling us about yourself and All the Stillness of the Wind.
Readers, Don has offered to sign a copy of his novel for the winner of our drawing on Monday, April 6.
To enter, leave a comment for Don
, below. Leave your email address, in case you win, like so: trish[at]trishperry[dot]com. If you subscribe to my blog, at right (or if you're already subscribed),
you'll be entered an additional time
to this drawing and all future drawings.
And check back on Thursday, when we'll meet novelist Jill Williamson, author of
By Darkness Hid
. And we'll draw the winner of Cynthia Hickey's book,
Candy-Coated Secrets
.
You can still enter for that drawing under Cynthia's interview, below
.