The men of Fergus aren't keeping the town safe, so a group of feisty women take matters into their own hands.
Before we revisit today's featured author, I want to announce that the winner of the drawing for
Field of Danger
, by Ramona Richards, is:
ppwbookplace@ . . .
Congratulations! I'll contact you today for your snail mail address, and we'll get your book to you right away. I encourage readers to
keep commenting and/or subscribe at right in order to participate in future book give-aways!
And now let's revisit with novelist
Susan Page Davis
, author of
The Sheriff's Surrender
(Barbour Publishing, December 2009), the first book in Susan's new series, The Ladies' Shooting Club.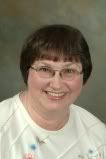 Susan Page Davis is a native of Maine. She's the author of more than two dozen novels, mostly in the historical romance and romantic suspense genres. Her husband Jim is a retired news editor, and two of their six children still live at home. They also have six far-flung grandchildren. Two live in Idaho, so they got to visit them when Susan went west to do research for this series. Jim is an Oregon native, and they lived out there for a while, early in their marriage, so Susan feels comfortable writing stories set on both sides of the Mississippi.
Please tell us a bit more about the plot of

The Sheriff's Surrender

.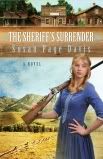 Gert Dooley can shoot the tail feathers off a jay at a hundred yards, but she wants Ethan Chapman to see that there's more to her than her marksmanship.
When the town's sheriff is murdered and Ethan is named his replacement, the men of Fergus can't find the killer. More crimes frighten the women. Gert forms the Ladies' Shooting Club, teaching the ladies to defend their businesses, homes, and families. The men are at first amused, then riled up. Most of them want their women back in the kitchen. Will Ethan bow to pressure and put the shooting club out of commission, or will he surrender his heart to one crack shot lady?
A second murder occurs, and this time the victim is a member of the club. Will Ethan and his men stop the killer? Or will that honor belong to the Ladies' Shooting Club?
Which character in your novel most interested you while you wrote?
Gert Dooley, who organizes the club, is in some ways a naive, sheltered young woman. She came from Maine at the age of 16 to keep house for her brother, the gunsmith. She's lived in the Idaho boomtown-gone-bust for eight years now, but she hasn't grown close to anyone except her brother. In this book, she blossoms into a leader and a caring member of the community. And she falls in love.
Why will readers enjoy your novel?
Hmm, mystery, romance, quirky characters you won't soon forget. What's not to like?
I have to agree with you there, Susan. I'm not normally a big reader of Westerns, but this storyline and the way Gert's character develops sound intriguing.

This month we're looking at writing prompts. Pretend you have to start a story with these words, and give us an idea of how you would end this first sentence:
Ella planned to lie about where she had been, but . . .

she scrapped that plan when she realized she'd been followed.
You often travel in connection with your books. What's the most recent trip you've taken for book research?
Jim and I went to Idaho in July to research the next book in this series (
The Gunsmith's Gallantry
, coming next June). With our daughter, Amy, we took a road trip in southwestern Idaho and visited historic Silver City and other sites pertinent to the mining era of that area.
What is the last book you read that moved you?
Harry Kraus's
Perfect
gave me a new perspective on how a book "must" end. Personally, I'm still a happy ending proponent, but this one was appropriate and kept me thinking about the book for weeks.
Readers, here's the link for Perfect, in case you're interested.

What are you working on now, Susan?
A historical suspense (with romance, of course) set in 1915. The working title is
The Tourmaline Cipher
(subject to change), and it's due out in July, 2010 from Summerside.
Where else can readers find you or your writing online?
Come visit
my Website
. You can view a book trailer for
The Sheriff's Surrender
on my historicals page, and link to buy it there, or go directly to
Christian Book Distributors
. I give away at least one free book on my website each month, so sign up for the hassle-free drawing on my home page. I'm also known to pop in at
Bustles and Spurs
and ShoutLife, and I have an author page at Amazon.
Thank you, Susan, for visiting with us again
and telling us about
The Sheriff's Surrender
. Readers, Susan has offered to give a copy of her novel to the winner of our drawing on Monday, December 21.
To enter, leave a comment for Susan
, below. Leave your email address, in case you win, like so: trish[at]trishperry[dot]com.
Check out my interviews of
Robin Shope
and
Randy Ingermanson
, below.
Leave a comment for Robin below her interview
and be entered to win a copy of her latest novel,
The Christmas Edition
, on Thursday, December 17. If you subscribe to my blog, at right (or if you're already subscribed),
you'll be entered an additional time
to this drawing and all future drawings.
Randy's new release,
Writing Fiction for Dummies
, would make an excellent addition to the library of any new or experienced fiction writer.
Leave a comment for Randy below his interview, and I'll enter your name
in my New Year's Eve drawing for Syrie James' novel
The Lost Memoirs of Jane Austen
.
Annoying legal disclaimer: drawings void where prohibited; open only to U.S. residents; the odds of winning depend upon the number of participants.
Check back this Thursday, when we'll revisit with Linore Rose Burkard, author of
The Country House Courtship
.