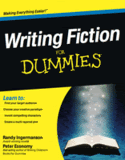 So you want to write a novel? Great! But is that all you want to do? After all, anybody can type a bunch of words and call it a novel. The trick is writing one that's good enough to get published.

This book is for fiction writers who want to write an excellent novel and get it published--and get paid a decent wage for it. That's a tough, demanding goal, but it's entirely doable if you tackle it intelligently. In
Writing Fiction for Dummies,
Randy Ingermanson and Peter Economy teach you all the skills you must master in order to get published.
Readers, today is the launch date for author Randy Ingermanson's excellent How-To book,
Writing Fiction for Dummies
. And Randy has a special offer for early purchasers:
Between December 7 and December 9, if you visit Randy's web site, you'll see some great incentives to buy

Writing Fiction for Dummies

on Amazon before midnight on Wednesday night, December 9.
Before you dash over there, let's take a look at Randy, his co-author Peter Economy, and their new release.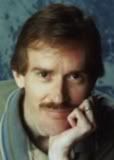 Randy Ingermanson was both the class nerd and the class clown. He is the award-winning author of six novels and is known around the world as "the Snowflake Guy" in honor of his famous "Snowflake method" of designing a novel. Randy earned a Ph.D. in physics from UC Berkeley and writes fiction set at "the intersection of Faith Avenue and Science Boulevard." It's a dangerous part of town with lots of high-speed collisions and flying glass. Randy publishes the world's largest electronic magazine on how to write fiction, the Advanced Fiction Writing E-zine. You can learn more about him at
www.AdvancedFictionWriting.com
and also
www.Ingermanson.com
.
Randy's coauthor on the book is Peter Economy. Peter is not a fiction writer or fiction teacher. He's a veteran of about 12 Dummies books. The publisher asked him to find a coauthor and write the book. He chose Randy to be his coauthor. "Obviously," Randy says, "he's an intelligent and discerning guy."
Randy, As you wrote

Writing Fiction for Dummies

, what audience did you have in mind?
Our main audience that we wrote the book especially for is the "freshman" writer. A "freshman" is a writer who hasn't been writing long and is still trying to figure out this wretched, wonderful, wacky game of fiction writing. So we decided that if a writer has never bought a single book on how to write fiction, then this should be the first book that he or she needs.
But I discovered as I wrote the book that it isn't just for "freshman" writers. I discovered that this book is also for me. In just about every chapter, I learned something new and exciting about the craft of writing. Or I thought of a new way to say something that I'd been trying to say clearly for years. I didn't expect that, but that's how it turned out. So I have this sneaking suspicion that many of my multi-published author friends are going to find a fistful of new insights in the book.
I know I'm eager to read it. I'm constantly learning new tidbits from your Advanced Fiction Writing e-zine.

I'm sure many of my readers are familiar with your Snowflake Method and your Advanced Fiction Writing Blog. How differently does

Writing Fiction for Dummies

approach fiction writing?
Writing Fiction for Dummies
really takes the same approach that I've always taken to writing fiction. It gathers together every topic I've been teaching for 9 years, and puts it all together in one convenient book. It's not as extensive as my lecture series are. No 384 page book could cover things in that level of detail. The book boils everything I've ever taught down to the essentials, but it also covers a wider range of topics than I've covered in the past.
I have a chapter in the book that reviews the Snowflake method, of course. And many of the articles that I've previously posted in my e-zine or on my blog have contributed ideas to the book. But I should make it clear that the book is almost entirely new in presentation. I've taken a few examples from my previous lectures, but virtually the entire text of the book was written fresh. That's why I learned so many new things--because I started with a blank page.
I should also say that certain topics in the book were new topics that I'd never covered before. Until I wrote this book, I had never written anything on how to strategically define your target audience and your category. That's essential to writing a marketable novel, but I had never taught on that until now.
I also completely rethought some of the material that I've been using for years that I learned from Dwight Swain, a master fiction teacher of many years ago. Swain's ideas are powerful, but I found that many of my students over the years got confused by certain ambiguities in the words. I couldn't find any book anywhere that had the words I needed for certain concepts. So I created a few new terms of my own. I hope the writing community will accept these new terms.
One thing that was very new in this book for me was to use fictional methods to teach fiction. In numerous places in the book, I write a little snippet of a scene to teach a concept. It was fun. If you string each of the snippets together, they actually form a larger story in which the reader moves from hopeful writer to published author to endangered celebrity. I hope that my readers will remember these little fictitious snippets, and in doing so, remember the concepts.
And how does

Writing Fiction for Dummies

differ from the other writing books out there?
Writing Fiction for Dummies
sounds like me speaking. It's written completely in my voice.So far as I know, none of those other books do that. I have a weird way of looking at the world, and that comes through in my teaching.
Of course, I cover all the usual stuff. Storyworld. Characters. Plot. Theme. But I teach all these classic topics in my own twisted way.
One thing that I do that's fairly unusual is to always keep one eye on marketing. I teach the craft of writing, but at every stage, I try to explain WHY it's so important--because good craft sells copies. The successful novelist writes to entertain the reader. If your fiction is entertaining, you'll sell copies. It's that simple.
What was your greatest challenge in writing this book? Your greatest pleasure?
Let's face it--I hate being edited. I always imagine that when I've written my first draft, it's perfect and the editor just needs to rubber-stamp it with the words "Perfect In Every Detail."
Tragically, that never happens. So it was a challenge to work with the editor to make it better. That's always my big challenge. I'm happy to say that the book is a
lot
better now than when I first turned it in.
My greatest pleasure in writing the book was in learning new things. I learned a lot of new things this time working through the material. Most of them were little things. I think they'll make me a better writer. They say that if you really want to learn a subject, then teach it. That's true.
I actually changed my mind on something fairly fundamental that I've been teaching for years. I was a little shocked when I realized that a strongly held belief of mine wasn't necessarily true. So I changed my tune. I won't tell you what belief I changed, but I'll give you a hint: p. 210, top paragraph.
Ah, ever the man of mystery! Now we all have to buy the book or suffer ignorance. Of course, that would have been the case despite your tease, no?

Just for that lone, sadly uninformed person out there, tell us what other books you've published.
I'll give you a piece of doggerel just for that:
Breathes there a man with soul so dead,
who never to himself hath said,
"That Randy is a funny twit,
I wonder what he might have writ."

I've written three time-travel novels set in ancient Jerusalem:
Transgression, Premonition,
and
Retribution
.
I've written two futuristic Mars novels with John Olson:
Oxygen
, and
The Fifth Man.
I've written one contemporary suspense novel:
Double Vision
.
I've written a nonfiction book examining the alleged Bible Code:
Who Wrote the Bible Code?
What's next on the writing horizon for you?
I'm currently planning to wrap up my product lineup of "how to write fiction" courses that I sell on my web site. I'm also working on a top secret web site with John Olson. I could tell you all about it, but John would remove my kneecaps. I like my kneecaps, so . . .
I'll just say it'll be cool. I also have a couple of ideas for novel series that I'm composting in my little brain. When they're ready, I'll start writing them. Until then, well, honestly, compost doesn't look all that appetizing, so it's probably best to keep them out of sight for the time being.
How can readers and writers find you online?
Google me. Or see my two web sites at:
www.AdvancedFictionWriting.com
and
www.Ingermanson.com
Thanks, Trish!
Thank you, Randy. I can't wait to read your latest!
Readers, remember to act quickly to take advantage of Randy's special offer
when you order
Writing Fiction for Dummies
! Visit his website before midnight, December 9.
While I don't have a copy of
Writing Fiction for Dummies
to give away,
I will be happy to add your name to my New Year's Day drawing
for
The Lost Memoirs of Jane Austen
if you leave a comment for Randy, below. That's two chances so far to enter your name in the drawing: here and
HERE
. I'll draw a name from commenters only, this time around.
I did have a drawing this morning, however, for commenters and subscribers alike, for Margaret Daley's Christmas novel,
Together for the Holidays
.
The winner is:

kalea_kane@ . . .
Congratulations! I'll contact you today for your snail mail address, and we'll get your book to you right away. I encourage readers to
keep commenting and/or subscribe at right in order to participate in future book give-aways!
Don't forget to check out my interview of Janice Thompson, author of
Fools Rush In,
below. She'll give away a signed copy of her book this Thursday. Leave a comment and/or subscribe at right to enter.
Annoying legal disclaimer: drawings void where prohibited; open only to U.S. residents; the odds of winning depend upon the number of participants.
Tomorrow I plan to feature novelist Ramona Richards, author of
Field of Danger
.