A regency miss seeks the glamour of a London Season and a wealthy match, but finds herself drawn to a handsome country vicar, which threatens to ruin all her plans.
Before we revisit today's featured author, I want to announce that the winner of the drawing for
The Christmas Edition
, by Robin Shope, is:
kimberly_johnson503@ . . .
Congratulations! I'll contact you today for your snail mail address, and we'll get your book to you right away. I encourage readers to
keep commenting and/or subscribe at right in order to participate in future book give-aways!
And now let's revisit with novelist
Linore Rose Burkard
, author of
The Country House Courtship
(Harvest House Publishers, January 2010).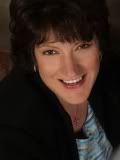 Linore Rose Burkard writes Inspirational Romance for the Jane Austen Soul--Christian Regencies. Her first two books in the Regency Series,
Before the Season Ends
and
The House in Grosvenor Square
, are already reader favorites.
Country House Courtship
rounds out the series, but Linore has other titles planned which share the regency setting. Fans of her books or the regency can receive a free monthly newsletter (
Regency Reflections
) by signing up at her website. Each issue includes a free download.
Please tell us a bit more about the plot of your novel.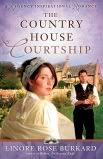 Beatrice Forsythe, now all of seventeen, fully expects to snag a wealthy husband when she hits London by storm for the coming Season. After all, her sister Ariana married the Paragon, Mr. Mornay! With that accomplishment in the family, how could she fail to make a high match? But she doesn't count on renewing an acquaintance with a handsome young vicar while visiting her sister's country estate. Yet her plans are safe--until Ariana falls gravely ill and nothing is as it should be. Soon, hearts are bared and secrets come to light, and in the end a country house courtship like no other has taken place!
Which character in your novel most interested you while you wrote?
Beatrice, the heroine, falls into the classic dilemma of being torn between what her head tells her and what her heart knows to be true--two very different things. She has every reason to hope she'll be introduced into the highest circles of society, and therefore thinks she can make a wealthy match as Ariana did; but when her heart slowly learns that the perfect husband may not be what she had in mind at all, she has to choose whether to follow her dreams--or make new ones. It's a thing that arises in the life of nearly every one in some form or another, and therefore is always compelling. I loved the way Beatrice had to be convinced of where her best interests lay, and how she gradually was drawn to choosing the "better thing."
Why will readers enjoy your novel?
Like the other novels in this series,
Country House
is set during the Regency; So all the fun of the customs and costumes, the morals and manners, the upper class and the servants, is there. Unlike the other two, the setting for this one is a quintessential English country estate, which is a change of pace, and really fun and interesting. Plus, the characters that readers already know and love are here, being themselves, and yet faced with new challenges, which reveals them in a new way. I particularly enjoyed seeing how Ariana and Phillip settle down into married life, while maintaining that fierce attachment they have for each other.
If you were the casting director for the film version of your novel, who would play your lead roles?
I love Johnny Depp and I'm sure he would make a wonderful Mr. Mornay, but recently we ran a poll on this very question, and readers chose Elliot Cowan (Mr. Darcy from,
Lost in Austen
).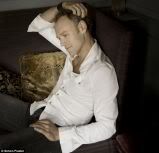 I still haven't seen that series, but I'm eager to. I hadn't seen this actor before, and I found myself surfing longer than necessary. Just had to share the shot of a more modern version of the guy. Your readers are sharp ladies, Linore.

How about your other characters?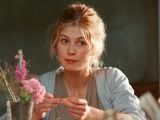 For Ariana, I like the model on the bookcovers but it looks like readers are going for Rosamund Pike (we're doing the poll right now, and so far Rosamund is the favorite by far).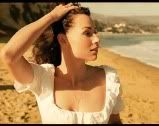 If Minnie Driver was ten years younger, she'd be a blast as Beatrice.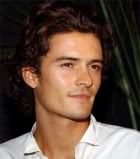 And Orlando Bloom would be a Mr. O'Brien to swoon for.


What a gorgeous cast!

When you visited us last, you told us your writing strengths and weaknesses were thinking up the stories and then struggling to bring them to life, respectively. Has that changed in any fashion?

I'm not sure if my strengths and weaknesses have changed, but my assessment of them has. I now think a weakness of mine as a writer, at least when I'm planning a book, is knowing when to begin a story; I always want to start early, and gradually work into the main conflict. I usually write two to four "first" chapters before deciding which one is the real start of the story, so the others get scrapped. But the writing is probably still worthwhile as it helps me know more of the backstory, and understand the characters better.



I'm asking my December authors to finish the following statement as though they were planning on writing a story with this opening:





Ella planned to lie about where she had been, but . . .

during the long drive home she listened to a radio show on How to Be Authentic, and the show host actually talked her out of it! She used scripture quotes to back up her points, and in the end, Ella knew she could no longer lie to her room-mate. She'd have to tell the truth, come what may.



What are you working on now?



A new sort of novel for me; it's a time-travel! But it's not a sci-fi or thriller, it's still an inspirational romance. My readers are going to

love

this hero.



Where else can readers find you or your writing online?



My website: www.LinoreRoseBurkard.com has many wonderful free pdf's for readers, which anyone can access without signing up or leaving their email. And my books are in bookstores, or available at any online bookseller, like Amazon or Christianbook.com. By the way,

The Country House Courtship

is available for pre-order on Amazon for under $10, which is the lowest price I've seen on any of my books.

Thank you, Trish!



Thank you, Linore, for visiting with us again

and telling us about

The Country House Courtship

. Readers, Linore has offered to give a copy of her novel to the winner of our drawing on Christmas Eve. To enter, leave a comment for Linore, below. Leave your email address, in case you win, like so: trish[at]trishperry[dot]com.

Check out my interviews of Susan Page Davis and Randy Ingermanson, below.

Leave a comment for Susan below her interview

and be entered to win a copy of her latest novel,

The Sheriff's Surrender

, on Monday, December 21. If you subscribe to my blog, at right (or if you're already subscribed), you'll be entered an additional time to this drawing and all future drawings.

Randy's new release,

Writing Fiction for Dummies

, would make an excellent addition to the library of any new or experienced fiction writer.

Leave a comment for Randy below his interview, and I'll enter your name

in my New Year's Eve drawing for Syrie James' novel

The Lost Memoirs of Jane Austen

.

Annoying legal disclaimer: drawings void where prohibited; open only to U.S. residents; the odds of winning depend upon the number of participants.