Although horse-trainer Sarah Ames is stunned when her pa hires the part-Mexican Carson Romero to take over her job on the ranch, she gradually becomes attracted to the handsome drifter. But when cattle go missing, Carson seems the prime suspect. Has Carson stolen Sarah's heart as well as some prime longhorns?
Before we visit with today's featured author, I want to announce that the winner of the drawing for Sandie Bricker's novel,
Love Finds You in Holiday, Florida,
is:
ecspiers@ . . .
Congratulations! I'll contact you today for your snail mail address, and we'll get your book to you right away. I encourage readers to
keep commenting and/or subscribe at right in order to participate in future book give-aways!
And now let's revisit with novelist
Vickie McDonough
, author of the novella,
A Breed Apart
, in
Wild West Christmas
(Barbour Publishing, September, 2009).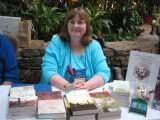 Vickie McDonough is an award-winning inspirational romance author. She has had 16 novels and novellas published. Her Heartsong books,
The Bounty Hunter and the Bride
and
Wild At Heart
, both placed third in the Top Ten Favorite Historical Romance category in Heartsong Presents' annual readers' contests. Her stories frequently place in national contests, such as the ACFW Book of the Year contest and the Inspirational Readers Choice Contest. The first book in her first long fiction series, Texas Boardinghouse Brides, will release next year. Vickie has also written book reviews for over eight years.
She is a wife of thirty-four years, mother of four grown sons and grandma to a feisty three-year-old girl. When she's not writing, she enjoys reading, gardening, watching movies, and traveling.
Please tell us a bit more about the plot of A Breed Apart.
Wild West Christmas
is an anthology collection. It contains four novellas by four authors (Lena Nelson Dooley, Kathleen Y'Barbo, Darlene Franklin and me), and they all focus on the Ames sisters, who live on a ranch in the Texas Hill Country. Each sister has a special talent such as roping or tracking, and since there are no boys in the family, the sisters help run their father's ranch.
My story is titled
A Breed Apart
, and my heroine is named Sarah. Her passion is training horses, and she's an expert at it. Her father wants her to be more like her oldest sister and learn to tend the home, but Sarah hates being inside doing womanly things. When her pa hires half-breed Carson Romero to replace her, Sarah almost loses her identity. But when cattle go missing soon after Carson's arrival, she suspects him to be an outlaw. As she watches Carson, she realizes he has a gift for working with horses and a unique style. Intrigued, she wants to know more. Is it possible for a man so talented to also be an outlaw?
Which character in your novel most interested you while you wrote?
Carson, my hero. Why? Carson is half Scottish and half Mexican and has faced being a half-breed all his life. Being part Mexican and living in historical Texas was a fete all its own. He's a good man living a difficult life, and I enjoyed writing his story.
It must have been fascinating, Vickie, to write about the problems of the past with regard to peoples' views on multicultural heritage. Certainly prejudice still poisons pockets of American society, but the idea that someone of mixed race would stand out as a "half-breed" seems so odd (and sad) today. I'd love to read how Carson fared.

Why will readers enjoy your novel?
For one, it has a Texas setting, which remains popular among readers. It's exciting and has four romances with Christmas settings. Also, I think readers will enjoy seeing how the different authors incorporated the sisters into all the stories. It's hard to write a character that you didn't create, but all of the authors in this collection did a wonderful job.
Yes, it's impressive that your stories intertwine like that. That can't have been easy. But that makes for a good collection!

If you were the casting director for the film version of your novel, who would play your lead roles?
Marco Sanchez, who played Carlos on Walker Texas Ranger, is who I based my hero on.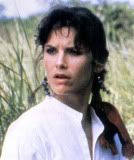 A young Stephanie Zimbalist was the model for my heroine, but she'd be too old to play Sarah now.
We'll make Stephanie a young chick for our purposes. I wish it were that easy in real life.

This month we're talking about different approaches to writing novels. Some authors use outlines, some write as they go, some take a different approach altogether. Could you give us an idea of the method that works for you?
I'm kind of in-between outlining and writing by the seat of my pants. I've written eight books for Heartsong Presents, and they require a chapter-by-chapter outline of the book before they'll buy it. Because of that, I learned how to create a skeleton of my novel. I found that was very helpful when it came time to write the book. I know just what goes into each scene, but there is still plenty of room for creativity.
Wow. I always find I expand on my original outline, as additional plot turns demand, so I'm impressed with your foresight.

What is the last book you read that moved you?
I recently reviewed a book called
Leah's Choice
, by Marta Perry. I don't normally read many books with Amish settings, but this one really touched my heart. Leah loved a young man who left the Amish community. She grieved his loss, but went on with her life. When he returns years later, she struggles all over again with her beliefs and her desire to be loved. This story inspired me to stand firm with my beliefs and convictions, even when things may look greener across the way. Compromising what I believe to get something I may want isn't the answer.
Such

a tough dilemma for so many of us Christians!

Besides Marta Perry, above, who is an author you admire?
There are so many, but one author I've read a lot recently is M.L. Tyndall. Her books are packed full of action and adventure. Her heroines always end up in dire circumstances and must rely on their wits and faith to survive. One thing Ms. Tyndall does that you don't often read in Christian fiction is the use of supernatural events. She sometimes shows the answer to her heroine's crying out to God in an unusual way, by a supernatural act.
What are you working on now?
I finished
The Anonymous Bride
, which is the first book in my Texas Boardinghouse Brides series and am currently writing the second book called
Second Chance Brides
. Basically, in
Second Chance Brides
, there are two women leftover from a bride contest to see who will marry the town sheriff. These two women are the losers, and I wanted to tell their stories and see that they have a happy ending.
Where else can readers find you or your writing online?
Readers can find out more about my books at my website:
www.vickiemcdonough.com
I'm also a monthly blogger on the Bustle and Spurs blog, which features articles and books focused on the Old West.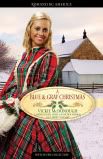 I also would like to mention that I'm in another Christmas anthology that released last month. It's called
A Blue and Gray Christmas
and features four romances set in and around the Civil War. The other authors are Carry Turansky, Tamela Hancock Murray, and Lauralee Bliss.
Wild West Christmas
can be purchased at
www.Christianbook.com
and
www.Amazon.com
.
Thanks for allowing me to be a guest again!!!
Thank you, Vickie, for visiting with us and telling us about

Wild West Christmas.
Readers, Vickie has offered to give a copy of
Wild West Christmas
to the winner of our drawing on Monday, November 23.
To enter, leave a comment for Vickie
, below. Leave your email address, in case you win, like so: trish[at]trishperry[dot]com. If you subscribe to my blog, at right (or if you're already subscribed),
you'll be entered an additional time
to this drawing and all future drawings.
Be sure to check out my post about Jane Austen's
Emma
, below.
There's time to leave a comment to enter the November 19 drawing for my novel,

Too Good to Be True

.

Annoying legal disclaimer: drawings void where prohibited; open only to U.S. residents; the odds of winning depend upon the number of participants.