Just in time for Christmas! Sandra D. Bricker, award-winning author of laugh-out-loud comedy for the inspirational market, invites you to join her for scripture and crossword puzzles, mayhem with the neighbors, ballroom dancing lessons, some rogue flamingos and a flying dog, New Year's Eve disco night . . . Oh! And unexpected love.
Before we visit with today's featured author, I want to announce that the winner of the drawing for one of my novels is:
debbiejeanm@ . . .
Congratulations! I'll contact you today for your snail mail address and to find out which one of my books you want, and we'll get your book to you right away. I encourage readers to
keep commenting and/or subscribe at right in order to participate in future book give-aways!
And now let's talk with novelist
Sandie Bricker
, author of
Love Finds You in Holiday, Florida
(Summerside Press, December 2009).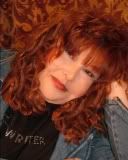 Sandra D. Bricker has been publishing in both the Christian and general market for years with novels for women and teens, magazine articles, and short stories. With eight novels in print and five more slated for publication through 2010, Sandie has carved out a niche for herself as an author of laugh-out-loud comedy for the inspirational market. Her
Love Finds You in Snowball, Arkansas
won three readers' choice awards last year. Sandie was an entertainment publicist in Hollywood for 15+ years, and her client roster read like a Who's Who in the world of daytime soaps. She currently lives in Tampa, Florida, working a day job as a content editor.

Please tell us a bit more about the plot of your novel.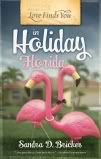 Lawyer Cassie Constantine has no plans to stay in Florida. She's there just long enough to sell her late husband's vacation house, and then she'll hightail it back to her gracious Boston colonial. But the place needs more work than Cassie bargained for. What's more, her widow status is like a target on her back and the elderly matchmakers around town manage to sidetrack her mission at every turn. Holiday is a landmine of golf tournaments, ballroom dancing competitions, shuffleboard and day trips. But the biggest obstacle of all: Richard Dillon, the stuffed shirt she's paired with on the dance floor. He makes her heart beat faster than the rhythm of The Quickstep.
Which character in your novel most interested you while you wrote?
Well, since my dog Sophie is a character in the novel, I'd have to say her! But of the fictional ones . . . there were so many to choose from in this book. Crazy neighbors like Millicent, the wheelchair-bound Marvin, and even the heroine Cassie. But I think the hero, Richard, interested me the most as a writer because he's such a dichotomy. He's one part stuffed shirt who plans everything, and one part grief-stricken widower bravely trying to make a new start for himself when his plans fall apart. I really love showing all the opposing facets of a character. When he began to loosen up because of Cassie's influence, I sort of fell in love with him despite my lack of attraction to him in the beginning of the novel. It's just like real life! You meet someone and have one impression of them, and then you start to get to know them and realize how much depth there is.
I think I've fallen for every one of my heroes.

Why will readers enjoy your novel?
I hope they'll enjoy it because it's not your typical romance. The main characters are in their 50s, and there's a supporting cast as diverse as you can imagine. From a teenager with piercings and tattoos to an elderly group of ballroom dancers that flourish when they rediscover disco.
One thing I've noticed about living on this odd little planet called Florida is that the diversity among the residents is just astounding. Since Summerside really focuses on giving the reader a genuine regional experience, I tried to bring that into the story at every turn. For instance, I drew from local Christian radio, cuisine, wildlife . . . and then tried to filter it through the eyes of this very different cast of characters. Someone told me that "this novel personifies the word
quirky
," and I think that's a very nice assessment.
If you were the casting director for the film version of your novel, who would play your lead roles?
The heroine Cassie would be played by Sally Field.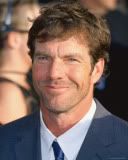 And Richard would definitely be played by Dennis Quaid. He has those "parentheses" around his smiles that Quaid has. That just knocks me out.
I'm with you there, Sandie. Very mischievous looking, even in a grown man.

This month we're talking about different approaches to writing novels. Some authors use outlines, some write as they go, some take a different approach altogether. Could you give us an idea of the method that works for you?
It's interesting that, when I started out as a screenwriter, I always wrote from a full step outline. This happens, then this, then this. But as a novelist, I really enjoy the freedom of making some general notes about plot, and then just flying out on the open road. I get inspired as I go along with the characters, experiencing things as they do. I'm not sure I could go back to that very structured process and still enjoy it the way I do.
What facet of the writing craft comes easiest to you? What do you struggle with?
Let me preface this by saying I
do not like this
revelation, but it has recently come to my attention that I write a better book when I'm on a deadline. I'm not certain, but I think it has something to do with being forced to write in larger chunks of time (like last weekend when I spent almost 20 hours at my computer over Saturday and Sunday!) rather than an hour here or an hour there.
What I struggle with the most is the unwritten
rules
that some writers seem to like to inflict on other writers. I understand the importance of knowing them; studying your craft is imperative to building and growing as an author. I just don't get that insistence sometimes fastened to the craft with so many hard-driven nails. Sometimes I find that the beauty of a really great story or rich, interesting characters can easily be missed when reading strictly for verbiage and (broken) rules.
Choose an inanimate object to represent you. Explain what you have in common with that object.
I suppose I'd be a Thesaurus. I'd like to imagine myself sitting closed on a bookshelf near the window, enjoying the sun while swimming around in all those different ways to say things. Ahhh, words rock.
What is the last book you read that moved you?
Oh, that's easy.
The Prayers of Agnes Sparrow
by Joyce Magnin. It's one of the first novels released by the new fiction line at Abingdon Press. Come to find out, this was Joyce's debut novel, and it was written with such expertise, humor and unexpected depth that I was really moved. I found myself several times laughing and crying at the same time and, if I can pilfer a line from Steel Magnolias, laughter through tears is my favorite emotion.
Huh. I had no idea that's where that line came from. I thought my Associate Pastor's wife thought it up all by herself!

What are you working on now?
A deadline! My second book for Abingdon Press (
Always the Baker, Never the Bride
) will be released with the fall cycle in 2010.
Where else can readers find you or your writing online?
My Web site:
www.SandraDBricker.com
My blog:
sandradbricker.blogspot.com
Group blog:
bestilldevos.blogspot.com
Love Finds You in Holiday, Florida
will be released on December 1st. It can be pre-ordered through the usual suspects like Amazon and Barnes & Noble, or via
Christianbook.com
Thanks, Sandie, for visiting with us and telling us about

Love Finds You in Holiday, Florida.
Readers, Sandie has offered to give a copy of her novel to the winner of our drawing on Monday, November 16.
To enter, leave a comment for Sandie
, below. Leave your email address, in case you win, like so: trish[at]trishperry[dot]com. If you subscribe to my blog, at right (or if you're already subscribed),
you'll be entered an additional time
to this drawing and all future drawings.
Be sure to check out my interview with Julie Lessman, below.
There's time to leave a comment to enter the November 12 drawing for her novel, (

A Passion Denied

)
.
Annoying legal disclaimer: drawings void where prohibited; open only to U.S. residents; the odds of winning depend upon the number of participants.
Also, here's a reminder about the upcoming multi-author booksigning taking place in Hagerstown, Maryland, on November 28. For details, go
HERE
. I'd love to meet you!