Before we visit with today's featured author, I want to announce that the winner of Brenda Lott's novel,
The Jewel of His Heart
is:
carrie@ . . .
Congratulations! I'll contact you today for your snail mail address, and we'll get your book to you right away. I encourage readers to
keep commenting and/or subscribe at right in order to participate in future book give-aways!
And now let's talk with author
Shirley Connolly
about her devotional,
I See God in the Thorns~n~Thistles

.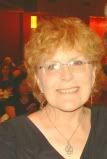 Shirley Kiger Connolly is a graduate of Institute of Children's Literature. When not penning historical fiction romances laced with nuggets of inspiration or journaling reflections aimed at readers in search of lighthearted encouragement, Shirley serves as teacher and speaker to women's groups, and writer of Bible study curriculum for various retreat and workshops. Shirley also writes features for local community organizations and several online women's Christian groups, while she stays actively involved with numerous writers' groups: American Christian Fiction Writers: Hearts through History Chapter of Romance Writers of America; and Faith-Hope-Love RWA, and several others.
Shirley enjoys interviewing and promoting other authors at her blog
apenforyourthoughts.blogspot.com
and spending time with her animals, taking walks with her dogs, playing her piano or guitar, and doing needlework when she hasn't got a pen in her hand. She and her husband live on the southern tip of Oregon but are hoping and praying to sell their home soon and move to Texas. If you can find the right boots (not too high or pointed) and hat (not too high or pointed) that would go well on a short redhead, be sure to let her know. She can be reached at
sh1rlee@verizon.net
most of the time.
Tell us about your latest devotional.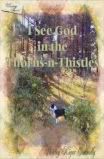 I See God in the Thorns~n~Thistles
is my second in a three-book devotional series for readers who enjoy lighthearted reflections. The first came out last February. I called it
I See God in the Simple Things.
I think I told you about it a while back.
Thorns~n~Thistles
speaks more to the heart that's burdened or to someone experiencing times of trial. (Who isn't?)
The truth is, all of us get challenged by the complexities of life, the afflictions, the tests, and the tragedies…right? Where do we run when we do? Regardless of how long we have been Christians, or even if we haven't made that decision yet, do we run to or from God during the hard times? Do we try to see what He's teaching us?
Since God remains there for us not only in the simple circumstances but also during the toughest times, this book points to how much we are never alone.
Thorns~n~Thistles
, like my first devotional offers not only short reflections, but also independent devotions, a way to make the most out of the troubles, and a way to draw closer to God because, and oftentimes in spite of, whatever pain we are in.
It's all about life-changing lessons we learn while on our personal journeys, while teaching us to have compassion for others when they go through their difficult times. Isn't that what life's all about for the believer?
How are the devotions structured?
A devotional is so individual I imagine everyone does it differently. I like to begin mine with an introduction about why I wrote the book to give the reader a better understanding of what they are about to take part in, and how to use each section. I prefer setting each lesson or reflection up with a feature first which shows God in the middle of a situation and sometimes in a very unusual way. (But of course He is always there, we just don't see it if we aren't looking) and then a section for the reader to journal her or his own thoughts that might relate to the same type of situation or whatever comes to mind and how God shows them something.
I add a scripture portion so people can have their own Word Study time which I think is important because that way they have the Bible handy with everything they are reading. It causes all of us to take the time to spend in devotions without getting too heavy if we have busy lives. And sometimes people prefer doing devotions in various ways. I don't like to interrupt that.
And then I end with a prayer of my own which the reader can join me in if they like. I like an organized life (though my house doesn't always show that) and it comes through in my devotional books. Structured and with a set pattern from beginning to end. (Oh, at the end of my devotionals I also like having an index of scripture references with words so that people can look up something quickly if they have a mind to.)
Who would your book best serve?
I've noticed that it meets the needs of a wide spectrum of people,
i.e.
, both women and some men who have written me to say they have read my devotionals. Also young adults who I've heard from that have gotten a lot out of them because they are easy to work with.
Where can readers find

Thorns~n~Thistles

?
This book is set to release in November, officially the 30th but I know it will be out closer to the middle of the month, at least a sneak peak. I just finished my first line of edits for the final product. Readers can find it at Booksamillion, Target, Amazon and Barnes n Noble (though B and N) are usually higher priced. Amazon, many times, offers discounts which is great for the reader. The best place to get the book at the best price will be right through www.vrpublishing.com which is going to have an area where all its authors' books can be sold at very reasonable prices.
And this isn't your only book, is it, Shirley? Where can readers learn about your other books?
No, I write both fiction and nonfiction. I've written two fiction stories:
It Happened Near the Cliff Rock
and
Flame from Within
. Then there is the I See God series which readers can find available at stores throughout and with discounts at most online stores. My third I See God book releases in 2010. (
I See God on that Narrow Road
). I am also finishing up my third fiction novel. I hope you'll be watching for that.
Thanks so much for having me, Trish!
Thanks, Shirley, for visiting with us and telling us about

I See God in the Thorns~n~Thistles

.
Readers, Shirley has offered to sign a copy of her book for the winner of our drawing on Monday, October 26.
To enter, leave a comment for Shirley
, below. Leave your email address, in case you win, like so: trish[at]trishperry[dot]com. If you subscribe to my blog, at right (or if you're already subscribed),
you'll be entered an additional time
to this drawing and all future drawings.
Be sure to check out my review of
Sense and Sensibility
, below. There's time to leave a comment to enter the October 22 drawing for my book,
Sunset Beach
.
Annoying legal disclaimer: drawings void where prohibited; open only to U.S. residents; the odds of winning depend upon the number of participants.
This Thursday we'll hear from Christina Berry, author of
Familiar Stranger
.