A woman, guilt ridden after her mother's stroke, must find her way back to forgiveness and love before the upcoming Christmas season destroys her.
Before we visit with today's featured author, I want to announce that the winner of
Christmas Homecoming,
featuring Debby Mayne's novella, "Silver Bells," is:
klmc_37@ . . .
Congratulations! I'll contact you today for your snail mail address, and we'll get your book to you right away. I encourage readers to
keep commenting and/or subscribe at right in order to participate in future book give-aways!
And now let's talk with novelist
Myra Johnson,
author of
One Imperfect Christmas
(Abingdon Press, September 2009).
Myra Johnson's roots go deep into Texas soil, but she's proud to be a new Oklahoman. Empty-nesters now, she and her husband share their home with two lovable dogs and a snobby parakeet. In addition to her debut novel with Abingdon Press, Myra also writes for Barbour Publishing's Heartsong Presents line.
Autumn Rains,
winner of the 2005 RWA Golden Heart for Best Inspirational Romance Manuscript, releases October 2009. Myra writes full-time and is active in her church as well as local and national writers groups. She and her husband Jack have been married since 1972. The Johnsons have two married daughters and five grandchildren.
Please tell us a bit more about the plot of

One Imperfect Christmas.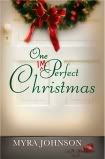 Natalie Pearce loves Christmas so much she'd gladly make it a year-round celebration--until her mother suffers a massive stroke while taking down the decorations. Natalie's guilt over not being there to help her mom soon builds a wall that separates her from the rest of her family, including her husband, Daniel, and their teenage daughter.
As the next December approaches, the last thing Natalie wants to be reminded of is another Christmas season. Only her family's tenacious love and an unexpected Christmas gift from her mother can help Natalie mend the broken pieces of their lives.
I have a feeling we're going to need a box of tissues nearby at the end of this one, Myra.

Which character in your novel most interested you while you wrote? Why?
While I loved delving into the character of Natalie, the heroine, I was probably most fascinated with her office assistant, Deannie. It was so much fun creating Deannie's quirky personality and playing it off Natalie's all-business attitude. I haven't given up on the idea of featuring Deannie in her own story someday.
I love when that happens! Why will readers enjoy your novel?
I hope readers will enjoy getting to know the characters, cheer for them as they try to get their lives back on track, and perhaps find points of identification in the characters' struggles. Natalie isn't always likable, but she's real, and I'd like readers to see that it's okay to be honest about our feelings. It's okay to struggle with faith. And it's okay to hope for a miracle, because even if God doesn't answer our prayers exactly the way we want Him to, He always finds a way to bring healing out of tragedy.
If you were the casting director for the film version of your novel, who would play your lead roles?
Hmm. I could see Reese Witherspoon as Natalie.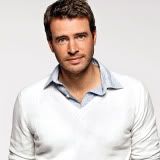 And Scott Foley (formerly of
The Unit
) as Daniel, Natalie's husband.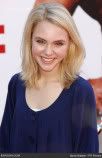 For Lissa, Natalie's daughter, AnnaSophia Robb would be a great match.
Those two actresses do actually look as if they could be related!
This month we're talking about books on the craft of writing. Of those you've read, which one would you most enthusiastically recommend?
That would have to be one I read just a few months ago,
The Moral Premise
, by Stanley D. Williams, Ph.D. I recently reviewed the book on
Mary DeMuth's blog
. Williams explains how the Moral Premise looks at both sides (virtue and vice) of a universal truth--what we commonly think of as a story's theme--and how that premise plays out in every aspect of the characters' journeys. When a writer uses Moral Premise effectively, the story is much more likely to resonate with readers long after they finish the book.
That sounds fascinating. I'll have to check it out.

What facet of the writing craft comes easiest to you? What do you struggle with?
The absolute easiest facet for me is revision. Once I have something to work with, I actually enjoy finding ways to make it better. The hardest part is plotting. As a seat-of-the-pants writer, I panic every time I am pressed to come up with a synopsis or chapter-by-chapter outline before I've written the book. While I usually have a good idea who my characters are, what the central conflict will be, and how I want the story to end, individual scenes come to me only as I do the actual writing.
Choose an inanimate object to represent you. Explain what you have in common with that object.
Wow, this question took some thought! Maybe a pair of binoculars. If you look through them the normal way, it brings everything up close so you can study it. As a writer, I have to look closely at my characters' lives--their background, emotional makeup, lifestyle, hopes and dreams. But then if you turn the binoculars around and look through them, everything gets pushed far into the distance. Sometimes I can get too close to my subject and fail to see the bigger picture. I need to back off and take the long view.
Clever! What is the last book you read that moved you? How did it affect you?
Allison Pittman's
Ten Thousand Charms
. Reminiscent of Francine Rivers's
Redeeming Love
, this story shows how a young woman forced into prostitution as a child comes face to face with God's love in the form of a widower who helps her see her own worthiness. I think no matter who we are or what struggles we deal with, beneath it all is a desperate urgency to believe we are loved, forgiven, and valued.
What are you working on now?
Since
One Imperfect Christmas
released, much of my time has been spent in promotional efforts. I've also been working on the final edits for my next two Heartsong Presents romances,
Romance by the Book
and
Where the Dogwoods Bloom
, which should be out sometime in 2010. These, along with my first Heartsong,
Autumn Rains
, are all contemporary romances set in Missouri.
Where else can readers find you or your writing online?
My website is
www.MyraJohnson.com
, and my personal blog, Writer at Random, can be found at
www.myra.typepad.com
. I also participate in two group blogs, The Seekers (
www.seekerville.blogspot.com
) and Romance Your Spouse (
www.romanceyourspouse.blogspot.com
)
For more about One Imperfect Christmas, readers can visit the page on the Abingdon Press Website,
www.abingdonpress.com
, where you'll also find a downloadable expanded study guide. The book is available through all major bookstores, including Cokesbury (
www.cokesbury.com
) and Amazon (
www.amazon.com
).
Thanks so much for hosting me on your blog today, Trish! It's been a pleasure!
Thanks, Myra, for visiting with us and telling us about

One Imperfect Christmas

.
Readers, Myra has offered to sign a copy of
One Imperfect Christmas
for the winner of our drawing on Thursday, October 8.
To enter, leave a comment for Myra
, below. Leave your email address, in case you win, like so: trish[at]trishperry[dot]com. If you subscribe to my blog, at right (or if you're already subscribed),
you'll be entered an additional time
to this drawing and all future drawings.
Be sure to check out my interview with Debbie Thomas,
below
. There's time to leave a comment to enter the October 5 drawing for Debbie's book,
Raising Rain
.
Annoying legal disclaimer: drawings void where prohibited; open only to U.S. residents; the odds of winning depend upon the number of participants.
This Monday we'll hear from Mary Connealy, author of
Cowboy Christmas
. Is anyone besides me getting eager about Christmas already? All of these holiday-themed novels are stirring me up!
Other books to consider right now (and for possible Christmas gifts) include those released this month:
1.
A Star Curiously Singing, The DarkTrench Saga, Book 1
, by
Kerry Nietz
from Marcher Lord Press. An augmented human programmer is sent to space to solve the mystery of a bot's destruction.
2.
Double Take
, by
Jenness Walker
from Steeple Hill Love Inspired Suspense. When a stalker becomes obsessed with a woman, the key to stopping him lies in a best-selling thriller . . . until he stops going by the book.
3.
Dreaming of Home
, by
Glenna Kaye
from Steeple Hill Love Inspired Two wounded hearts must learn to trust that God's dreams for them far exceed any they may have for themselves.
4.
Eternity Falls - A Rick Macey Cyberthriller, Book 1 of the Rick Macey Cyberthriller series
, by
Kirk Outerbridge
from Marcher Lord Press. A cyber-enhanced detective must stop a religious zealot from destroying a serum for eternal life.
5.
Gripped By Fear, Chicago Warrior Thriller Series, 2nd book
, by
John M. Wills
from Total Recall. Chgo Detectives hunt a serial rapist in the mean streets of Chicago in the midst of personal struggles.
6.
Leaving Yesterday
, by
Kathryn Cushman
from Bethany House. A mother rejoices at the return of her prodigal, but is faced with an impossible decision as evidence from his past refuses to stay buried.
7.
Loves Finds You in Bethlehem, New Hampshire
, by
Lauralee Bliss
from Summerside Press. Set in the Guilded Age within the beauty of New Hampshire's White Mountains, successful artist Tom Haskins and penniless Sara McGee discover through their circumstacnes that the most precious gifts of life and love don't always come as they're expected.
8.
Love Finds You in North Pole, Alaska
, by
Loree Lough
from Summerside Press. A story that's sure to warm your heart, despite the icy Alaskan setting!
9.
Love is a Battlefield, Book One in the Walk in the Park series
, by
Annalisa Daughety
from Barbour Publishing. War rages again at Shiloh, but this time it's a battle of the heart.
10.
Seaside Letters
, by
Denise Hunter
from Thomas Nelson. Sabrina Kincaid didn't intend to fall for Nantucket native Tucker McCabe, the man she serves coffee to every morning-a man tied deeply to a past she deeply regrets. But she has. And she's fallen hard. But she's kept this a secret from her handsome customer. And now Tucker wants to hire Sabrina to help locate his friend "Sweetpea"-the mysterious woman he's falling in love with online. Sabrina is not inclined to help, but if Tucker hires someone else, it could spell disaster. Because if someone else sifts through the emails and figures out the truth-then Tucker will discover that the person he's trying to find is . . . her.
11.
Soldier Daddy, Wings of Refuge Series-book 5-all standalones
, by
Cheryl Wyatt
from Steeple Hill. A USAF Pararescue Jumper searches for a nanny for his twins and instead finds a future with a woman harboring a secret tied to his past.
12.
The Case of the Mystified M.D., Book 2, Bouncing Grandma Mysteries
, by
A.K. Arenz
from Sheaf House. First a foot, now a hand--what body part is next?
13.
The Christmas Journey
, by
Winnie Griggs
from Steeple Hill Love Inspired.
14.
The Jewel of his Heart, Heart of the West Series
, by
Maggie Brendan
from Revell. Discover the classic struggle between the world's wealth and the lure of eternal love in this Western story of elegance and survival.
15.
The Matchmaking Pact, After the Storm #4

, by
Carolyn Aarsen
from Steeple Hill Love Inspired. A single father and a single mother have to deal with matchmaking children.
16.
Thirsty
, by
Tracey Bateman
from Waterbrook. "Deep, cutting, an intoxicating blend of human and supernatural, of characters scarred by the past, drained by life. This is the book I've waited for."
17.
Trial By Fire
, by
Cara Putman
from Steeple Hill Love Inspired Suspense. When an arsonist targets her family, Tricia has to find him before harm is done without losing her heart to a fireman.
Happy reading, all!