A secretive singer with trouble following her, and cowboy who hates liars, especially female liars, need a Christmas miracle to take a chance on love.
Before we visit with today's featured author, I want to announce that the winner of Debbie Fuller Thomas' novel,
Raising Rain
is:
beautifulmomentsofjoyandpeace@ . . .
Congratulations! I'll contact you today for your snail mail address, and we'll get your book to you right away. I encourage readers to
keep commenting and/or subscribe at right in order to participate in future book give-aways!
And now let's talk with novelist
Mary Connealy
, author of
Cowboy Christmas
(Barbour Publishing, September 2009).
Mary Connealy writes romantic comedies with cowboys for Barbour Publishing.
Cowboy Christmas
is in bookstores now.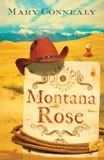 Montana Rose
, Book #1 of the Montana Marriages series, released in July.
Book #2,
The Husband Tree,
comes in January.
And book #3,
Wildflower Bride
, comes in May 2010.
Mary is also the author of the Lassoed in Texas series and a cozy mystery collection, Nosy in Nebraska.
Please tell us a bit more about the plot of

Cowboy Christmas.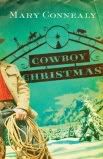 Elijah Walker's lost his father at the hands of a deceitful woman. The one thing he can't abide is lies. Citified Annette Talbot is on the run from something, and Eli knows a liar when he sees one.
After a lifetime of being a good girl who does what she's told, Annette's obedient nature has led her straight into danger. She's determined to live more bravely and she's planning to start just as soon as she can hide behind her tough Wyoming rancher father.
Once in Wyoming, she finds her father is missing, possibly dead. Elijah can't ignore a damsel in distress. Walker can't help protecting her, especially since God pretty much dropped Annette straight into his unwilling arms. But helping her isn't the same as trusting her, and that he will never do. As Annette and Walker fight their attraction, danger draws near and Christmas approaches. They'll get one special chance to follow their star to True Love.
Which character in your novel most interested you while you wrote? Why?
Annette was my favorite, though the combination of her and Elijah is what makes the book fun. She's trying to live bravely for God. She's trying to take up her cross and follow the Lord. But she keeps fumbling her cross, and mostly dropping it straight on poor Elijah's head.
Why will readers enjoy your novel?
It's a romantic comedy with cowboys at Christmas. It is impossible not to enjoy that combination.
If you were the casting director for the film version of your novel, who would play your lead roles?
I don't like answering this. I like to leave the appearance of my characters to the imagination of my readers. Have you ever noticed there aren't any
people
on my book covers? I've had to beg for that. I think it works well, though. I mean seriously, once we saw Daniel Radcliff's face, could we ever recapture what Harry Potter really looked like, the
real
Harry, the one we conjured in our own heads?
Yes, I imagine J.K. Rowling is really miffed about that whole movie enterprise. Okay, Ms. Mary, no movie deal for you!

Seriously, though, I understand what you mean. The book trailer for my most recent novel uses a male model who doesn't look at all like I pictured the hero looking. It was quite a surprise to see how someone else imagined him.

This month we're talking about books on the craft of writing. Of those you've read, which one would you most enthusiastically recommend?
I hate to say this . . . and it might explain why it took me ten years to get published, but I've almost never read a book on the craft of writing. Sorry. I've read
The Moral Premise
, by Stanley D. Williams, which I liked, good solid advice. And I've read Stephen King's
On Writing--A Memoir of the Craft.
But that mainly just confirmed what I already know, still, except for the unpleasantness of his abused childhood and the profanity, it's a solid book on writing.
Well, see there, you

have

read books on the craft. Both of those books were recommended by other authors on this blog recently. I really enjoyed King's book, even though I'm not a big fan of his fiction. And I keep hearing about

The Moral Premise.

Maybe I should check it out.
Someone has just handed you a box containing exactly what you need at this moment in time. What's in the box? And it's not food (everyone always says food--we writers are a hungry bunch).
Hey, I need food. That's just mean. How about, could my granddaughter be in that box. I mean, it's kind of abusive, Trish, shame on you. But I haven't held her for . . . a week and a half. It's getting pretty serious. I need that baby!!!!!! I heard she might be getting a tooth. She needs her grandma for something that traumatic.
Fine, fine, we'll punch a few air holes in the box. Will that make you happy?

I hear you, though. I don't even want to get started on how fantastic my grandson is, and I completely empathize with your need for a fix.
What is the last book you read that impacted you? How did it affect you?
I read the first book in MaryLu Tyndall's new series recently,
Red Siren
. I loved it. She really had a fantastic grasp of adventure and high stakes. I love what she's doing. I've got
The Blue Enchantress
in my hot little hands now and can't wait to get to it.
What are you working on now?
I've got book #2 in the Montana Marriages series releasing in January. We're just doing final edits for that. I love that book. I don't suppose I should pick a book to prefer but I have to say, I think it's the most fun I've ever had writing a book. Belle Tanner, a secondary character in Montana Rose, stars in this book. And if a woman has ever been a hard sell to find true love, it's Belle.
Where else can readers find you or your writing online?
Seekerville
Petticoats & Pistols
My Blog
My Website
Link to purchase
Cowboy Christmas
:
Amazon.com
Thanks, Mary, for visiting with us and telling us about

Cowboy Christmas

.
Readers, Mary has offered to sign a copy of
Cowboy Christmas
for the winner of our drawing on Monday, October 12.
To enter, leave a comment for Mary
, below. Leave your email address, in case you win, like so: trish[at]trishperry[dot]com. If you subscribe to my blog, at right (or if you're already subscribed),
you'll be entered an additional time
to this drawing and all future drawings.
Be sure to check out my interview with Myra Johndon, below. There's time to leave a comment to enter the October 8 drawing for Myra's book,
One Imperfect Christmas
.
Annoying legal disclaimer: drawings void where prohibited; open only to U.S. residents; the odds of winning depend upon the number of participants.
This Thursday we'll hear from Jenness Walker, author of
Double Take
.