Cole must save Kenzie from someone using a popular thriller as his playbook . . . but the villain is re-writing the ending.
Before we visit with today's featured author, I want to announce that the winner of Myra Johnson's novel,
One Imperfect Christmas
is:
jeanereads@ . . .
Congratulations! I'll contact you today for your snail mail address, and we'll get your book to you right away. I encourage readers to
keep commenting and/or subscribe at right in order to participate in future book give-aways!
And now let's talk with novelist
Jenness Walker
, author of
Double Take
(Steeple Hill, October 2009).
Jenness Walker has always loved a good story. She grew up scouting around her grandparents' basement for something good to read. Today she doesn't feel complete if there's not a book nearby. When she's not reading or writing, she enjoys hanging out with her website-designer husband, playing with her part-time dog, and planning trips to explore small-town America.
Double Take
is her debut novel.
Please tell us a bit more about the plot of

Double Take.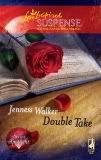 Double Take
begins with Cole, the hero, reading a best-selling thriller where the villain plays a deadly game of cat-and-mouse with the heroine. When the first scene from the book is replicated in real life in front of Cole and a woman is kidnapped, Cole believes he holds the clue to her survival in his hands. But will anyone listen to him? Or will he be too late to save her? The story is set mostly in Atlanta and includes some of the scenes from the thriller.
Which character in your novel most interested you while you wrote?
Probably Cole. I like wounded and mysterious characters. But his struggle is something many can relate to, especially me. No one's good enough. No one can become worthy of God's mercy--it's only through Jesus Christ and His grace.
Why will readers enjoy your novel?
Because I wrote it and I'm amazing. LOL. Okay, maybe not. But there's lots of suspense, some pretty good action and plot twists, and some romance that's not too gushy. Seriously. No birds singing and violins playing at the very sight of the hero, I promise. And it's got a great first line. I can say that without bragging because best-selling novelist Warren Flint wrote it.
Readers, I've met Jenness, and her first reason was actually a pretty good one.

Jenness, if you were the casting director for the film version of your novel, who would play your lead roles?
This is a tough one!! Putting acting abilities/styles aside (which would make me a horrible casting director, eh?), I would want a petite actress with a sweet face for Kenzie.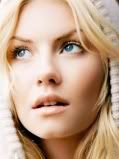 Like Elisha Cuthbert--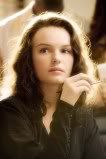 --or Kate Bosworth, but of course as a brunette.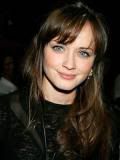 Or maybe even Alexis Bledel.
I tried to find a picture of Elisha Cuthbert as a brunette, to no avail. I had a difficult time just finding a picture of the girl with pants on. Not a terribly shy gal.

And for your hero?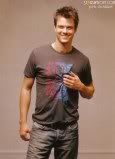 Someone tall and able to pull off some scruff for Cole. Maybe Josh Duhamel?
Nice!

This month we're talking about books on the craft of writing. Of those you've read, which one would you most enthusiastically recommend?
I admit I didn't get very far the first time I went through the
Writing the Breakout Novel
workbook. I get bored with nonfiction very easily. But I just sat through a Donald Maass workshop at the ACFW conference and it was amazing. If I could have made myself pay attention to the workbook itself, I bet it would have made a big impact on my stories as well. It is now on my to-do list.
What facet of the writing craft comes easiest to you? What do you struggle with?
I love coming up with ideas. They come to me all the time, and I love that beginning rush and all the directions you could go with it. Staying excited about one project when another one with lots of potential hits me can be pretty tough.
Yeah, new ideas can be distracting, especially if you're past the honeymoon stage with a book project. Contract deadlines are very helpful for keeping one focused!

Choose an inanimate object to represent you. Explain what you have in common with that object.
Flip flops--likes to be comfortable, is low maintenance and laid-back, shows flaws, makes sure there's plenty of room to breathe.
What is the last book you read that moved you? How did it affect you?
Scared
, by Tom Davis. I could feel the author's heart through the story. It left me longing to make a difference in the world like his hero did.
What are you working on now?
I have a couple projects going right now--a long-term WIP that's very close to my heart and is different from anything I've tried before. I just got some good advice for it at the ACFW conference, so it's going on the back-burner once again while I mull over the best way to move forward with it. I'm also just starting to rewrite my very first novel to cut it down and make it a fit for the Love Inspired line. It's about a man who's lost everything, the woman who tries to bring him back to life, and the killer who wants to destroy them both.
Where else can readers find you or your writing online?
www.jennesswalker.com
, and
www.amazon.com
or
www.cbd.com
.
Thanks, Jenness, for visiting with us and telling us about

Double Take

.
Readers, Jenness has offered to sign a copy of
Double Take
for the winner of our drawing on Thursday, October 15.
To enter, leave a comment for Jenness
, below. Leave your email address, in case you win, like so: trish[at]trishperry[dot]com. If you subscribe to my blog, at right (or if you're already subscribed),
you'll be entered an additional time
to this drawing and all future drawings.
Be sure to check out my interview with Mary Connealy, below. There's time to leave a comment to enter the October 12 drawing for Mary's book,
Cowboy Christmas
.
Annoying legal disclaimer: drawings void where prohibited; open only to U.S. residents; the odds of winning depend upon the number of participants.
This Monday we'll hear from Brenda Lott (Maggie Brendan), author of
The Jewell of His Heart
.