Craig Littleton has decided to end his marriage, but an accident lands him in the ICU with fuzzy memories. As his wife helps him remember who he is, she uncovers dark secrets.
Before we visit with today's featured author, I want to announce that the winner of my novel,
Sunset Beach
is:
denndonn@ . . .
And you know what? I feel like sending a copy to someone who specifically took the time to comment below my Jane Austen post, so the winner of that smaller drawing is:
ABreading4fun@ . . .
Congratulations! I'll contact you both today for your snail mail addresses, and we'll get your book to you right away. I encourage readers to
keep commenting and/or subscribe at right in order to participate in future book give-aways!
And now let's talk with novelist
Christina Berry,
author of
The Familiar Stranger
.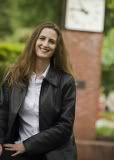 Single mother and foster parent, Christina Berry carves time to write from her busy schedule because she must tell the stories that haunt her every waking moment. (Such is the overly dramatic description of an author's life!) She holds a BA in Literature, yet loves a good Calculus problem, as well. Her debut novel,
The Familiar Stranger
, released from Moody in September and deals with lies, secrets, and themes of forgiveness in a troubled marriage. A moving speaker and dynamic teacher, Christina strives to Live Transparently--Forgive Extravagantly!
Her work has also appeared in
The Secret Place, The Oregonian
, and
Daily Devotions for Writers
.
Tell us more about

The Familiar Stranger

.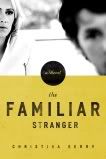 The Familiar Stranger
is about a couple going through a really rough patch in their marriage. When an accident incapacitates the husband, their relationship must be redefined. Which would be a lot easier to do if
big
secrets from his past didn't raise their ugly heads. Despite the upheaval, the choices they make involving forgiveness and trust might allow a new beginning. Or they might not.
How did you come up with the story?
In the summer of 2006, two stories appeared in the newspaper. One was a huge, national story; the other a smaller, local-interest item. I wondered what it might look like if those two stories conceived a child. Boom! I had the entire plot for
The Familiar Stranger
. It will be interesting to see if readers can figure out which stories inspired the book.
Intriguing! I hope you'll tell us at some point.

What facet of the writing craft comes easiest to you? What do you struggle with?
Strength-wise, while the idea of writing or editing may seem hard, I usually get quite a lot done in a short amount of time once I start. An object in motion tends to stay in motion. That applies to our writing. A little momentum can go a long way!
As a single mother of young children, and currently serving as a foster parent, time is my biggest challenge. I have to make sure my family knows they come first, but to balance that with treating writing as a career.
Why will readers enjoy your novel? What would you like your readers to take away from

The Familiar Stranger

?
The recent changes in my life--losing my husband, facing finding a "real" job, selling my home--have done nothing but solidify what I hope to be the theme of the book and my life: Live Transparently--Forgive Extravagantly. If reading
The Familiar Stranger
makes even one man or woman be more honest with his or her spouse or delve into trust issues in a healthy way, I'll consider it a success. Maybe there's a hurting heart that can find a new path to forgiveness because of the story.
Whose work do you admire and how has it influenced you as a writer?
Most of my favorite authors have voices I never dream to come close to: Nancy E. Turner, Jane Kirkpatrick, Leif Enger, Francine Rivers, or Randy Alcorn, to name a few. The writers that really influence my stories are ones that examine the real grittiness of life like Roxanne Henke, Bette Nordberg, and James Scott Bell.
Tell us something fun we might not know about you.
I was the team captain and second answerer in the speed round for our family on Family Feud in 2000 . . . and we won! Also, I grew up in Nigeria, West Africa, while my parents were Southern Baptist missionaries. I remember being awed at the selection of toilet paper in the grocery store when we returned to the States.
What made you start writing?
Buried deep within my closet, one might find some angst-filled poetry from my teenage years and a very spooky seven pages of the novel I started in high school. Though I was in love with the idea of being a writer, it wasn't until I finished college and stayed home with my first child that I actually decided to write a book. Truthfully, my mom told me we were going to write one together, and being the obedient daughter I am . . .
Do you put yourself into your books/characters?
Any character has some aspect of my personality, for better or worse. I can only write what I know. I've seen a richness develop in my writing as I've grown in my faith and walked through some valleys in the last decade.
Denise and Craig's story is based on the lessons of forgiveness God taught me when my marriage fell apart . . . the first time. Accordingly, many of the emotions Denise goes through correspond to what I felt, though our situations differ. However, I also wanted to really understand the male perspective, so Craig had parts of me in him as well. The path away from God and following temptation is something we can all recognize and, unfortunately, identify with.
During the editing process and years after my husband and I reunited, our marriage of thirteen years unexpectedly ended. The words I had written as a happily married woman ministered to me in my singleness. My heart's hope is that this book will lead people to Live Transparently--Forgive Extravagantly!
This month we're talking about books on the craft of writing. Of those you've read, which one would you most enthusiastically recommend?
I would say that James Scott Bell's
Plot and Structure
is my favorite of them all. My other advice for writers:
~Write consistently
~Join a critique group
~Attend writing conferences
~By open to criticism. One always has room to grow!
What are you working on now?
I'm about 1/5 of the way through my next manuscript,
Unafraid
, a story about a girl's kidnapping, and how her life unfolds because of the trauma. One of my characters is a PI, so I'm having loads of fun with the research.
The humor Sherrie Ashcraft (my sometime co-author and always mother) and I display in our infrequent, humorous newsletters--sign up at www.ashberrylane.net/update.aspx--has garnered the attention of an editor. You just might see a funny, non-fiction cooperative work from the Ashberry Ladies at some point in time. Plus, I have a funky TV-based devotional a house is interested in. Busy, busy, busy!

Where else can readers find you or your writing online?
My site with my mom (Sherrie Ashcraft)
My blog
My site
Here are two links to purchase my book:
CBD.com
Amazon.com
You can also have any bookstore order copies for you if they don't have any in stock.
Thanks, Christina, for visiting with us and telling us about

The Familiar Stranger

.
Readers, Christina has offered to give a copy of
The Familiar Stranger
to the winner of our drawing on Thursday, October 29.
To enter, leave a comment for Christina
, below. Leave your email address, in case you win, like so: trish[at]trishperry[dot]com. If you subscribe to my blog, at right (or if you're already subscribed),
you'll be entered an additional time
to this drawing and all future drawings.
Be sure to check out my interview with Shirley Connolly, below. There's time to leave a comment to enter the October 26 drawing for Shirley's book,
I See God in the Thorns~n~Thistles
.
Annoying legal disclaimer: drawings void where prohibited; open only to U.S. residents; the odds of winning depend upon the number of participants.
This Monday we'll hear from Christa Parrish, author of
Watch Over Me
.