"It's actually an uncomfortable thing to pursue one's dreams, however attractive they may sound. Perhaps this is why most of us only
dream
dreams and never live them."
Before discussing today's book (from which the above quote comes), I want to announce that the winner of the signed copy of Shelley Shephard Gray's novel,
Forgiven
, is:
virginiakeckler@ . . .
Congratulations! I'll contact you today for your snail mail address, and we'll get your book to you right away. I encourage readers to
keep commenting and/or subscribe at right in order to participate in future book give-aways!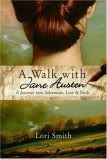 For this month's post for the
Everything Austen Challenge
, I read
Lori Smith's
memoir,
A Walk with Jane Austen
. Smith, the author of 2002's
The Single Truth
, takes the reader with her on a summer's journey through Austen's England. We not only experience the places Jane did, we experience the places her characters did.
And
we live inside Smith's head and life in the process.
I found the different perspectives enjoyable and fascinating in the ways they intertwined. Smith, like Austen, is a single woman making her living through her writing. Because of her admirable adherence to her Christian faith, she is a woman who waits, in contrast with many of her contemporaries. No tawdry summer fling for her (which is certainly not to say she doesn't experience summer love). So, while we know Jane's romantic fate, we await word on Smith's while she treks from Steventon to Chawton, from Chatsworth to Stoneleigh.
One of my favorite aspects of Smith's book is her Notes section at the end. I watched Roger Michell's 2000 film version of
Persuasion
during the week I read this book, so I was able to use Smith's Notes in order to see how her walk coincided with what I had just watched on film. It was a double Austen whammy, and I loved it. I plan to hang onto this book and do the same with the rest of my Austen Challenge experiences.
If you're a fan of memoir and/or a fan of Jane Austen, I think you would enjoy this book. Kudos to Smith for an honest, compelling journey.
Now, since I'm not giving away my copy of Smith's book, I'd like to give away two copies of my novel,
Too Good to Be True
.
Just leave a comment below to be entered into the drawing. And if you'd like to be entered a second time,
see my column on
Christian Fiction Online Magazine
and then
E-mail me
, telling me what item I said might protect us better than car airbags. I'll draw two names next Monday.
This Thursday, we'll hear from Camy Tang, author of
Deadly Intent
, and we'll give away a copy of Barbara Dickson's
Mountains for Maddi
. You can enter to win Barbara's book by commenting under her interview, below.
Happy reading!