A headstrong Southern woman falls for her kidnapper . . . a rancher she blames for her family's deaths.
Before we meet today's featured author, I want to announce that the winner of Camy Tang's
Deadly Intent
is:
msgtspfox@ . . .
Congratulations! I'll contact you today for your snail mail address, and we'll get your book to you right away. I encourage readers to
keep commenting and/or subscribe at right in order to participate in future book give-aways!
And now let's meet novelist
Tammy Barley
, author of
Love's Rescue
(Whitaker House Publishers, July 2009).
Tammy shares the family lines of James Butler "Wild Bill" Hickok, Ralph Waldo Emerson, Henry David Thoreau, and Emily Dickenson. With that background, she says it's no wonder she writes Western Romance.
Tammy has lived in 27 cities and towns in 8 states, including the South and the West. She's ridden horseback on beaches and in mountains, including a ten-day ride halfway across Arizona with twenty-two other adventure-loving enthusiasts. On one freezing morning atop Four Peaks, she discovered the benefits of chunky but hot three-day-old cowboy coffee, which became a comical scene in
Love's Rescue
.
Chunky coffee. Mmmm gooood! Please tell us a bit more about the plot of

Love's Rescue

.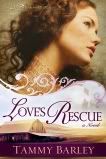 A Dividing Conflict: In 1863, the War Between the States is dividing more than a nation. To escape the conflict, Jessica Hale and her family flee their Kentucky home and head for Nevada Territory. Her brother, Ambrose, committed to the Confederates, rejoins the Kentucky militia and is disowned by his father. But the worst is yet to come.
A Heroic Kidnapper: When Unionists presume the family to be Confederate sympathizers, they set a devastating fire to their home. All alone and then "kidnapped" by cattleman Jake Bennett, Jessica is taken to a ranch deep in the Sierra Nevada wilderness. Can she overcome her resentment toward Jake for failing to save her family?
The Depths of Love: When Jake launches a plan to help Jessica's brother escape from prison camp, she sees him for the honest, good-hearted Christian man that he is and now knows the depth of his love for her. Through the lingering smoke and smoldering ashes from her ruined home and murdered family, will Jessica see a future with Jake?
Which character in your novel most interested you while you wrote? Why?
Surprisingly, the heroine's older brother, Ambrose. I chose most of my male character descriptions, and partly their personalities, based on actual black-and-white Civil War photos of men who fought, some who died, in the Civil War.
A photo of one soldier, Isaac I. Stevens (pictured), gripped me in a
Somewhere in Time
way that I just couldn't get out of my head. Sadly, the man died at Chantilly on September 1, 1862. He was only in his mid twenties, and yet there's directness and intensity in his face that tell me he was prepared to fight for what was right, no matter what it cost him. By his expression, he may have sensed it would cost his life. He's someone I would like to have known, and he's someone whose life and sacrifice can now be remembered 150 years after he died, since through one romance novel and this interview, his memory lives on. So I loved making this man into Ambrose. I loved thinking of Ambrose as my own brother. That made writing his scenes and his character real to me. Ambrose's character has touched others as well; a number of readers asked if I will be writing his story. I may.
My first novel (as yet unpublished) featured quite a bit of the Civil War. I know what you mean about that

Somewhere in Time

atmosphere while you research the soldiers of that particular war. My hometown (the setting of my novel) was a Civil War hotspot, and I'm constantly amazed when I walk around and look at homes and buildings that were actually used by men and women who lived through that conflict.

Why will readers enjoy your novel?
Because Jake Bennett looks like Hugh Jackman's character in Australia.
'Nuff said; we'll move on.

No, seriously. Continue.
Love's Rescue
places you into the saddle of a running horse and slips you into the cool water of a purling river on a sweltering summer night. I strive to write in such a way that you feel like you are there.
A quote from Pam Meyers's book review blog, www.pammeyerswrites.blogspot.com:
"As I walked alongside Jess's soul-journey from despair and hopelessness to abiding joy and hope restored through her relationship with God and with Jake, I found I didn't want to put the book down. Tammy's beautiful way of bringing out setting and making it come alive caused me to feel like I was right there with the cattlemen as they wrangled calves, cut the herds and chased down stampeding mustangs. I was also there as Jess found herself restored through her coming to peace with what had happened to her and her family."
Also, no other love story has been set in the historic Honey Lake Valley. No other hero and heroine have fallen in love through surviving drought, working a horse and cattle ranch, greenbreaking mustangs, and battling the dangers of fires and thieves. And no other Western romance incorporates the ways of the Paiute Indians and characters--men of honor--who are white, black, Mexican, Irish, and Chinese, true to ranches of the West.
Rarely in historical romance have two such dissimilar people been so right for each other, or a love been so strong. Jake and Jessica complete each other. Where she is reckless, he is patient. Where he is empty, she is vivacious. He is her strength. She is his laughter. Jake saves her from death; Jessica shows him what it means to live. They engage in a battle wills during a rarely seen Thornbirds-like fight for survival while they resist an impossible love.
Its Christian threads color this story like no other. Faith elements focus on the core Christian theme of living a resurrection faith, its presentation uniquely Western. A boy looks up into the night sky and sees the stars as the walls of heaven. A dying Paiute woman whispers, "Weep not for your dead; but sing and be joyful, for the soul is happy in the Spirit-Land." And Jessica, moved by Jake's heaven-bound viewpoint, adds an epitaph to her family's tombstone: I can't wait to see you again.
Simply put, I wrote
Love's Rescue
to impact and linger in the hearts of those who read it, and so readers may live the adventure.
If you were the casting director for the film version of your novel, who would play your lead roles?
What a fun question!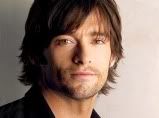 Hugh Jackman (you knew that was coming, right?).
Hugh. Oh, Hugh. I just had to stop a moment and say that. Did I find a great picture of him, or

what?



And what about our heroine, Tammy? Who do you envision for her?
Believe it or not, the gal on the book's cover. I pictured Jess in my mind, and I searched for days trying to find a magazine photo of a model who looked like Jess to help me visualize her, and I found one that was close, but when I saw the book's cover for the first time, I thought Wow. That is Jess.
She really is lovely. And she has a future in film when your book goes to Hollywood, right?

This month we're talking about dialogue. How would you advise a newer author to make her characters' dialogue ring true?
Find people who speak and sound the way you imagine your characters would speak and sound, and spend a lot of time listening to them. Record them, if they're fine with that. Jake is a cattleman; he doesn't talk a lot, and he doesn't butt into anyone else's privacy. Mostly he observes life around him, and melds into the landscape. I rode horses at a stable in Arizona for a long time. I grew used to mannerisms of speech, what wranglers talked about, what they didn't, and how they chose their words. For my Chinese character, I listened closely to a Karate instructor's way of listening and of speaking halting English, and some of the words he used. For my Irish character, I listened to people who were Irish, and observed their word choice, and the way they verbally connected their thoughts. And so on with each character. I used living examples so I could actually hear the characters' accents and word choices in my head. Of course some of that was tailored to fit the historic West. I also read old diaries from the time and place. Those were just as helpful.
What facet of the writing craft comes easiest to you? What do you struggle with?
Easiest: Placing the reader into the setting, into the character's corset, moccasins, or heavy woolen coat. It's easiest because that's what I determined I wanted to provide readers that would be real and enjoyable for them and would also be uniquely my style. I worked on it for a year before that technique started clicking into place.
Struggle: Writing humor. I laugh the most when I'm tired, and then things I find funny aren't always funny to everyone else. I did include different snippets of humor--you can't be a female main character at a ranch full of men and not have off-the-wall humor--but I'm waiting to hear from readers as to whether they enjoyed the occasional laugh.
Choose an inanimate object to represent you. Explain what you have in common with that object.
Oy--this feel to anyone like a Rorschach test?
Very astute, Tammy. We'll be analyzing your answer in a future blog post.
Hmm. Let's see. A size sixteen steel-toed boot resting on a forested mountaintop in the breeze. (That'll give the shrinks something to talk about.)
Yessssss. Clearly you have mother issues. Really, though, why that object choice?
I am determined, tenacious (different people use different adjectives and similes, as you can imagine), and I love seeing, hearing, feeling, and taking in God's creation in a big way; I love the peace it brings.
Some of my favorite "God moments" have been while simply contemplating Him while surrounded by nature. I get you. But we might both be crazy.

What is the last book you read that impacted you? How did it affect you?
It's a book titled
Incidents in the Life of a Slave Girl
, the stunning autobiography of a slave born in 1813, Harriet Jacobs. There are some images I'll never get out of my mind. I don't recall
Uncle Tom's Cabin
impacting me the way this book did. It'll definitely make my writing of the time and the lives of slaves far more real than I've been able to recreate to date.
What are you working on now?
Book two of The Sierra Chronicles,
Hope's Promise
. Jake and Jessica Bennett learn there was more to her parents' deaths than they knew, and both the ranch and Jessica are in danger. Now they must quickly find the murderer . . . and discover for themselves how far they will go for love.
Where else can readers find you or your writing online?
Here's my Web site:
www.tammybarley.com
. If you're a Western or prairie romance fan, on the second half of the home page is a list of most CBA Western and prairie romance authors, their latest releases, and links to their Web sites, all in one place.
On the Bookshelf page of my Web site,
www.tammybarley.com/Bookshelf.html
, you will find the book trailer for
Love's Rescue
, links to where
Love's Rescue
is available online (here's one:
, and the information about entering the drawing to win a one-week vacation for two to a Western guest ranch resort in the Rocky Mountains of Colorado. Yep, you read that right.
If you are a ShoutLifer, I'm at
shoutlife.com/TammyBarley
. I'd love to see you there.
Thank you so much, Trish! I'd love to hear what inanimate object represents you and the blog readers--what a hoot!
Great idea, Tammy. But I must remain enigmatic, ever the woman of mystery. Still, that would be a fun contest to hold sometime--to see which commenter identifies with the most interesting or weird inanimate object.

Thanks, Tammy, for visiting with us and telling us about Love's Rescue
. Readers, Tammy has offered to sign a copy of her book for the winner of our drawing on Thursday, August 27.
To enter, leave a comment for Tammy
, below. Leave your email address, in case you win, like so: trish[at]trishperry[dot]com. If you subscribe to my blog, at right (or if you're already subscribed),
you'll be entered an additional time
to this drawing and all future drawings.
Be sure to read my interview with Rita Gerlach, below, and enter a comment to take part in this Monday's drawing for her novel,
Surrender the Wind
.