Drew Daniels finally has what she wanted--popularity and a cute boyfriend--but now she's faced with a difficult choice that the reader must make for her.
Before we meet today's featured author, I want to announce that the winner of Tammy Barley's
Love's Rescue
is:
iamstamping@ . . .
Congratulations! I'll contact you today for your snail mail address, and we'll get your book to you right away. I encourage readers to
keep commenting and/or subscribe at right in order to participate in future book give-aways!
And now let's meet novelist
Nicole O'Dell
, author of
All that Glitters
(Barbour Publishing, August 2009).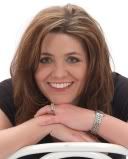 Nicole O'Dell is happily married to her husband Wil, with whom she is attempting to restore an old Victorian home. She is the mother of six wonderful children, the most recent additions being triplets, born in August of 2008. Along with her six kids, Nicole is very proud to have birthed a unique teen-fiction series called Scenarios: Interactive Fiction for Girls. It has been a true labor of her love--in the most literal sense. The completed manuscripts for
Truth or Dare
and
All that Glitters
, the first two books in the Scenarios series, were submitted from her hospital bed as she awaited the arrival of the triplets. The third and fourth books in the series,
Magna
and
Making Waves
will be released in April 2010.
Wow. I wasn't even willing to listen to the soothing music of Enya while in the hospital awaiting the birth of my most recent child (17 years ago), let alone go on the Internet and submit manuscripts.
Please tell us a bit more about the plot of

All that Glitters

.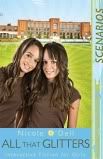 Drew and Dani Daniels are identical twin sisters. Getting ready to enter high school, Drew announces she's ready for a change. She's tired of being one of a pair and is hoping for some individuality. Dani's hurt, but realizes that her sister has to make her own path. A spot on the cheerleading squad, her first boyfriend and newfound popularity all force Drew to make a very difficult decision. The reader decides the path she'll take.
Which character in your novel most interested you while you wrote? Why?
I can relate most to Drew. Several of her choices were things that I actually experienced. I was famous for rolling my waistband to turn a knee-length skirt into a mini before I got off the bus. And, the hidden baggie full of makeup? Guilty!
Oh yes, that brings me back, too, as I'm sure it does a number of my readers.

Why will readers enjoy your novel?
The unique feature of being able to make a choice to determine the ending gives readers the opportunity of really getting into the story. They feel more personally affected by the consequences and rewards that follow their choices.
Yes, I remember my son reading interactive novels when he was very young. He loved them.

This month we're looking at refining dialogue. How would you advise a newer author to make her characters' dialogue ring true?
Read your dialogue out loud to make sure it's conversational. Have others read it, too. I had several young girls read through my dialogue to make sure it sounded authentic. Who knew teenagers don't say "way cool" anymore? Without my "authenticators" a "way cool" or two may have slipped into my books. Oops.
What facet of the writing craft comes easiest to you? What do you struggle with?
Dialogue is actually my favorite part. I like tweaking it and twisting it to make the story rich, get more information out and let my characters shine. But, I struggle with the action beats interspersed in the dialogue. In books three and four, I've focused on making those action beats much more about showing rather than telling.
Choose an inanimate object to represent you. Explain what you have in common with that object.
I'm looking at my digital camera. I think I'm a lot like it, actually. I try to capture what I see in my mind, and preserve it with words. My camera has a little wheel to turn to set it to take pictures at the beach, at night, of moving objects, etc. I have to turn the knob in my brain so I can place myself in different situations and adjust my thinking to suit the characters. It has a great memory, as do I. But, it can only hold so much data and then it has to dump everything. For me, that's called a meltdown.
What is the last book you read that impacted you? How did it affect you?
I recently re-read
Deadline,
by Randy Alcorn. He has such an amazing gift for writing about heaven. It's always a poignant and beautiful reminder that this world isn't home. I sob every time I read this book.
What are you working on now?
Magna
, book three, and
Making Waves
, book four, have been submitted and are in the final editing stages. I've also completed the outlines for Scenarios for Girls books 5-8 and am waiting for direction on how to proceed. I'm also in the very early stages of developing an idea for another series for the same age group.
Busy lady! And you with one-year-old triplets and three other kids! That leaves no excuses for the rest of us, does it?

Where else can readers find you or your writing online?
My website is
www.nicoleodell.com
. There's also a website for girls called
www.scenariosforgirls.com
. You can purchase All that Glitters at bookstores or online at
Amazon.com
and
Christianbook.com
Thanks, Nicole, for visiting with us and telling us about All that Glitters.
Readers, Nicole has offered to sign a copy of her book for the winner of our drawing on Thursday, September 3.
To enter, leave a comment for Nicole
, below. Leave your email address, in case you win, like so: trish[at]trishperry[dot]com. If you subscribe to my blog, at right (or if you're already subscribed),
you'll be entered an additional time
to this drawing and all future drawings.
This Monday we'll revisit with Vickie McDonough, author of
A Wagonload of Trouble
, and we'll draw the winner of M.L. Tyndall's
The Blue Enchantress.