A woman searching for love in all the wrong places tries to erase her past and learn to behave like a proper lady in time to attract the love of an honorable, god-fearing man who wants nothing to do with her wanton ways.
Before we meet today's featured author, I want to announce that the winner of Rita Gerlach's
Surrender the Wind
is:
carolynnwald@ . . .
Congratulations! I'll contact you today for your snail mail address, and we'll get your book to you right away. I encourage readers to
keep commenting and/or subscribe at right in order to participate in future book give-aways!
And now let's meet novelist
MaryLu Tyndall (writing as M.L. Tyndall)
, author of
The Blue Enchantress
(Barbour Publishing, August 2009).
M.L. Tyndall, a Christy Award Finalist, and best-selling author of the Legacy of the King's Pirates series is known for her adventurous historical romances filled with deep spiritual themes. She holds a degree in Math and worked as a software engineer for fifteen years before testing the waters as a writer. MaryLu currently writes full time and makes her home on the California coast with her husband, six kids, and four cats. Her passion is to write page-turning, romantic adventures that not only entertain but expose Christians to their full potential in Christ.
Please tell us a bit more about the plot of

The Blue Enchantress

.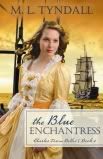 Still grieving the loss of her mother--and private tragedies of her own--Hope Westcott plays the part of a dutiful admiral's daughter. But longing for the love and acceptance she never felt at home, Hope plunges into Charles Towne society . . . and an illicit affair with Lord Falkland.
For Captain Nathaniel Mason, wealth means security, so he is determined to build his shipping business--ignoring God's call on his life to become an impoverished pastor. He also ignores his attraction to the frivolous, vain Hope Westcott.
Hope's adventure seeking lands her in the hands of an unscrupulous ship captain who wants to sell her to the highest bidder. When Nathaniel sees Hope on the auction block, will he listen to God and sacrifice his ship, cargo, and security to save her?
From the Carolina Coast to the Caribbean, through stormy seas and shipwreck, can Hope and Nathaniel put aside their painful pasts, listen to God's voice, and find true love and acceptance?
Which character in your novel most interested you while you wrote? Why?
The heroine, Hope Westcott, interested me the most, but I knew she would from the beginning. Her story is very closely linked to my own story before I became a Christian, so I could feel her pain, her emptiness and her desperation as if they were my own. She's a woman who's been damaged by the world, who feels she is worthless due to events in her childhood, and she's craving anything to fill the emptiness in her soul. As I wrote and followed her through the pain and then through the gradual awakening to God's love, it was as if it was happening to me all over again.
Yes, as I read your summary, I thought about how many women would identify with Hope's past. I'm glad to see you were able to open with a heroine so clearly lost with regard to love versus mere sexuality--not all publishers would be willing to risk that. Kudos to Barbour.

Why will readers enjoy your novel?
It's a great adventure that starts out on an auction block on the island of St. Kitts in the Caribbean, then heads out to sea where a hurricane strikes the ship my characters are sailing on, shipwrecking them on an island, then the story passes through a port on Jamaica and ends back out at sea for a ship battle. Intertwined throughout the action is the story of a young girl who has made some bad choices, who believes her only value is in her appearance, and who desperately wants to find love and self-worth. I believe it is the yearning of many young women today who get confused by the ads bombarding them telling them that their only worth is in the way they look. The story is also a great romance between a man who wants to avoid loose women at all cost and a woman with a sordid past and the transformation each of them has to go through to finally be healed and love each other freely.
It may sound funny for me to ask about appearances on the heels of that description, MaryLu, but I ask this of every novelist: If you were the casting director for the film version of your novel, who would play your lead roles?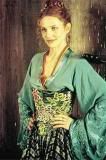 Definitely Cameron Diaz for Hope because she's a bit of a seductress but with a very sweet, innocent side.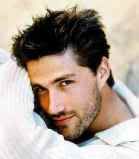 I'd love to see Jack on the TV show
Lost
play my hero, Nathaniel Mason.
I would have liked to post a picture of Matthew Fox with appropriately longer hair, but the only one I could find was a pretty cheesy mullet. I think we can all imagine him with longer hair.

This month we're talking about dialogue. How would you advise a newer author to make her characters' dialogue ring true?
I always read over my dialogue out loud. It helps me catch anything that sounds fake. But essentially, you want to make dialogue sound like everyday speech between people, along with all the interruptions and half-sentences like the way people normally speak but with one important exception. Interject tension into each sentence. In other words, most everyday speech is boring. Things like "How are you?" "pass the sugar" etc... Dialogue in your story must never be boring, must be stuffed with tension, must be unique to each character, and must always advance the plot.
What facet of the writing craft comes easiest to you? What do you struggle with?
The easiest part for me is the first draft of my story. I put my headphones on and immerse myself into my story and into my character's heads and then just type away. This is the most creative part for me and probably what I'm best at. I turn off my left brain, activate my right and just let it run wild. The hardest part of writing for me is the editing that I need to do when I go back over what I've written. This is when I need both sides of my brain to work simultaneously and most often they don't get along!
Choose an inanimate object to represent you. Explain what you have in common with that object.
A book. I think a lot of people try to judge me by my cover but they are most always wrong about who I really am.
Speaking of books, what was the last one you read that impacted you? How did it affect you?
The last book I read that truly impacted me was Francine Rivers' The Mark of the Lion Series. I highly recommend it. It is the story of a young Jewish girl who is taken to Rome as a slave in the year 70 AD. Her love of God and the way she impacted the family she served constantly reminds me to be a better witness to everyone I meet.
What are you working on now?
I'm just beginning a new series set during the War of 1812 set in Baltimore called Surrender to Destiny. In fact, I'm heading to Baltimore next month to do some research.
Where else can readers find you or your writing online? Please include the link for purchasing your book.
Please visit my website at
www.mltyndall.com
or my blog at
crossandcutlass.blogspot.com
To order
The Blue Enchantress
go to
Amazon.com
or
www.christianbook.com
Thanks, MaryLu, for visiting with us and telling us about
The Blue Enchantress
. Readers, MaryLu has offered to sign a copy of her book for the winner of our drawing on Monday, August 31.
To enter, leave a comment for MaryLu
, below. Leave your email address, in case you win, like so: trish[at]trishperry[dot]com. If you subscribe to my blog, at right (or if you're already subscribed),
you'll be entered an additional time
to this drawing and all future drawings.
This Thursday we'll meet Nicole O'Dell, author of
All that Glitters
, and we'll draw the winner of Tammy Barley's
Love's Rescue.