A woman, diagnosed with a debilitating illness, is convinced no man would consider her marriage material, and does her utmost to evade a gorgeous doctor's romantic advances because she's convinced he'll head for the hills when he learns her secret.
Before we meet today's featured author, I want to announce that the winner of Lena Nelson Dooley's
Who Am I?
in
Cranberry Hearts
, is:
faithfulgirl4@ . . .
Congratulations! I'll contact you today for your snail mail address, and we'll get your book to you right away. I encourage readers to
keep commenting and/or subscribe at right in order to participate in future book give-aways!
And now let's meet novelist
Barbara Dickson
, author of
Mountains for Maddi
(Crystal Dreams Publishing, May 2009).
Tell us about yourself, Barbara.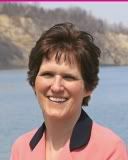 I was diagnosed with multiple sclerosis in 1992, but refused to succumb to the illness without a fearless fight. Forced to retire from my career as an IT software analyst, I quickly re-discovered my love of writing. My first book was released in May 2009 with five more novels waiting in the wings. I've taken up public speaking again after a 10-year hiatus. I became an MS spokeswoman this past spring, and have been given many opportunities to not only encourage those living with disability, but to educate the able-bodied as well. I am also an MS ambassador, and a member of WAMS (Women Against MS.)
I'm married to a wonderful man and have five daughters through our blended family. I became a grandmother July 3. My hope is to touch the world, one heart at a time.
Wow, there's so much to congratulate you on there, Barbara. What a blessed life.

Please tell us a bit more about the plot of

Mountains for Maddi

.
Maddi Madigan, while on vacation, careens into Dr. Gregory Connor on a snowy ski slope. Entangled with Greg and buried in snow, her heart skitters, almost as far as her ski poles.
She soaks up the magnificent Rocky Mountain atmosphere over the next few days while avoiding an entanglement of another kind--romance. She bears the scars from a broken engagement, and is convinced men and a diagnosis of multiple sclerosis don't mix; at least that's what her head tells her. Too bad her heart has other plans.
Greg, utterly smitten, pursues Maddi the same way he works--hard. When she lingers just beyond his romantic grasp, he rallies with dogged determination.
Can Maddi make it through the week without her heart ending up in a puddle of slush at Greg's feet? How hard should she try? Could Greg truly offer hope for a Happily Ever After?
Which character in your novel most interested you while you wrote? Why?
I loved writing Dr. Gregory Connor's story. He's every woman's dream guy--a terribly handsome doctor with an amazing gentle bed-side manner, who wants to cure the world. When Maddi spurns even the slightest affection, he is flummoxed. I not only watch his love for Maddi grow with each tender encounter, I watched his heart break with each rebuff. I have MS and while I wrote the story, I imagined how sweet it could be to be rescued and loved by a man whose life mission is to find a cure. My heart ached for Greg at times in the book, especially when he is the lead suspect at the heart of a medical scandal. If the authorities prove the accusations, he could lose his license, his practice, and his life's work. I watched him struggle with his growing love for Maddi all the while desperately trying to save his medical career.
Why will readers enjoy your novel?
Mountains for Maddi
is a light, fun read, despite dealing with a serious topic. It's a story with a lot of heart, and more importantly, lots of hope. Greg's best friend Jeff, and Maddi's cousin Beth bring levity and humour to the story as Maddi faces misadventure after misadventure in her determination to keep Greg at arm's length romantically. From the opening scene where Greg rescues Maddi from a disastrous ski lesson to impromptu snowball fights amidst the splendour of the Rocky Mountains, there are many enjoyable moments as the week passes and the couple falls in love.
If you were the casting director for the film version of your novel, who would play your lead roles?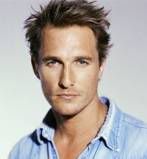 Matthew McConaughey as Dr. Greg Connor.
And Reese Witherspoon as Maddi Madigan.
How would you advise a newer author to make her characters' dialogue ring true?
Imagine your characters in the scene you've created. Close your eyes and watch the scene play out in your mind. Listen to their conversation, the way they'd speak as if they were sitting across the table from you. Don't rush them as they work through their passions, motivations, and unwritten agendas. Watch their body language. Then open your eyes and simply write what you've just witnessed.
What facet of the writing craft comes easiest to you? What do you struggle with? Explain.
I find it easy to write dialogue. I imagine the characters in the scene and the conversation they might have, given what they want to achieve. The dialogue just flows out through my fingers onto the screen in front of me.
I sometimes struggle with building end of chapter conflict; the hook that draws the reader from the end of one chapter into the next. It's the difference between a reader saying, "I can't put this down," and "I'll finish it later."
Choose an inanimate object to represent you. Explain what you have in common with that object.
Hmmm, an inanimate object that represents me . . .
I'd have to say a mug. I have a lot in common with mugs. They are quiet, non-intrusive, yet have a story to tell, depending on where they were purchased. They are strong even when empty, and offer a warm tenderness when full. You can draw from their bounty and feel satisfied. But they are fragile enough that if you drop them, they'll break. I enjoy collecting mugs from around the world. Most of them are packed away in my garage, though, since I'd need a separate kitchen to display them all. Mugs hold a special place in my heart because they hold one of my most favourite comfort foods--tea. I drink several cups daily. A mug of tea sits close by me as I write, when I check my e-mail, and while I watch TV. I pick a mug that suits my mood at the time--do I feel adventurous like the ruggedness of Newfoundland? Or maybe I feel nostalgic for my British roots of England? Or maybe I'm missing my mom and want to use her favourite mug from Vermont. I'm always on the look-out for a new mug! (Picture Barb's husband rolling his eyes now . . . )
What is the last book you read that impacted you? How did it affect you?
I'm currently reading
Roughing It in the Bush
, by Susanna Moodie. It's about life in Canada during the 1830s. I started reading it as research for a book I'm working on, but I've completely been drawn in by this young woman's account of life in Upper Canada. Just last week-end my husband and I drove to the very spot where Mr. and Mrs. Moodie set up a homestead in the "outback" of Canada. They lived an hour outside Toronto. It's amazing how much has changed, yet how much has spookily stayed the same. The lake where they lived is still there, and while one still feels as if they're in the countryside, the land is now coveted cottage country, the shoreline no longer dotted with remote emigrant log cabins. But other than for the actual small details of daily life--we don't take our wheat to the local mill anymore, and we don't eat squirrel--Mrs. Moodie's reflections of feelings, prejudices, societal norms, and the preciousness of children could easily show up in a book published in 2009. The Biblical saying, "There is no new thing under the sun" (Ecclesiastes 1:9) rings true.
What are you working on now?
I'm editing a three book series set in romantic Stonebridge Cove, a big-hearted town filled with enough small-town Nova Scotia charm to rival the innumerable stars hanging in the boundless sable skies above. I'm also working on a non-fiction book about GECO, a WWII munitions plant which employed over 6,000 women during the war, and had 5 kilometres of secret tunnels running under the complex, some of which still exist today. And, I'm working on a non-fiction narrative of the life of David Cragg, a widowed English farmer who immigrated to Toronto in 1833 with nothing but the clothes on his back, his eight precious children, and a fervent longing for a better life.
Where else can readers find you or your writing online? Please include the link for purchasing your book.
Readers can find me and my book on my website at:
www.barbaradickson.ca
. There's a link to my publisher on my welcome page. They may also go directly to the publisher's website at:
www.mmpubs.com
. As well,
www.amazon.ca
carries the book.
Thanks, Barbara, for visiting with us and telling us about Mountains for Maddi
Readers, Barbara has offered to sign a copy of her book for the winner of our drawing on Thursday, August 13.
To enter, leave a comment for Barbara
, below. Leave your email address, in case you win, like so: trish[at]trishperry[dot]com. If you subscribe to my blog, at right (or if you're already subscribed),
you'll be entered an additional time
to this drawing and all future drawings.
Be sure to read my interview with Shelley Shephard Gray, below, and enter a comment below her interview to take part in this Monday's drawing for her novel,
Forgiven
.