"Who says a woman can't do a man's job?" In 1915 a beautiful, independent woman runs for mayor against her handsome opponent.
Before we meet today's featured author, I want to announce that the winner of
Wild Prairie Roses
, featuring novelist Lena Nelson Dooley, is:
chellegoodson@ . . .
Congratulations! I'll contact you today for your snail mail address, and we'll get your book to you right away. I encourage readers to
keep commenting and/or subscribe at right in order to participate in future book give-aways!
And now let's meet veteran novelist
Robin Lee Hatcher
, author of
A Vote of Confidence
(Zondervan, May 2009).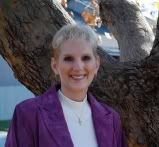 Robin Lee Hatcher discovered her vocation as a novelist after many years of reading everything she could put her hands on, including the backs of cereal boxes and ketchup bottles. The winner of the Christy Award for Excellence in Christian Fiction, two RITA Awards for Best Inspirational Romance, and the RWA Lifetime Achievement Award, Robin is the author of over 60 novels, including
Catching Katie
, named one of the Best Books of 2004 by the
Library Journal
.
Robin enjoys being with her family, spending time in the beautiful Idaho outdoors, reading books that make her cry, and watching romantic movies. She is passionate about the theater, and several nights every summer, she can be found at the outdoor amphitheater of the Idaho Shakespeare Festival, enjoying Shakespeare under the stars. She makes her home on the outskirts of Boise, sharing it with Poppet the high-maintenance Papillon.
Please tell us a bit more about the plot of A Vote of Confidence.
Complaining about Bethlehem Springs' dissolute mayoral candidate, Gwen Arlington is challenged to take on the role herself. For seven years, she's carved out an independent life in the bustling mountain town of Bethlehem Springs, Idaho, teaching piano and writing for the local newspaper. But now she's a single woman running for mayor--and in 1915 this decision is bound to stir up trouble.
Morgan McKinley is fed up with the delays that hinder the construction of New Hope Health Spa, a place where both rich and poor can come for rest and healing. New to the area, he has determined that serving as mayor would help him push through his agenda for progress.
Gwen and Morgan each want to prove they are the most qualified candidate, not only to voters but to each other, and so sparks fly as the two campaign. Although Morgan has learned to guard his heart as fiercely as Gwen guards her independence, could they learn to be allies instead of adversaries?
I love the forward movement implied in the front covers on this series. Which character in your novel most interested you while you wrote? Why?
I'm always fond of and interested in both the hero and the heroine of my historical romances. It would be impossible to choose one over the other. I love Gwen's independence and her desire to make a difference in the town, and I admire Morgan for what he wants to achieve with his health spa.
Why will readers enjoy your novel?
I fell in love with this time period while writing my suffragette novel,
Catching Katie
, and so I couldn't help wanting to return to the era again. Naturally, I believe readers will enjoy the novel mostly because they'll want to see Gwen and Morgan find happiness with each other. But I think they'll also be intrigued by insights into how women challenged convention and shaped America in the early 20th Century.
If you were the casting director for the film version of your novel, who would play your lead roles?
I don't "cast" my characters with actors in mind. They become so real to me that they have their own individual looks, apart from photographs of others.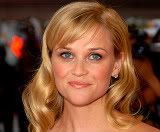 But off the top of my head, I can see Reese Witherspoon in the role of Gwen.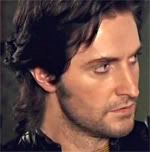 And Richard Armitage in the role of Morgan.
What facet of the writing craft comes easiest to you? What do you struggle with? Explain.
Characters are the easiest for me. A very common theme in reviews of my books is that readers feel like my characters are real people and that they have become friends with them. I believe that's because the characters become real in my mind first.
What I struggle with most is the external plot thread. I usually understand the characters and their motivations and their emotions early on, but the action part of the book takes me a little longer.
An unpublished writer is tired of the rejections and is considering using Print on Demand (POD) for her novel. How would you advise her?
The problem with POD is that, while POD books can be ordered by the big chains (Borders, B&N, etc.), they rarely are ordered by them; a customer must know they want that specific book and ask for it to be ordered. A new author needs their book to be mass produced so that readers can discover them because of the cover and the back blurb and the feel of the book in the reader's hand; impulse buys are what grow your readership. Before a writer goes the POD or vanity press route, they should be sure they've exhausted all of the traditional avenues first.
Choose an inanimate object to represent you. Explain what you have in common with that object.
Wow! That's a difficult question. I think I'll choose a book. One never knows what they'll find within the covers of a book, and I like to think there would be a few surprises once somebody gets to know me beneath "my covers" too.
Speaking of books, what is the last book you read that impacted you? How did it affect you?
The Guernsey Literary and Potato Peel Pie Society
by Mary Ann Shaffer and Annie Barrows. This was one of those novels that has stayed with me for months. I still miss the characters and I still mourn for the character I never got to meet personally. I want to go to 1946 on the island of Guernsey and spend time with my new "friends."
What are you working on now?
I'm working on the third and final book in the Sisters of Bethlehem Springs series,
A Word to the Wise
. Daphne McKinley is the heroine of this book, and she has a secret that's about to come to light.
Where else can readers find you or your writing online? Please include the link for purchasing your book.
My web site is at
www.robinleehatcher.com
I blog alone at Write Thinking,
robinlee.typepad.com
I blog with four other historical writers at Writes of Passage,
writespassage.blogspot.com
You can buy my latest book on Amazon.com
Amazon.com
and on Christianbook.com
www.christianbook.com
Thanks, Robin, for telling us about yourself and A Vote of Confidence.
Readers, Robin has offered to sign a copy of her book for the winner of our drawing on Thursday, May 21.
To enter, leave a comment for Robin
, below. Leave your email address, in case you win, like so: trish[at]trishperry[dot]com. If you subscribe to my blog, at right (or if you're already subscribed),
you'll be entered an additional time
to this drawing and all future drawings.
And check back this Saturday, when we'll hear from novelist Roxanne Henke, author of On a Someday.
Finally, check out our interview with Tiffany (Amber Miller) Stockton, below, and be sure to leave a comment for Tiff.
We'll draw the winner of a signed copy of Copper and Candles this Monday, May 18.
It's not too late to enter for that drawing.
Also on Monday we'll hear from Elizabeth Ludwig and Janelle Mowry, co-authors of
Where the Truth Lies.