Lily wants to move to the city. Ben wants the security of a small town. They face danger and heartache to find a cache of lost gold and discover something far better.
Before we meet today's author, I'd like to announce that the winner of the signed copy of Lynette Sowell's book,
The Wiles of Watermelon
, goes to:
cepjwms@ . . .
Congratulations! I'll contact you today for your snail mail address, and we'll get your book to you right away. I encourage readers to
keep commenting and/or subscribe at right in order to participate in future book give-aways!
And now let's meet novelist
Laurie Alice Eakes
, author of
Better than Gold
(Barbour Books, May 2009, in a collection with two other novels under the title
Wild Prairie Roses
).
Award-winning author Laurie Alice Eakes does not remember a time when books did not play a part in her life; thus, no one was surprised when she decided to be a writer. Her first hardcover was a 2006 Regency historical from Avalon Books and won the National Readers Choice Award for Best Regency, as well as being a finalist for Best First Book. She has also sold many articles, short stories, and essays. She is an active member of RWA and on the blog staff for Novelists Inc. A graduate of the Seton Hill University Master of Arts Degree in Writing Popular Fiction, And a Bachelor of Arts graduate in English and French from Asbury College, she is an experienced speaker, and has made presentations at local and national RWA conferences, as well as local universities and libraries.
She lives in Northern Virginia with her husband, who is about to graduate from Georgetown University School of Law, and assorted cats and dogs.
Please tell us a bit more about the plot of Better than Gold.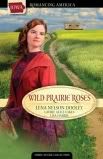 Lily Reese is so afraid of being alone after a traumatic experience on her family farm, she wants to get out of the small town and live in the big city. Her job as a telegraph operator is likely to make this possible.
Ben Purcell has traveled all his life, as his father was a peddler. When he learned he has a great aunt, who is still alive, he decides to settle in the small town until he can afford his own land. He wants permanence.
For years, people in the town have been hunting a cache of stolen gold said to be hidden in the area. Lily and Ben hunt for it, too, and find their lives in danger, as they find more clues, and their hearts in danger as they fall for one another.
Which character in your novel most interested you while you wrote? Why?
Lily for sure. She's pretty complex in her goals and motivations, but it took me a while to figure her out, understand why she would want money so badly she would risk everything to get it.
Why will readers enjoy your novel?
It is a blend of mystery, suspense, and romance in a historical setting. What's better than that?
Excellent point, Laurie. You've covered a lot of bases there! If you were the casting director for the film version of Better than Gold, who would play your lead roles?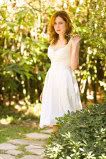 For Lily, Jenna Fischer, who plays Pam on
The Office
.
For Ben, David Boreanaz, who plays Agent Booth on Fox's
Bones
.
What facet of the writing craft comes easiest to you? What do you struggle with? Explain.
The easiest part for me is coming up with ideas. I can read a couple of books about a time or place and have a three-book series outlined in a week.
Beginnings are the hardest part for me. No matter how well outlined my story is, the first three chapters take me longer to write than do the next six to nine. I think this is because all the character charts in the world don't help me figure out my characters until they are talking and moving around.
Pretty much like real people, eh?

This month I'm asking authors their thoughts on Print on Demand (POD). Say an unpublished writer is tired of the rejections and is considering using POD for her novel. How would you advise her?
Don't do it. Wait upon the Lord's timing and don't rush it. Your stories aren't selling for a reason and if you force the issue, you could do more damage to your career than good.
Choose an inanimate object to represent you. Explain what you have in common with that object.
What do you mean? I am an inanimate object.
LOL! I guess many avid readers and writers fall into that category, don't we?
Maybe a sofa. A loveseat. Four legs, two arms . . . Oh, yeah, I only have two legs. Hmm. I know, a bookcase. I have many facets like shelves and am full of knowledge, some of it useful, much of it not, as well as some other objects just for fun.
We'll go with that. Speaking of books, what is the last book you read that impacted you? How did it affect you?
Fiction or nonfiction? Nonfiction is probably
Blink
, by Malcolm Gladwell. Gina Welborn recommended it. What a great perspective--we get paralyzed because we have too much choice and we need to trust our gut instincts. I call that trusting the still small voice of God.
Yes, Gladwell is fascinating. I read his book, The Tipping Point, which I would actually recommend to any author curious about how many books become best-sellers. And how about a fiction choice, Laurie?
I'm pretty moved by the book I'm reading now.
Secrets,
by Kristen Heitzmann.
What are you working on now?
I am working on the second story in the Heartsong New Jersey historical series. It's called
The Heiress
and follows
The Glassblower
, which will be out in November.
And you just got great news today about another project, didn't you? Tell us!
I've just received contracts for four books for Avalon. Set in the 1890s in Virginia, they feature young women entering careers dominated by men. The old counting game
Rich man, poor man,
Beggar man, thief,
Doctor,lawyer,
Merchant, chief,
Tinker, tailor,
Soldier, sailor
inspired the series. My heroines are a doctor, a lawyer, a merchant in the form of a seacaptain, and, instead of a chief, a chef.
When the Snow Flies
, the first one, is scheduled to come out next June. I still have to write the other three, and will be starting soon.
Fantastic news, Laurie! Sounds as if you're going to be busy for quite awhile. Where else can readers find you or your writing online? Please include the link for purchasing your book.
You can find me at
www.lauriealiceeakes.com
and
www.seizethechance.blogspot.com
. I'm doing a free read on the blog, and it's more up-to-date than the web site.
As for buying my books, anywhere you can buy Christian fiction. Amazon, Barnes and Noble, Christian Book.com,
www.heartsongpresents.com
or
www.barbourbooks.com
.
Wild Prairie Roses
should be in Walmart by the second week in May. It's also available at all the on-line outlets.
Thanks, Laurie, for telling us about yourself and Better than Gold.
Readers, Laurie has offered to sign a copy of her book for the winner of our drawing on Monday, May 11.
To enter, leave a comment for Laurie
, below. Leave your email address, in case you win, like so: trish[at]trishperry[dot]com. If you subscribe to my blog, at right (or if you're already subscribed),
you'll be entered an additional time
to this drawing and all future drawings.
And check back on Thursday, when we'll hear from novelist Lena Nelson Dooley, another author featured in
Wild Prairie Roses
. And we'll draw the winner of Bonnie Leon's book,
Enduring Love
.
You can still enter for that drawing under Bonnie's interview, below
.
Finally, don't go anywhere without taking a look at some of the excellent Christian fiction being released during the month of May!
1.
A Bride of Honor
by
Ruth Axtell Morren
from Steeple Hill Love Inspired Historical. An impoverished preacher from the working class falls in love with a young lady of the London ton and risks all including his reputation to save her honor.
2.
A Prairie Romance Collection
, by
Lynn A. Coleman, Mary Davis, Lena Nelson Dooley, Susan K. Downs, Birdie L. Etchison, Linda Ford, Linda Goodnight, JoAnne A. Grote, Cathy Marie Hake, Judith McCoy Miller, Kathleen Paul, Janet Spaeth
from Barbour Publishing. Relive history On The American Great Plains.
3.
Beyond Corista
, Shadowside Series - Book 3 by
Robert Elmer
from Zondervan. In the last book of the trilogy, Oriannon and Sola set out to take the word of Jesmet beyond their planet, but are captured by traders, who hold the girl as a pawn in an interplanetary struggle.
4.
Bittersweet Memories
by
Cecelia Dowdy
from Barbour Heartsong Presents. Karen's fiancé has disappeared after embezzling money from their large mega-church; can she learn to love again?
5.
Enduring Love
, Sydney Cove Series, Book Three by
Bonnie Leon
from Revell. John and Hannah have lived by faith. When all seems lost they must continue to believe in a God who can do all things.
6.
Lethal Lasagna
, by
Rhonda Gibson
from White Rose Publishing. Lethal Lasagna is a cozy romantic mystery.
7.
Love Finds You in Liberty, Indiana
, by
Melanie Dobson
from Sommerside Press. A Quaker woman risks everything to operate a station on the Underground Railroad in 1850.
8.
Rose House
, by
Tina Ann Forkner
from Waterbrook Press. vivid story of a private grief, a secret painting, and one woman's search for hope.
9.
So Not Happening
, A Charmed Life, book one by
Jenny B. Jones
from Thomas Nelson. Isabella Kirkwood had it all: popularity at a prestigious private school in Manhattan, the latest fashions, and a life of privilege and luxury. What's a girl to do when God gives you the total smackdown?
10.
The Lyons Den
, 3rd Book in The Shelton Heights Series by
Kendra Norman-Bellamy
from Urban Books. With his and his family's life placed in danger by a stalker who only identifies himself as "Dr. A.H. Satan," Stuart Lyons has to somehow maintain his faith in God.
11.
Tour de Force
, by
Beth White
from Zondervan. Gilly Kincade, rising star in a premier NYC ballet company, and Birmingham artistic director Jacob Ferrar wrestle with ordering the priorities of building a relationship, pursuing artistic dreams, and serving God.
12.
Trail to Justice
, by
Susan Page Davis
from Heartsong Presents. A police dispatcher and a veterinarian compete in a 100-mile horse race for fun, but find intrigue and romance, along with an injured champion and a wrecked airplane.
13.
What the Bayou Saw
by
Patti Lacy
from Kregel Publishing. Sally Stevens, Mary's Southern friend in an Irishwoman's Tale, grapples with her own memories, buried beneath the murky waters of a Louisiana bayou.
14.
Wild Prairie Roses
, by
Lena Nelson Dooley
and
Laurie Alice Eakes
and
Lisa Harris
from Barbour Publishing. Elusive dreams unite three couples.
15.
Who Made you a Princess
, All About Us #4 by
Shelley Adina
from Hatchette Faithwords. Will Shani Hanna choose the boy next door or a real-life handsome prince?
Happy reading!