A widow wounded by her dead husband's alcoholism clashes over patent medicine with a peddler who's carrying a secret that will turn her world upside down.
Before we meet today's featured author, I want to announce that the winner of Robin Lee Hatcher's
A Vote of Confidence
is:
immaculata13@ . . .
Congratulations! I'll contact you today for your snail mail address, and we'll get your book to you right away. I encourage readers to
keep commenting and/or subscribe at right in order to participate in future book give-aways!
And now let's meet novelist
Janet Dean
, author of
Courting the Doctor's Daughter
(Steeple Hill Love Inspired Historical, May 2009).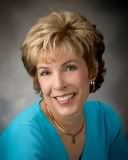 Janet Dean believes in love stories that grab people from the first page and carry them along the sometimes rocky journey of maintaining faith in trying circumstances. Fascinated with history and the role of strong women in our nation's past, Janet brings both together as she sits at her computer spinning stories for Steeple Hill. Her debut novel,
Courting Miss Adelaide
(Love Inspired historical), released September 2008. The second book in the series,
Courting the Doctor's Daughter
released May 2009.
The Substitute Bride
will release February 2010.
Janet is a member of American Christian Fiction Writers, Romance Writers of America, and Faith, Hope & Love. When she isn't writing, Janet enjoys stamping greeting cards, playing golf and is never without a book to read. The Deans love to travel and spend time with family.
Please tell us a bit more about Courting the Doctor's Daughter.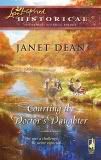 An Unexpected Match: A widow with three boys to raise, Mary Graves has no time for peddlers of phony medicine. She's a dedicated healer working alongside her doctor father. When a handsome stranger blows into town with his "elixir of health" and asks questions about her newly adopted son, Mary's determined to uncover the truth behind all his claims.
Once the reckless heir to a Boston fortune, Dr. Luke Jacobs travels the country with his herbal medicine while searching for his long-lost son. After meeting the feisty doctor's daughter and her youngest boy, Luke has found what he's been looking for at last. But can he convince her to let him into her home, her family--and her heart?
Which character in your novel most interested you while you wrote? Why?
It's hard to choose, but I find my heroine most interesting. Mary Graves is an over-committed widow with three sons. She's been wounded by her deceased husband and struggles with trust issues and self-worth. Though she has a strong faith, she worries about those she loves instead of trusting them to God. Like all Christians Mary is flawed but she takes the tough steps to overcome her past.
Why will readers enjoy your novel?
I believe readers love to root for characters as they move from conflict to trust, and then to love, knowing they've found the person God intended for them. They do this by overcoming the wounds of their pasts through trusting and obeying God.
If you were the casting director for the film version of your novel, who would play your lead roles
?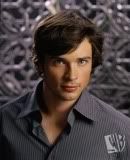 Luke: Tom Welling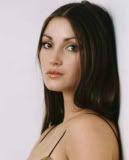 Mary: young Jane Seymour
What facet of the writing craft comes easiest to you? What do you struggle with? Explain.
Internal conflict comes easily for me. I could tell you dozens of things that happened to my characters in their pasts and how that impacts them now in relationships. I struggle with book-length external conflict, something tangible that keeps the hero and heroine apart, something so important to both of them that it threatens their happy ending and keeps the reader turning pages. True conflict can't be resolved easily, say by having a conversation.
An unpublished writer is tired of the rejections and is considering using Print on Demand (POD) for her novel. How would you advise her?
Print on Demand requires the author to handle the entire process, from writing to distribution to marketing and bookkeeping. Writers need to be aware of all the pros and cons and various aspects involved before signing the dotted line. An example of a con: the books are expensive and that cost is passed on to their friends and relatives.
Choose an inanimate object to represent you. Explain what you have in common with that object.
I'd choose colorful art glass that catches light and reflects prisms of color. Like art glass, I hope my writing and my life reflects God's light.
Oh, that's lovely, Janet.

What is the last book you read that impacted you? How did it affect you?
I'm always affected by a book in some way. But I'd say Francine Rivers' books have impacted me most. Especially
The Sin Eater
, a beautiful allegory of the gift of grace.
What are you working on now?
I'm promoting
Courting the Doctor's Daughter
, available in bookstores and discount stores now. I'm working on revisions for
The Substitute Wife
. (mentioned above)
Where else can readers find you or your writing online? Please include the link for purchasing your book.
My Web site:
www.janetdean.net
My blog:
www.janetdean.blogspot.com
My group blog:
www.seekerville.blogspot.com
Love Inspired Authors:
www.loveinspiredauthors.com
Harlequin:
www.eHarlequin.com
Amazon:
www.amazon.com
Thanks, Janet, for telling us about yourself and Courting the Doctor's Daughter.
Readers, Janet has offered to sign a copy of her book for the winner of our drawing on Thursday, May 28.
To enter, leave a comment for Janet
, below. Leave your email address, in case you win, like so: trish[at]trishperry[dot]com. If you subscribe to my blog, at right (or if you're already subscribed),
you'll be entered an additional time
to this drawing and all future drawings.
And check back this Monday, when we'll hear from novelist Ramona Richards, author of The Taking of Carly Bradford.
We'll also hold the drawings for Roxanne Henke's
On a Someday
and Elizabeth Ludwig and Janelle Mowery's
Where the Truth Lies.
You can still enter your name for these drawings,
under the author interviews, below.