A small Tennessee town's buried secrets come to life and affect everyone in the present.
Before we meet today's author, I'd like to announce that the winner of the signed copy of Wanda Dyson's book,
Shepherd's Fall
, goes to:
bc428@ . . .
Congratulations! I'll contact you today for your snail mail address, and we'll get your book to you right away. I encourage readers to
keep commenting and/or subscribe at right in order to participate in future book give-aways!
And now let's meet novelist
Lynette Sowell
, author of
The Wiles of Watermelon
(Barbour Publishing, 2008).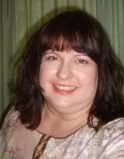 Lynette Sowell works as a medical transcriptionist for a large HMO. But that's her day job. In her "spare" time, she loves to spin adventures for the characters who emerge from story ideas in her head. She hopes to spread the truth of God's love and person while taking readers on an entertaining journey. Lynette is a Massachusetts transplant, who makes her home in central Texas with her husband, two kids by love and marriage (what's a step-kid?), and five cats who have their humans well trained. She loves to read, travel, spend time with her family, and is a green-thumb-in-training.
Lynette, what can you tell us about The Wiles of Watermelon?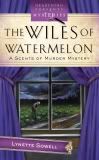 Newlywed Andi Hartley is not at all sure she's ready to look like an over-ripe melon . . . In fact, she's still getting used to being married. But her husband, Ben, wants to start a family right away. Gulp. Their family plans are put on hold when Andi's kitten runs from the house to their watermelon field and digs up a bone attached to the remains of a thirty-year-old skeleton. Buried secrets come to life . . . and then the colorful owner of Greenburg's best eatery is murdered. As Andi unearths more and more of the suspicious history surrounding the skeleton, she realizes both deaths are related.
Okay, that does it--no cats in my garden! What a fun premise, Lynette.

Which character in your novel most interested you while you wrote? Why?
Honey Haggerty, the owner of Honey's Place, a local restaurant featured in my book. She's a loud and wild character, and it was hard to learn why she did many of the things she did in the book.
What an intriguing comment. I love it when a character is so real the novelist has to walk through the story with her before her motivations become clear.

Why will readers enjoy your novel?
It's a small-town mystery, with characters I think most of us have encountered at some point in real life. Plus, there's not one, but two, murder victims.
If you were the casting director for the film version of your novel, who would play your lead roles?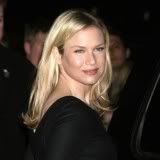 Renee Zellweger would make a great Andi, with her sweet quirkiness.
Going by looks alone, Michael Chiklis would make a great Ben.
What facet of the writing craft comes easiest to you? Explain.
I enjoy tightening my writing, and working with other writers to help tighten their work. Sometimes more words aren't prettier; they're just more words. Of course, the flip side of that is I usually have to make sure I've used enough words to make my own book come alive in the way I'd like.
What do you struggle with in your writing?
Oh, the ideas! I can be reading the news, be traveling, or hear a friend tell a true story, and I'll get a story idea drop into my head. But it takes patience and skill to know when a book idea is fleshed out enough to start writing. I like to know what happens in the book as much as I can, and ideas don't always cooperate.
A new writer wants to know how to keep her readers from setting her book down. How would you advise her?
1. Don't end a chapter with a character turning out the lights to go to bed.
2. Don't give too much information at the beginning of the story.
3. Give your character lots of problems to solve!
What is the last book you read that impacted you? How did it affect you?
The Principle of the Path
, by Andy Stanley. I don't read a lot of nonfiction, but this book kept me up late to finish it. I've reevaluated a lot of things in my life that I'd like to change with God's help.
What are you working on now?
I'm currently working on a contemporary romance proposal set in Arizona that I hope to submit to the editor in mid May.
Where else can readers find you or your writing online? Please include the link for purchasing your book.
My web site is
www.lynettesowell.com
. If you'd like to order my book, you can e-mail me directly at
lynette@lynettesowell.com
.
Thanks, Trish!
You're welcome, Lynette. And thanks for telling us about yourself and The Wiles of Watermelon.
Readers, Lynette has offered to sign a copy of her book for the winner of our drawing on Monday, May 4.
To enter, leave a comment for Lynette
, below. Leave your email address, in case you win, like so: trish[at]trishperry[dot]com. If you subscribe to my blog, at right (or if you're already subscribed),
you'll be entered an additional time
to this drawing and all future drawings.
And check back on Thursday, when we'll revisit novelist Bonnie Leon, and hear about her new novel,
Enduring Love
. And we'll draw the winner of Jenny B. Jones' book,
So Not Happening
.
You can still enter for that drawing under Jenny's interview, below
.