A squire and a maiden discover their ability to communicate with the minds of others.
Before we meet today's featured author, I want to announce that the winner of Cynthia Hickey's novel,
Candy-Coated Secrets,
is:
chassan2@ . . .
Congratulations! I'll contact you today for your snail mail address, and we'll get your book to you right away. I encourage readers to
keep commenting and/or subscribe at right in order to participate in future book give-aways!
And now let's meet novelist
Jill Williamson
, author of
By Darkness Hid
, Blood of Kings Book One (Marcher Lord Press, April 2009).
Tell us about yourself, Jill.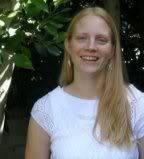 I am a novelist and freelance editor. I love to read and started Novel Teen Book Reviews (novelteen.com) to help teens find great books to read. We review books for ages 8-12, 12-16, and 16 and up. Our site has a search box that helps readers find books by age, genre, or gender.
I also run teenageauthor.com, a website devoted to encouraging young writers. Teenage Authors has a yahoo critique group where teens can post their work for review.
My husband has worked as a youth pastor for eleven years, so I've had lots of experience working with teens. I read, write, and play the guitar in my free time. I live in Eastern Oregon with my husband and two kids.
What can you tell us about By Darkness Hid?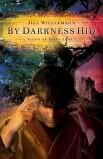 Achan has been a slave all his life. He is consigned to the kitchens of a lord and forced to swallow a foul potion every day. When an enigmatic knight offers to train Achan for the Kingsguard, he readily accepts. But his new skills with the sword do not prepare him for the battle raging between the voices in his head.
Vrell Sparrow is not who she seems. She masquerades as a boy to avoid capture by the powerful forces that seek to exploit her. But Vrell feels called to help a young squire who recently discovered his bloodvoicing gift, even if doing so requires her to work with those who could destroy her.
While Achan learns to use his new ability, Vrell struggles to shut hers down. All the voices strive to learn Achan and Vrell's true identities--and a different kind of voice is calling them both.
You can read a sample chapter, comments from readers, and endorsements on my website.
Wow, I know plenty of my blog readers will be interested in this one. Which character in your novel most interested you while you wrote? Why?
Achan. He rebels against injustice despite the punishments he receives and the ongoing threat of death. He's naive about so many things and sometimes so stubborn he makes more trouble for himself. My favorite thing about Achan is that he would sacrifice his own happiness for others, even those undeserving.
What do you think readers will enjoy about your novel?
So far people really like the unpredictable, fast-paced plot. They really like that Vrell is disguised as a boy, especially when her story comes together with Achan's and he thinks she's a pest. Also, it's fun to see how Achan learns to use his sword and compete in a tournament.
By Darkness Hid
has mystery, suspense, action, and a hint of romance that appeals to readers of all ages. And if that doesn't convince you, check out the "What people are saying" page on my website.
If you were the casting director for the film version of your novel, who would play your lead roles?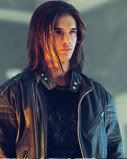 Steven Strait would be the perfect Achan if he looked just like he did as Warren Peace in
Sky High
.
Amanda Bynes did a great job playing a boy in
She's the Man
.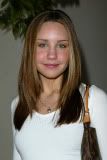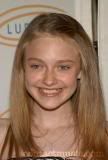 Dakota Fanning could also play Vrell, with brown hair, though.
What facet of the writing craft comes easiest to you? Explain.
Plotting. I love to come up with plots that twist and turn all over the place. I carry around a notebook and think through the story or scene until I come up with a plan. It's my favorite part of writing.
What do you struggle with in your writing?
I struggle with finding the time to write and being consistent. I wish I could write an hour each weekday, but it's so hard. I get so easily distracted by emails and other things. Second to that is probably character development. For me that ties right into finding time to write because my characters grow and change the more I write and rewrite. If I can't find time to work on my stories, my characters don't get much opportunity to grow.
A new writer wants to know how to keep her readers from setting her book down. How would you advise her?
Always make sure something is happening that either furthers the goal of the point-of-view character or hinders that goal. If the scene has nothing to do with the point-of-view character's goal, it probably needs to be cut.
Choose an inanimate object to represent you. Explain what you have in common with that object.
A textbook. I am filled with lots of information. God has really taught me some amazing truths in my life. I'm thankful to have found writing as a way to share some of this information with others.
What is the last book you read that impacted you? How did it affect you?
I was deeply impacted by
End of the Spear,
by Steve Saint. The whole story amazed me. That those missionaries would give their lives to bring God's truth to a dangerous tribe was amazing. And the fact that their wives took their children and moved in with the tribe after they were killed was even more amazing. Missionaries are my heroes. I am in awe of their bravery and self-sacrifice.
What are you working on now?
I'm polishing up the sequel to
By Darkness Hid
. Then I'm going to start writing the third and final book in the Blood of Kings series.
Where else can readers find you or your writing online? Please include the link for purchasing your book.
I'm everywhere! My web site is
www.jillwilliamson.com>
. I'm also on Shoutlife, Facebook, MySpace, Shelfari, GoodReads, Twitter, Amazon. I have links to all these pages on my web site.
And there are also my other two web sites: Novel Teen Book Reviews at
www.novelteen.com
and
www.teenageauthors.com
.
Thanks so much, Jill, for visiting and telling us about By Darkness Hid.
Readers, Jill has offered to sign a copy of her novel for the winner of our drawing on Thursday, April 9.
To enter, leave a comment for Jill
, below. Leave your email address, in case you win, like so: trish[at]trishperry[dot]com. If you subscribe to my blog, at right (or if you're already subscribed)
you'll be entered an additional time
to this drawing and all future drawings.
And check back on Monday, when we'll meet novelist Linda Hall, author of
Shadows on the River
. And we'll draw the winner of Donald J. Parker's book,
All the Stillness of the Wind
.
You can still enter for that drawing under Don's interview, below
.
Before you leave your comment below, take a quick look at some of the fantastic new releases coming out in April!
1.
A Claim of Her Own
, by
Stephanie Whitson
from Bethany House. Newly arrived in Deadwood, South Dakota, Mattie O'Keefe must soon decide where true riches lie--and what's worth dying for.
2.
A Gift of Grace
, by
Amy Clipston
from Zondervan. When Rebecca Kaufman's older sister, who left the Amish community when she was a teenager, dies in an automobile accident, Rebecca is left custody of her two modern non-Amish teenage nieces, Jessica and Lindsay.
3.
Baby Baby
, Book One of the Family Heirloom Series by
Karen Weisner
from Samhain Publishing House. A Proverbs 31 wife wonders, does "submissive" mean giving up having anything of her own?
4.
By Darkness Hid
, Book One in The Blood of Kings by
Jill Williamson
from Marcher Lord Press. Two people discover their ability to speak to, and hear, the minds of others: a squire serving an evil prince, and a maiden masquerading as a boy to avoid marriage.
5.
Chef's Deadly Dish
, Book Three in the Cozy Crumb Series by
Lisa Harris
from Heartsong Presents: Mysteries. Determined to discover the truth, Pricilla Crumb, an unconventional busybody, follows one lead after another, dishing up laughter and surprises along the way.
6.
Copper and Candles
, Michigan Brides Book One by
Amber Stockton
from Heartsong Presents. Charity work brings them together, but their positions in society might drive them apart.
7.
Homecoming Blessings
, by
Merrillee Whren
from Steeple Hill. When businessman Peter Dalton has to work with the boss's missionary daughter Ashley Hiatt, he finds a new focus in life as well as love.
8.
Peachtree Dreams
, by
Debby Mayne
from Barbour Publishing. Three Georgia women face the challenge to believe in happily-ever-after endings.
9.
Shepherd's Fall
, Prodigal Recovery Series Book One by
Wanda Dyson
from Random House/Waterbrook. Nick Shepherd faces the hardest decision of his life--to save his daughter from a convicted killer, he may have to compromise his beliefs.
10.
Stealing Home
, by
Allison Pittman
from Multnomah. Four people, each harboring a secret passion, are brought together through providence, tragedy and love.
11.
Texas Ranger Dad
, Mule Hollow Series by
Debra Clopton
from Steeple Hill Love Inspired. Rose Vincent has made a life for herself and her son in Mule Hollow Texas but when Texas Ranger, Zane Cantrell comes to town, her brings her past with him and everything she holds dear in life is threatened.
12.
The Reluctant Cowgirl
, The McCord Sisters by
Christine Lynxwiler
from Barbour Publishing. When Crystal McCord's New York dream crumbles, she thinks her parents' Arkansas ranch might be a safe place to hide her heart. . .until she meets the cowboy next door.