New York's social darling Isabella Kirkwood just woke up in a nightmare: Oklahoma.
Before we meet today's featured author, I want to announce that the winner of Loree Lough's novel,
Love Finds You in Paradise, Pennsylvania,
is:
peachykath79@ . . .
Congratulations! I'll contact you today for your snail mail address, and we'll get your book to you right away. I encourage readers to
keep commenting and/or subscribe at right in order to participate in future book give-aways!
And now let's meet novelist
Jenny B. Jones
, author of
So Not Happening
(Thomas Nelson, April 2009).
Tell us about yourself, Jenny.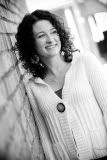 I write Christian fiction with a few giggles, quite a bit of sass, and lots of crazy. My novels include the Katie Parker Production series and the upcoming book
So Not Happening
. I would also like to take credit for
Twilight
, but somewhere I think I read you're not supposed to lie.
Yeah, I'd rather you not take credit for my hard work, Jenny.
When I'm not typing my heart out (or checking email), I teach at a super-sized high school in Arkansas. My students are constantly telling me how my teaching changes their lives and turned them away from drugs, gangs, and C-SPAN.
Okay, that's not exactly true.
Maybe you watched Michelle Pfeiffer in Dangerous Minds one too many times, eh? Will you tell us a bit more about So Not Happening?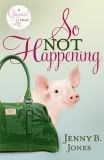 Bella Kirkwood had it all: A-list friends at her prestigious private school, Broadway in her backyard, and Daddy's MasterCard in her wallet. Then her father, a plastic surgeon to the stars, decided to trade her mother in for a newer model.
When Bella's mom falls in love with a man she met on the Internet--a factory worker with two bratty sons--Bella has to pack up and move in with her new family to Truman, Oklahoma. On a farm no less!
Forced to trade her uber-trendy NYC lifestyle for down-home charm, Bella feels like a pair of Rock and Republic jeans in a sea of Wranglers. But soon, things fall apart at school, and Bella is the outsider. Forced to be on the school paper, she finds her greatest enemy to be her new, hot editor. Before long, Bella smells something wrong in the town of Truman, and it's not just the cow pasture. With her savvy reporter's instincts, she is determined to find the story behind all the secrets.
Which character in your novel most interested you while you wrote? Why?
The main character, Bella, popped into my head as I was writing my first series. I thought, "Wouldn't it be funny to take a Gossip Girl type and flip that character on her tail? Bring her "down home." And I mourned for days when the teen mystery Veronica Mars went off the air. So I just combined the two ideas. Originally I thought it would be a great idea--for someone who wasn't me. I didn't have any experience writing mysteries, so it was a crazy challenge. But I loved it.
Why will readers enjoy your novel?
Reading it will remove all traces of cellulite.
Say no more! But really. Say more.
Hopefully it has a little bit of everything--romance, intrigue, suspense, and most importantly--humor. I hope it's an escape. I'm not a deep girl, so I just wanted to bring a faith-based message through entertainment and (fingers crossed) some laughs.
If you were the casting director for the film version of your novel, who would play your lead roles?
Ha! Great question. I taught drama for a number of years, so I'd totally want to cast.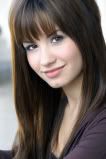 I'd pick Demi Lovato from Disney as Isabella Kirkwood.
A younger version of Tom "Superman" Welling for her love interest.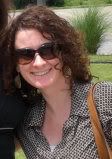 And I would have a cameo, of course. Because it's my dream to visit a set and raid the food area.
This is a picture of Hollywood Jenny.

What facet of the writing craft comes easiest to you? Explain.
Writing easy? Um, hitting the send button when it's over. I love this job, I do. But no part of it is easy for me. Career-wise it's the hardest thing I've ever done. I'm really good at the procrastination part though. And emailing and Facebooking--necessary skills for any serious writer.
I knew I was cut out for this biz. What do you struggle with in your writing?
My main problem (no shock) is discipline and staying focused. It's amazing what you suddenly HAVE to do while you're writing. During this last book, I was compelled to get out there and clean my garage. I'm so easily distracted. I'm a seat-of-the-pants writer, so I struggle with rejection every day. Sitting down and having nothing in my head is not a good feeling. A familiar one, but not a good one.
I hope you have enough in there to answer this one: How would you advise a new writer asking how to keep her readers from setting her book down?
Be original. Use conflict. Include kissing scenes with an alpha male. Stick fives and tens throughout the pages.
I have been reading the wrong books.

Okay, Jenny, choose an inanimate object to represent you. Explain what you have in common with that object.
Paper--blank with some potential.
What is the last book you read that impacted you? How did it affect you?
My agent passed on the greatest book to me. It's called
A Girl Named Zippy
, by Haven Kimmel. It's nonfiction, but it's so engrossing, it feels like fiction. It's just about a young girl's crazy life in small town Indiana. Nothing especially big happens to her, but it's the way she writes that makes even the mundane sound riveting. I can't sing its praises enough. It's my new gift book for friends and family. It's also one of the funniest books I've ever read. Rarely does a book make me laugh out loud, but this one? Omigosh. Amazing. The author will either inspire you or make you want to pack up your MacBook forever.
Yes, I remember that book! She does have a fun voice. And there are touching parts, too, if I remember; especially near the end.What are you working on now?
I just finished
Just Between You and Me
, my first foray into women's fiction and a Women of Faith pick for 2010. It's the story of Maggie Montgomery, a woman who must return home and face both her past and her future. It's about living fearlessly when the world is crumbling around you. There is conflict. There are kissing scenes with an alpha male. And there will be fives and tens in the pages.
And you said you weren't disciplined. Sounds like you've got a formula that works, girl, and you stick with it. Where else can readers find you or your writing online? Please include the link for purchasing your book, notably the version with the fives and tens.
Stop by my blog. It's my favorite writing venue, for sure. We have lots of fun and discuss irrelevant things like Britney Spears, movies, books, and the fact that you can find RoboPigeons in London.
Link to the latest book:
Amazon.com
Thanks Jenny, for visiting and telling us about So Not Happening.
Readers, Jenny has offered to sign a copy of her novel for the winner of our drawing on Thursday, April 30.
To enter, leave a comment for Jenny
, below. Leave your email address, in case you win, like so: trish[at]trishperry[dot]com. If you subscribe to my blog, at right (or if you're already subscribed)
you'll be entered an additional time
to this drawing and all future drawings.
And check back on Monday, when we'll meet novelist Lynette Sowell, author of
The Wiles of Watermelon
. And we'll draw the winner of Wanda Dyson's book,
Shepherd's Fall
.
You can still enter for that drawing under Wanda's interview, below
.
Finally, if you'd like to leave a comment for Sara Mills, (see April 15 posting, below), please do.
This Saturday, April 25, I'll draw a name from those who have commented and will send both of Sara's novels to the winner.
See more info, below.