When Polly Dent Loses Grip on the treadmill and has a fatal fall that's ruled an accident, LaTisha Barnhart uncovers a plot that'll put your teeth on edge.
Before we meet today's featured author, I want to announce that the winner of A.K. Arenz's novel,
The Case of the Bouncing Grandma,
is:
caree21@ . . .
Congratulations! I'll contact you today for your snail mail address, and we'll get your book to you right away. I encourage readers to
keep commenting and/or subscribe at right in order to participate in future book give-aways!
And now let's meet novelist
S. Dionne Moore
, author of
Polly Dent Loses Grip
(Barbour, March 2009).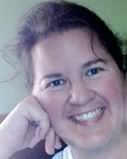 Me? You want to know the status of my bunions? Actually, my bio says it all. I'm a bunion-free supermom, able to leap loads of laundry in a single bound, homeschool my daughter, and help my pastor husband, all with a deadline looming. No problem-O.
You are an amazing woman--no doubt about it. Now tell us a bit more about the novel's plot.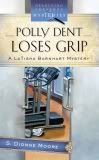 Plot! I knew I forgot something! Just kidding.
Polly Dent Lose Grip on the treadmill and takes a fatal fall that is ruled an accident. Helping her mother-in-law move into Bridgeton Towers Assisted Living, but the scars from LaTisha Barnhart's surgically removed bunions tell her something's afoot. The residents' gossip is revealing all kinds of motives for murder. Gertrude Herrman is out looking for love in the form of Thomas Philcher's fat wallet, and Polly's fall eliminates her competition once and for all. Otis Payne, the venerable director of Bridgeton Towers, is over a barrel when his wife demands cash, or she'll carry on without him. Mitzi Mullins's penchant for rhyme puts her in direct line as perpetrator of the crime, and Sue Mie's mistake seals Polly's fate.
Which character in your novel most interested you while you wrote? Why?
Definitely LaTisha, She's so unpredictable. Anytime I team her up with any other character, there's bound to be something fun happening. And when she gets together with Hardy? Ha. Those two are made for each other!
Why will readers enjoy your novel?
Because it measures about eight inches in height and makes the perfect backscratcher when you just can't reach the middle of your back any other way.
I love a practical author. What facet of the writing craft comes easiest to you? Explain.
I can hear my characters voices. I hear Hardy as clearly as I hear LaTisha. Dialogue comes easy to me, but I also take great pains to make sure the voices of each character are unique. After all, no two people look alike or talk alike. Good characterization begins with knowing a character's backstory and forming their dialogue accordingly.
What do you struggle with in your writing?
Setting. I often go back in edits and write in sensory and setting.
A new writer is struggling to make her main character less "flat." In three sentences or less, give her your advice.
No two people are alike. Knowing a character's backstory is key to knowing how they will act and react in your novel and also gives rise to their unique vocabulary and dialogue. Flat characters are characters that the author doesn't get to know well enough before they begin writing.
What are you working on now?
A romance. Ashton made the biggest gamble of his life and lost everything, now he's back to reclaim the heart of the woman whose life he shattered.
Where else can readers find you or your writing online? Please include the link for purchasing your book.
www.sdionnemoore.com
. I'm always running a contest. Plus, I've just started doing Podcast lessons on writing. Short snippets of information that will change the way you approach your writing. I've just finished a series on Backstory, and have started a new series on Characterization.
Since the Heartsong Presents Mysteries book club is closing this summer, I'm also directing people who are not members of the club to email me personally if they'd like to purchase a copy of
Polly Dent Loses Grip
. You can contact me through my Website, above. We're hoping that Barbour will release all three LaTisha mysteries as a 3-in-1.
Your Goose Is Cooked
, the third and final book in the series was contracted, so the only way anyone will see it is if it is chosen to release as an anthology.
We'll pray to that end, Sandra! Thanks so much for telling us about yourself and Polly Dent Loses Grip.
Readers, Sandra has offered to sign a copy of her novel for the winner of our drawing on Thursday, March 19.
To enter, leave a comment for Sandra
, below. Leave your email address, in case you win, like so: trish[at]trishperry[dot]com. If you subscribe to my blog, at right (or if you're already subscribed)
you'll be entered an additional time
to this drawing and all future drawings.
And check back on Monday, when we'll meet novelist Margaret Daley, author of
Poisoned Secrets
. And we'll draw the winner of Deborah Raney's book,
Yesterday's Embers
.
You can still enter for that drawing under Deborah's interview, below
.