Maggie Ridgeway spent years searching for her birth mother, but when the past is revealed, the shocking disclosures could tear her life apart.
Before we meet today's author, I'd like to announce that the winner of the signed copy of Deborah Raney's book,
Yesterday's Embers
, goes to:
a_d_kanady@ . . .
Congratulations! I'll contact you today for your snail mail address, and we'll get your book to you right away. I encourage readers to
keep commenting and/or subscribe at right in order to participate in future book give-aways!
And now let's meet novelist
Margaret Daley
, author of
Poisoned Secrets,
(Love Inspired Suspense, March 2009).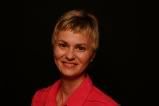 Margaret Daley is an award winning, multi-published author in the romance genre. One of her romantic suspense books,
Hearts on the Line
, won the American Christian Fiction Writers' Book of the Year Contest. Recently she has won the Golden Quill Contest, FHL's Inspirational Readers' Choice Contest, Winter Rose Contest, and the Barclay Gold Contest. She wrote for various secular publishers before the Lord led her to the Christian romance market. She currently writes inspirational romance and romantic suspense books for the Steeple Hill Love Inspired lines. She has sold sixty books to date.
Wow, sixty! You're amazing, Margaret. Tell us about Poisoned Secrets.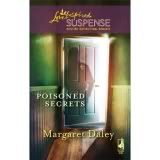 Maggie Ridgeway has spent years searching for her birth mother. And now, thanks to an anonymous tip, she's finally found her. Taking the apartment across the hall from her mother's family, Maggie is determined not to leave until she gets some questions answered. Who is her father? Why did her parents abandon her? And what item in her new apartment is provoking multiple burglaries? After an interrupted break-in leaves Maggie unconscious, the building's owner, Kane McDowell, promises to protect her. But then he learns who she really is. When the past is unveiled, the shocking disclosures could tear Maggie and Kane apart.
Which character in your novel most interested you while you wrote? Why?
I was most interested in Maggie because she wanted to find out about her birth mother and her family. Her adopted mother had never really wanted her, and Maggie was searching for answers about why her birth mother gave her up for adoption. I've known people who were adopted who searched for their biological parents.
Me too. You would always hope the search would end happily, but sometimes it doesn't. Why will readers enjoy your novel?
This is a story about forgiveness on many levels. Kane must forgive himself, his fiancee and Maggie. She must forgive her birth mother and to a certain extent her birth father. In the middle of all the family drama there is a murder that occurred that threatens Maggie's safety and beliefs.
If you were the casting director for the film version of your novel, who would play your lead roles?
Hugh Jackman for Kane.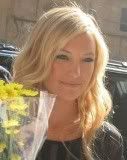 And Kate Hudson for Maggie.
What facet of the writing craft comes easiest to you? Explain.
The plotting because I love to put a puzzle together and that's what plotting is--one great big puzzle.
What do you struggle with in your writing?
Description--every time I go back through my story, I layer it in but I don't particularly like to read much description so it's harder for me to write than other elements of a novel.
I'm with you there. But I think it can be an advantage when you have a feel for what constitutes too much description.

This month we're asking about crafting characters. Say a new writer is struggling to make her main character less "flat." In three sentences or less, give her your advice.
She has to care about her character first. If there isn't enough to the character, she must go back and deepen the back-story and add more to the character's background, especially to support her goals and motivations.
Choose an inanimate object to represent you. Explain what you have in common with that object.
A book because I love to read a good story.
What is the last book you read that impacted you? How did it affect you?
The
Bible
--it always has an impact on me every time I read it. But also
The Purpose Driven Life
. I really got a lot out of that book.
What are you working on now?
A Love Inspired Suspense called
Cowboy Protector
that will be out next March.
Where else can readers find you or your writing online? Please include the link for purchasing your book.
I have a web site:
www.margaretdaley.com
I have a blog:
margaretdaley.blogspot.com
To purchase the book:
Amazon.com
Thanks, Margaret, for telling us about yourself and Poisoned Secrets.
Readers, Margaret has offered to sign a copy of her novel for the winner of our drawing on Monday, March 23.
To enter, leave a comment for Margaret
, below. Leave your email address, in case you win, like so: trish[at]trishperry[dot]com. If you subscribe to my blog, at right (or if you're already subscribed)
you'll be entered an additional time
to this drawing and all future drawings.
And check back on Thursday, when we'll meet novelist Anita Higman, author of
Love Finds You in Humble, Texas
. And we'll draw the winner of S. Dionne Moore's book,
Polly Dent Loses Grip
.
You can still enter for that drawing under S. Dionne Moore's interview, below
.