When tragedy leaves Doug DeVore with five children to raise alone, he welcomes the help of the children's daycare teacher, Mickey; but too late, Doug and Mickey realize they've said "I do" to something neither of them bargained for.
Before we meet today's author, I'd like to announce that the winner of the signed copy of Mary DeMuth's book,
Daisy Chain
, goes to:
b.werts@ . . .
Congratulations! I'll contact you today for your snail mail address, and we'll get your book to you right away. I encourage readers to
keep commenting and/or subscribe at right in order to participate in future book give-aways!
And now let's meet novelist
Deborah Raney
, author of
Yesterday's Embers
(Howard/Simon & Schuster, March 2009).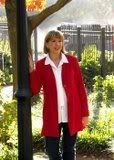 Deborah Raney is at work on her eighteenth novel. Her books have won the RITA Award, the HOLT Medallion, National Readers' Choice Award and Silver Angel from Excellence in Media. Deborah's first novel,
A Vow to Cherish
, inspired the World Wide Pictures film of the same title. Her newest books are the Clayburn Novels from Howard Books/Simon & Schuster, including
Remember to Forget
, a 2008 Christy Award finalist. Deb serves on the advisory board of American Christian Fiction Writers. She and her husband, Ken Raney, have four children and enjoy small-town life in Kansas.
I'm so thrilled to have a chance to feature you, Deb! Please tell us a bit more about Yesterday's Embers.
Tragedy has left Doug DeVore with five children to raise alone. When Mickey Valdez, the children's daycare teacher, lends a helping hand, sparks flicker between them and quickly ignite. But romance and real life are two very different things, and too late, Doug and Mickey realize they've said "I do" to something neither of them bargained for. Now they must find a way to untangle their knot of hasty choices without breaking the hearts of five precious children--or their own--in the process.
Which character in your novel most interested you while you wrote? Why?
I found Mickey Valdez fascinating because she grew up in a typical small Kansas town, but always felt like an outcast, having the Latino coloring and Catholic upbringing of her Cuban-born father. Yet she longed to fit in and belong in her Swedish-descended mother's world, in a close-knit town where everyone seemed very different from her.
Why will readers enjoy your novel?
I think readers will enjoy this book for the same reason I enjoyed writing it: it is a chance to explore what we would do if we were in the characters' shoes. Besides that, I think readers will like the romance that grows between Doug and Mickey--even through the really tough times they face, wondering if their love can survive.
If you were the casting director for the film version of your novel, who would play your lead roles?
What a fun question!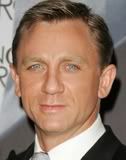 I picture Doug as a younger Daniel Craig (the new James Bond).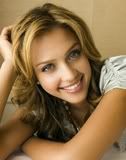 Mickey would be played by Jessica Alba (only with violet blue eyes, because Mickey got her Swedish mother's Liz Taylor eyes!)
Yeah, I'm not adept enough to Photoshop violet blue eyes onto our girl Jessica, so we'll have to use our imaginations. What facet of the writing craft comes easiest to you, Deb? Explain.
Definitely the rewriting/editing is easiest and most fun for me. I really struggle with the blank page, and find the process of refining my story, deepening character, etc. to be much more rewarding.
What do you struggle with in your writing?
See above. The blank page. Terrifying!
A new writer is struggling to make her main character less "flat." In three sentences or less, give her your advice.
Give us some little details--but not just for the sake of adding details. Put some meaning behind that pinky ring she won't take off, or that perfume she wears every day, or the reason she insists on taming her curly hair. You can show us so much about your characters' interior by the little details we see in their physical appearance or mannerisms.
Choose an inanimate object to represent you. Explain what you have in common with that object.
Wow! You really made me think with this one, Trish. I'm going to choose a teacup. A gaily painted, but badly chipped, teacup. Like the teacup, I'm terribly flawed, but hopefully I can still be used to fulfill the purpose for which I was created, whether that's to offer a cup of hot tea to a thirsty friend, hold a fresh-cut rosebud to brighten someone's day, or to be a receptacle for spare change or lost buttons.
And we'll all apply our own symbolism to the spare change/lost button part. What is the last book you read that impacted you? How did it affect you?
Roxanne Henke's
On a Someday
was such a touching story about living life in the here and now, not worrying about tomorrow, but living purposefully each day. As my husband and I approach the empty nest at lightning speed, this book seems profound. It has a lot to say to young adults just starting out, too. But all contained in a page-turning story, mind you. This is not a how-to book, but a novel with characters so real I fell in love with them and thought about them for days after I finished the book.
I love those characters that stay with you! What are you working on now?
I'm closing in on "the end" of
Almost Forever
, the first in a new series for Howard/Simon & Schuster. The
Hanover Falls Novels
will tell the stories of the survivors of a tragic fire that took the lives of five heroic firefighters in a small Missouri town.
Where else can readers find you or your writing online? Please include the link for purchasing your book
.
My website is
www.deborahraney.com
and you'll find links there for purchasing any of my books.
Thanks, Deb, for telling us about yourself and Yesterday's Embers.
Readers, Deborah has offered to sign a copy of her novel for the winner of our drawing on Monday, March 16.
To enter, leave a comment for Deborah
, below. Leave your email address, in case you win, like so: trish[at]trishperry[dot]com. If you subscribe to my blog, at right (or if you're already subscribed)
you'll be entered an additional time
to this drawing and all future drawings.
And check back on Thursday, when we'll meet novelist S. Dionne Moore, author of
Polly Dent Loses Grip
. And we'll draw the winner of A.K. Arenz's book,
The Case of the Bouncing Grandma
.
You can still enter for that drawing under A.K.'s interview, below
.