God still speaks, if you and I will only listen. Through the eyes of a simple animal, through our families, even through the basic chores we do, we can find Him.
Before we meet today's featured author, I want to announce that the winner of Robin Shope's novel,
The Valentine Edition,
is:
bockoverve@ . . .
Congratulations! I'll contact you today for your snail mail address, and we'll get your book to you right away. I encourage readers to
keep commenting and/or subscribe at right in order to participate in future book give-aways!
And now let's meet author
Shirley Connolly
and hear about her new devotional,
I See God in the Simple Things
(Vintage Romance Publishing, January 2009).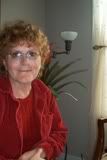 Shirley Kiger Connolly, born and raised in the Pacific Northwest, lives on the Southern Coast of Oregon with her husband. Their three children are now grown. When not writing, Shirley is with her animals, doing stitchery, or reading, or watching classics with her husband. Shirley attended college in Northern California. She later became a graduate of Institute of Children's Literature.
A Christian for over forty years, it was through her relationship with the Lord, she developed a passion for women's ministry and teaching. This blossomed further when her husband went into pastoral ministry. While teaching, Shirley's love for research led to the publishing of two historical fiction novels.
Shirley also wears another hat, penning light-hearted devotional books. The first in a series of three,
I See God in the Simple Things
was released in January. Shirley's goal is to keep her fiction as true to life as possible, and focus her devotionals on simple everyday living to encourage her readers to enjoy life to the fullest, regardless of its difficulties.
Shirley, tell us a little more about the book.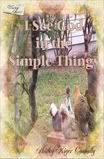 In all we experience through simple daily living, God has a way of faithfully showing us more about ourselves and where we truly are in our spiritual walks. Too often, we allow complicated circumstances to control our thoughts, making it more difficult to cope.
I See God in the Simple Things
provides the reader, through each short devotional, a moment to reflect on the plain things a person goes through on any given day, no matter how mundane or troublesome they might be. God still speaks, if you and I will only listen. Through the eyes of a simple animal, through our families, even through the basic chores we do, we can find Him. How has He encouraged you today?
How are the devotions structured?
Each segment begins with a short reflection about life in general. Since the lessons are written to inspire the reader on how God teaches us through the simplest experiences of life, at the end of each reflection, the reader is given scriptural reference for further study and personal growth.
Since
Simple Things
is also a journal, there is an area for the reader to write down her own thoughts and observations about what she is going through in relation to the lesson itself. Because of the importance of daily prayer, there is also an area set aside to take a few moments quietly with the Lord.
Who would your book best serve?
I prepared
I See God in the Simple Things
for women of all ages--married or single--who are looking for insight or inspiration through what might appear at first to be a difficult or impossible situation. Anyone who enjoys seeing God with a smile, who likes to nod in agreement, or who perhaps can laugh about life now and then will find encouragement and enjoyment in this book.
Where can readers find Simple Things?
It can be found at
Amazon.com
or
www.vrpublishing.com
or
www.bn.com
before it finds its way into bookstores. If a reader is interested in purchasing an author-signed copy, I would be happy to provide one. Just drop me a line at
sh1rlee@verizon.net
.
And this isn't your only book, is it, Shirley? Where can readers learn about your other books?
My urls are
apenforyourthoughts.blogspot.com
and
shirleykoinonia.tripod.com
.
Thanks, Shirley, for telling us about yourself and I See God in the Simple Things.
Readers, Shirley has offered to sign a copy of her devotional for the winner of our drawing on Thursday, February 19.
To enter, leave a comment for Shirley
, below. Leave your email address, in case you win, like so: trish[at]trishperry[dot]com. If you subscribe to my blog, at right (or if you're already subscribed)
you'll be entered an additional time
to this drawing and all future drawings.
And check back on Monday, when we'll meet novelist Lisa Lickel, author of
The Gold Standard
. And we'll draw the winner of Vicki Bylin's book,
The Maverick Preacher
.
You can still enter for that drawing, below
.