Take one man, his memory missing. Add one female with Good Samaritan traits. Mix well, stand back and wait for the explosion.
Before we meet today's featured novelist, I want to announce that the winner of Linore Ruse Burkard's novel,
Before the Season Ends,
is:
jchoppes@. . .
Congratulations! I'll contact you today for your snail mail address, and we'll get your book to you right away. I encourage readers to
keep commenting and/or subscribe at right in order to participate in future book give-aways!
And now let's meet novelist
Kassy Paris
, co-author of
First I'm Nobody
(The Wild Rose Press, 2008).
Welcome, Kassy! Tell us a little about yourself and your co-author.
I am Kasandra "Kassy" Paris. I write with a partner, Elaine Powell. Together we are Kasandra Elaine. Elaine and I met as sophomores in high school. We became best friends our senior year. Both of us were raised in East Texas. Elaine is now living in North Texas. I still live in East Texas. Elaine married and had two daughters. She is now the proud grandmother of three--one granddaughter and two grandsons. Her oldest daughter now resides in Heaven. Her youngest daughter lives about fifteen miles away with her three children and husband. Elaine is a registered nurse. She writes solo as Elaine Bonner and has published three books--
Thanks to a Lonely Heart, The Heart Knows
(both by Heartsong Presents), and
Sonora
by The Wild Rose Press.
I am a retired elementary teacher, the veritable old maid school teacher. I'm the oldest of four sisters. Since retiring, I've become certified as a tax professional and do substitute teaching.
Tell us a bit more about the plot of First I'm Nobody.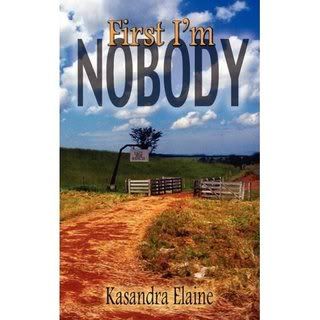 He came into Skylar's life, a stranger with no memory of his past. A troublesome past invades his present. Unfolding evidence indicates Duke Green is a criminal on the run. Does Skylar McCrea trust her instincts or abide by the apparent facts? His past is a mystery, but in the present he is an honorable man. If he were a thief, surely, he would show some characteristics of a man with a criminal mind.
Skylar is a good judge of character and of horseflesh. She knows Skylark's Son will be another champion for the Lazy M Ranch, and she strongly suspects that Duke Green might be a champion himself.
Their search for Duke's past takes them across the country. What will be at the end--a life of freedom with Skylar or separation while Duke pays for his crime? What does God have in mind for the two?
Which character in your novel most interested you while you wrote? Why?
Actually Elaine and I were completely captivated by a secondary character, Redigo. He kept trying to "take over" the novel. We had to work hard to make him stay in the background. We did but just barely. We "promised" him a novel of his own. We kept our word.
Redigo's Choice
will be in print March 6, 2009.
Why will readers enjoy First I'm Nobody?
We combined likeable characters with an intriguing plotline and a developing romance.
If you were the casting director for the film version of your novel, who would play your lead roles?

Tom Selleck would be Duke Green.
And Jacqulyn Smith would be Skylar McCrea (Both in their younger years of course, though they still look good.)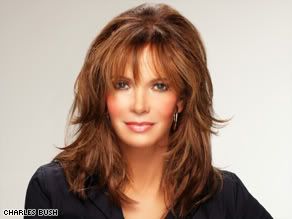 What facet of the writing craft comes easiest to you? Explain.
Once we have the story idea, putting the story down seems to just flow out.
What do you struggle with in your writing?
Keeping the POV count down to three or four is a major problem. We write suspense, so we have to have the villain's POV in addition to the hero and heroine. But we seem to create casts of characters, and they all beg for their own POV to come through.
Choose an inanimate object to represent you. Explain what you have in common with that object.
I think I would be a boulder made of lapis lazuli. The blue color of lapis reminds me of my eye color. My eyes have flecks of other colors spread through them. I'm also solid like a rock and steady as a rock.
Other than your writing, what is something about your life, right now, that thrills you?
The most thrilling thing in my life right now is the presence of my 84-year old mother. I'm so blessed to have her still around. We lost my father twenty-three years ago.
What is the last book you read that impacted you? How did it affect you?
The Negotiator
by Dee Henderson actually impacted me quite a while ago. I bought the book one afternoon in June of 2001 and began reading it around ten that night. At six the next morning, I closed the cover. I kept thinking--I'll just read one more chapter--but that one more turned into the next and the next. I could not put the book down. I lay in bed thinking that I wanted to be like Dee Henderson when I grew up. If I could write captivating stories like her, I would be a success.
What are you working on now?
Elaine and I are involved in revising a third book for
The Lazy M Ranch
series--
Beneath A Texas Sky
. We have also started a series of cozy mysteries. Our protagonists are a pair of widowed sisters-in-law who have created a pastry recipe and call it Keps. They are developing the recipe to try to devise a way of increasing their financial assets.
Personally, I am writing three romantic suspense novels:
Galveston; Wyoming Wind
; and
The Master's Call
.
Where else can readers find you or your writing online? Please include the link for purchasing your book!
To purchase our book go to
www.thewildrosepress.com
then click on Inspirational in the categories column to the left and search for
First I'm Nobody
by Kasandra Elaine.
Our books can be ordered through Amazon, Barnes and Noble, and Books-a-Million. A local, independent bookstore can also order it for you.
Thanks, Kassy, for telling us about Elaine, yourself, and First I'm Nobody.
Readers, Kassy has offered to sign a copy of her book for the winner of our drawing on Monday, January 19.
To enter, leave a comment for Kassy
, below. Leave your email address, in case you win, like so: trish[at]trishperry[dot]com. If you subscribe to my blog, at right (or if you're already subscribed)
you'll be entered an additional time
to this drawing and all future drawings.
Check back on Thursday, when we'll draw the winner of Christy Barritt's novel,
Suspicious Minds
.
You can still enter for that drawing, below
.