A crime scene cleaner/CSI wannabe finds Elvis--dead as a doornail and still wearing his blue suede shoes--and can't resist sticking her nose into police business.
Before we meet today's featured novelist, I want to announce that the winner of Kathleen Fuller's novel,
A Clever Disguise,
is:
scaramouche9999@. . .
Congratulations! I'll contact you today for your snail mail address, and we'll get your book to you right away. I encourage readers to
keep commenting and/or subscribe at right in order to participate in future book give-aways!
And now let's meet novelist
Christy Barritt
, author of
Suspicious Minds,
Book 2 in the
Squeaky Clean Series
(Kregel, 2008)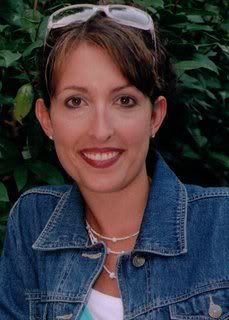 Christy Barritt is the author of several books, including
Hazardous Duty
, the first book in the
Squeaky Clean Mystery Series
. She's also a frequent speaker and freelance writer whose byline has appeared on hundreds of articles. She holds a bachelor's degree in communications and psychology from Cincinnati Christian University. She lives with her husband and son in Virginia.
Christy, tell us a bit more about the plot of Suspicious Minds.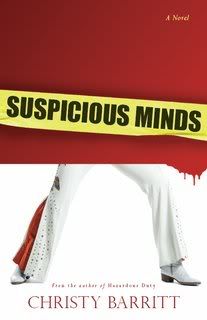 In this smart and suspenseful sequel to
Hazardous Duty
, crime-scene cleaner Gabby St. Claire finds herself stuck doing mold remediation to pay the bills. But her first day on the job, she uncovers a surprise in the crawlspace of a dilapidated home: Elvis, dead as a doornail and still wearing his blue suede shoes. How could she possibly keep her nose out of a case like this?
Elvis turns out to be Darnell Evans, a down-on-his-luck impersonator whose luck just got a lot worse, and there is no shortage of suspects. When his widow begs her to help, Gabby takes on the case of who-killed-the-King. In the meantime her would-be rival, Chad Davis, is turning into one hunka hunka burnin' love and starting to dish out some serious TLC, which is the last thing Gabby needs right now.
Realizing the futility of running from God and from her responsibilities, Gabby decides to reconsider her priorities her life. But when the ersatz Elvis's killer catches on to her investigation, will she survive long enough to be able to?
Sounds like a fun book! Which character in your novel most interested you while you wrote? Why?
My protagonist, Gabby St. Claire, is fascinating to me. She has so much baggage and so many issues. She's also quirky and I
adore
quirky characters. And in case you're wondering, yes, I'm known to be a little quirky myself! Gabby has had a rough life--her brother was kidnapped under her watch and later she had to drop out of college after her mother died. She was studying to be a forensic scientist and now she's doing the next best thing: she's a crime scene cleaner. There are just so many layers to Gabby, from her love of flip-flops and sassy T-shirts, to her fondness of quoting music lyrics all the time, to her deep struggles with God and religion.
Why will readers enjoy Suspicious Minds?
Readers who like mysteries and chick-lit will love the combination of the two styles in my books. Also, fans of the television shows
Monk
and
Psych
will enjoy my novels--they're mysteries but they're also fun and quirky. There's also a forensic element to the book, very CSI but without the gore.
If you were the casting director for the film version of your novel, who would play your lead roles?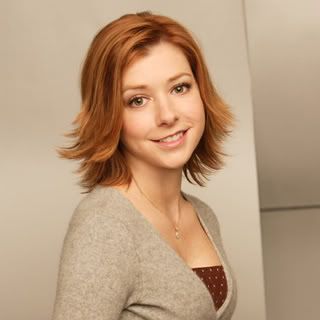 Alyson Hannigan would be cast as my main character, Gabby St. Claire.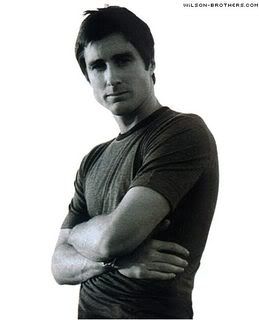 Luke Wilson would be Riley.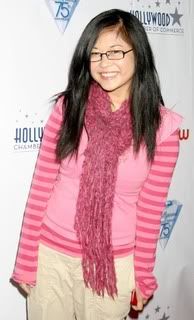 And Keiko Agena would be cast as Sierra.
What facet of the writing craft comes easiest to you? Explain.
Plotting. I love plotting and making life miserable for my characters.
What do you struggle with in your writing?
I'd have to say character development. Once I get into the character's head, I'm there. But it can take me awhile to figure out my character's motivations, backgrounds, goals, what makes them unique and lovable, what they struggle with, etc.
Choose an inanimate object to represent you. Explain what you have in common with that object.
I'm like a guitar. When I know what I'm doing, I can create beautiful music. When I don't, my projects are just random strings that sound like chaos! Okay, that's kind of lame, but I just can't think of anything else!
Not at all. Sometimes the answer to that one fits better than expected, and I remember your playing in the band at American Christian Fiction Writers conferences. So this really fits. Now, other than your writing, what is something about your life, right now, that thrills you?
That's an easy one--my two-year-old son, Eli. He's such a joy. In the
Bible
, it talks about how God delights in us. I don't think I ever truly understood that concept until I became a mom. Everything Eli does just thrills and amazes me. He's learning his alphabet and beginning to string words together in sentences. He loves to sing (just like me!) and is so curious about everything. To say he thrills me would be an understatement.
I know what you mean, Christy. I never felt such appreciation for what God sacrificed for us until I was a mom. Amazing. What is the last book you read that impacted you? How did it affect you?
Katheryn's Secret
by Linda Hall. Linda Hall always amazes me. I'm pretty good at figuring out the ending of a book before it happens. But Linda always floors me. She's so subtle and such a great writer. If I told you how the book affected me, then I'd be giving away the ending. Let's just say she put a hot topic in Christian circles into a new perspective.
What are you working on now?
I have several projects that I'm working on, including the
Suburban Sleuth Mysteries
, which is a series that centers around life in suburbia--complete with bossy homeowners associations, nosy neighbors, crazy cul-de-sac dynamics. The first book is
The Death of the Couch Potato's Wife
.
I love it! Where else can readers find you or your writing online? Please include the link for purchasing your book!
Readers can find me at
www.ChristyBarritt.com
or at
http://myblog4fun.com/cbarritt
. I also blog monthly at
www.Faithchicks.com
and
http://canblog.typepad.com
.
Thanks so much, Christy, for telling us about yourself and Suspicious Minds.
Readers, Christy has offered to sign a copy of her book for the winner of our drawing on Thursday, January 15.
To enter, leave a comment for Christy
, below. Leave your email address, in case you win, like so: trish[at]trishperry[dot]com. If you subscribe to my blog, at right (or if you're already subscribed)
you'll be entered an additional time
to this drawing and all future drawings.
Check back on Monday, when we'll draw the winner of Linore Rose Burkard's,
Before the Season Ends
.
You can still enter for that drawing, below
.