Despite being raised as a proper Southern belle, Crystal Clark is determined to hold her own in wild 1892 Colorado's Yampa Valley--even if a certain handsome foreman doubts her abilities.
Before we meet today's featured novelist, I want to announce that the winner of Amy Deardon's novel,
A Lever Long Enough,
is:
runninmama@. . .
Congratulations! I'll contact you today for your snail mail address, and we'll get your book to you right away. I encourage readers to
keep commenting and/or subscribe at right in order to participate in future book give-aways!
And now let's meet novelist
Brenda Lott
, writing as
Maggie Brendan
, author of
No Place For a Lady
(Revell, January 2009).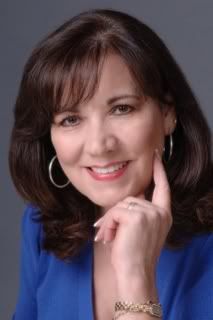 Maggie Brendan is a member of American Christian Writers and the American Christian Writers Association, and is a contributor to www.BustlesAndSpurs.com,, a website for inspirational romance set in the old West.
No Place for a Lady
is her first novel.
Tell us a bit more about the plot of No Place for a Lady, Brenda.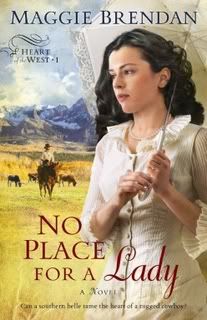 Longing for a new start, Crystal Clark arrives amid the splendor of the high country in June 1892. After the death of her father, Crystal is relieved to be leaving the troubles of her Georgia life behind to visit her aunt's cattle ranch. Despite being raised a proper Southern belle, Crystal is determined to hold her own in this wild land--even if a certain handsome foreman named Luke doubts her abilities.
Just when she thinks she's getting a handle on the constant male attention from the cowhands and the catty barbs from some of the local young women, tragedy strikes. And saving the ranch from a greedy neighboring landowner means Crystal must take charge of a cattle drive, ready or not. Can she rise to the challenge? Or will she head back to Georgia, defeated?
Which character in your novel most interested you while you wrote? Why?
That would definitely be Crystal! She is a strong southern lady with charming manners and a belief in God. Though a Christian, she has her flaws like most of us. She uses her wit to cover for any weakness that she has but must rely on her faith to see her through.
Why will readers enjoy your novel?
I think the readers will relate to Crystal's emotional phases in love, adventure and tragedies and how she handles them, along with a bit of humor to survive.
If you were the casting director for the film version of your novel, who would play your lead roles?
Mmm. I'm not good at remembering actor's names. Crystal, the heroine would be someone with a southern drawl, about 5'2", with dark hair and green eyes. Luke, the hero, would be quite tall, with rugged good looks and a mustache. Dark hair and blue-grey eyes.
Hmm, maybe if we employed some color contacts . . . maybe Evangeline Lilly for Crystal? She looks a bit like your cover girl.
And maybe Gerard Butler for Luke? Granted, he'd have to hide his accent, but I think he's worth the risk, don't you?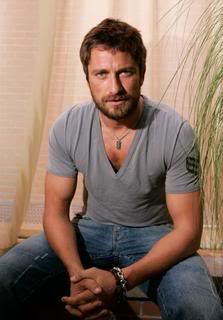 What facet of the writing craft comes easiest to you? Explain.
I love to describe the scenery, from smells to visuals. I love the outdoors and mountains, so it comes easily to me. I can find beauty in just about everything.
What do you struggle with in your writing?
Allowing myself the freedom to write everyday. I almost feel guilty spending so much time with my face in front of the monitor. I have a lot of interest and other things tend to pull me away, so I have to make a committed segment of time to write. I like to have a neat and fairly ordered house, too.
Isn't it funny how that joy you feel when you're writing can actually trigger guilt if you don't pay attention to why you're doing it? I catch myself at that, too. It truly is a blessing when God lets you do something you enjoy so much. Okay, Brenda, now choose an inanimate object to represent you. Explain what you have in common with that object.
I'd have to say an oak tree! Strong and determined.
Other than your writing, what is something about your life, right now, that thrills you?
Seeing God's beautiful magnificent world around me down to the smallest blade of grass inspires and thrills me. I love the sky with its constant, changing clouds and the sun, moon, and stars. I feel like so many people take this incredible world that we have around us for granted. It simply amazes me!
What is the last book you read that impacted you? How did it affect you?
Jim Robinson's
Prodigal Song
, A Memoir. His personal story is heartbreaking of Jim's total surrender to God. It made me have a clearer and sharper understanding of God's mercy and grace. I did a review of the book on my blog about six months ago in case anyone is interested. It was a very well-written memoir, and I highly recommend it.
What are you working on now?
I just recently completed book 2 in Heart of the West,
The Jewel of His Heart
, and I'm working on my 3rd novel for Heart of the West,
Kickin' Up the Dust
! Of course that title could change, but I hope not.
Where else can readers find you or your writing online, Brenda? Please include the link for purchasing your book!
southernbellewriter.blogspot.com
www.bustlesAndspurs.com
My book can be purchased at
Amazon.com
and wherever books are sold.
And here's the link to Jim Robinson's site.
www.jamesrobinson.com
Thank you, Brenda, for telling us about yourself and your books.
Readers, Brenda has offered to sign a copy of her book for the winner of our drawing on Thursday, January 29.
To enter, leave a comment for Brenda
, below. Leave your email address, in case you win, like so: trish[at]trishperry[dot]com. If you subscribe to my blog, at right (or if you're already subscribed)
you'll be entered an additional time
to this drawing and all future drawings.
Check back on Monday, when we'll draw the winner of Cecilia Dowdy's novel,
Milk Money
.
You can still enter for that drawing, below
.