A small military team travels back in time to film the theft of Jesus' body from the tomb.
Before we meet today's featured novelist, I want to announce that the winner of Christy Barritt's novel,
Suspicious Minds,
is:
jssmcg@. . .
Congratulations! I'll contact you today for your snail mail address, and we'll get your book to you right away. I encourage readers to
keep commenting and/or subscribe at right in order to participate in future book give-aways!
And now let's meet novelist
Amy Deardon
, author of
A Lever Long Enough
(Taegais Publishing, LLC--a new independent, January 12, 2009).
Tell us about yourself, Amy!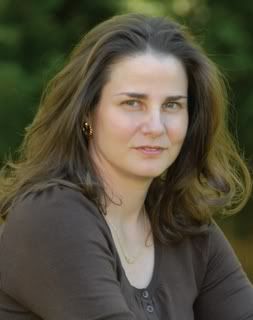 I'm married and fortunate enough to be able to stay at home with our two children, now 15 and 12. In my life B.C. (before children) I did bench science research and taught anatomy and physiology at an undergraduate level.
I undertook a personal quest to investigate the claims of Jesus' resurrection with the goal of destroying them. To do this I studied biblical and extra-biblical accounts of Jesus and numerous commentaries by believers and skeptics alike, listed the facts agreed upon, and began to explore scenarios that could explain what was known. To my surprise and considerable dismay, the evidence kept pointing away from naturalistic explanations and eventually formed a virtually certain case for the resurrection of Jesus. Finally I admitted defeat and became a Christian.
What a great, McDowell-esque experience, Amy! Tell us a bit more about the plot of A Lever Long Enough.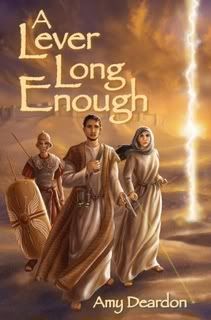 In the near future, the Israeli military has developed a prototypic time machine. When believers in Yeshua (Jesus) create a politically explosive situation that threatens the balance of peace between Israel and nearby countries, the Israelis must send a team of four elite soldiers back to film the theft of Jesus' body from the tomb and thus disprove Christianity.
The team, consisting of a Special Forces soldier as leader (Benjamin), an ex-American astronaut as engineering specialist (Sara), an archaeologist, and a linguist, has exactly seventy-two hours to collect the video evidence. Drawn into a web of first century deception and death, the only way to escape is for the team to change the past.
In the present, a traitor, Gideon, attempts to sabotage the mission and seize control of the military complex. Benjamin is the only one who can reveal him, but he is trapped two thousand years away. Even with a time machine, time is running out . . .
Intriguing premise. Sounds like you have a number of characters who will be surprised by the Truth. Which character in your novel most interested you while you wrote? Why?
I love all of my characters, but if I had to choose a favorite, I'd pick Sara. She is very much like me--focused, quiet, but beneath her calm exterior a seething mass of turmoil. Her faith journey also parallels my own--she didn't want to become a believer, but was pulled in by the strength of the evidence. She was pursued by what C.S. Lewis termed the "Hounds of Heaven." An uncomfortable process, I might add!
Why will readers enjoy your novel?
I
hope
they enjoy it! It's the kind of novel full of action, a love story, and exotic background and ideas that is my favorite thing to read. While the emphasis is on the story,
Lever
fairly presents the arguments for and against the resurrection, and demonstrates (without the use of any fictional miracles) that the case for the resurrection is remarkable. Believers will also enjoy
Lever
, but I actually wrote this book to the skeptic I used to be. I want it to be the kind of book that someone races through to finish, closes it, and then says, "wait a minute . . ."
If you were the casting director for the film version of your novel, who would play your lead roles?
Gee, what an interesting question! I have to confess I don't know as many actors as maybe I should. My kids told me to ask to have the cover image of Benjamin modeled after the character John Sheppard (Joe Flanigan) of Stargate Atlantis. Yeah, I could see him as Benjamin.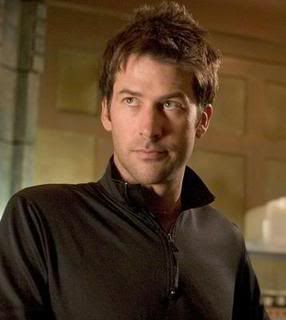 Sara? Not really sure . . .
What facet of the writing craft comes easiest to you? Explain.
I love getting into my characters' heads to understand their secrets and what they desire and fear. I give them hard choices based on these things to see what they'll do, how strong and resourceful they are.
What do you struggle with in your writing?
I don't know which is worse: family distractions, or the intimidation of watching a blinking cursor. I have to wake up before everyone else, and give myself a daily word quota.
Choose an inanimate object to represent you. Explain what you have in common with that object.
Trish, this is a tough question! I was originally going to say I'm a snowglobe that gets shaken but things eventually settle. But maybe I'll say I'm an artist's pencil. I'm not directing the work, but I'm participating and have a front-row seat to the action. God, of course, is the artist.
Other than your writing, what is something about your life, right now, that thrills you?
I greatly enjoy my family. It's so fun to help coach and guide our kids, and watch them becoming such unique and interesting people. They won't be home for
too
much longer, so I'm trying to enjoy every minute.
Boy, do I hear that. I'll have an empty nest when my son goes to college. Not looking forward to that. Amy, what's the last book you read that impacted you? How did it affect you?
For long-term impact, I'd have to say C.S. Lewis, since I reread one or more of his books at least every year. He is such a profound and unusual thinker, his nonfiction is so insightful, and his fictional allegories are stunning. He always stretches my mind.
One of my favorite novels is Orson Scott Card's
Ender's Game
, about Ender's struggle and acceptance of isolation as part of deciding to end conflict, and the bittersweet nature of victory. This book is haunting.
What are you working on now?
This past year has been busy getting
Lever
ready for publication, but in the new year I'm looking forward to returning to writing as my main focus. I have two half-finished projects that I'm eager to complete in 2009--an ambitious yet hopefully do-able goal, if I'm very organized.
The first project is my prequel, entitled
Nest Among the Stars
from Obadiah 1:4, that follows Sara's space station disaster. This one is really shock and awe, with a deep theme of forgiveness.
The second project is nonfiction, entitled
The Story Template
, that is a practical guide for a writer to develop a resonant, complete, compelling story from vague ideas. It's based on an algorithm I've developed during my story studies, and it really works with students I've coached. It's not a formula, more like a description of proportions and guidelines that work with any genre, since I'm a great believer in the uniqueness of each artist's vision. You can see a sample tutorial I've put on my website under "resources."
Where else can readers find you or your writing online? Please include the link for purchasing your book!
Readers can contact me through my website at
www.amydeardon.com
. I also have a blog at
http://amydeardon.blogspot.com
.
A Lever Long Enough
is available at
Amazon.com
. Personally autographed copies of my book are available from the publisher's website at
www.taegais.com
Trish, thank you so much for the opportunity to share a little on your blog.
And thank you, Amy, for telling us about yourself and your books.
Readers, Amy has offered to sign a copy of her book for the winner of our drawing on Thursday, January 22.
To enter, leave a comment for Amy
, below. Leave your email address, in case you win, like so: trish[at]trishperry[dot]com. If you subscribe to my blog, at right (or if you're already subscribed)
you'll be entered an additional time
to this drawing and all future drawings.
Check back on Monday, when we'll draw the winner of Kassy Paris and Elaine Bonner's
First I'm Nobody
.
You can still enter for that drawing, below
.