It's Robinson Crusoe meets Pirates of the Caribbean in this tale of sun-drenched beaches and sailing ships, of smugglers and safe harbors, of life at sea and love on the island of Fairweather key.
Happy Thanksgiving, all! Before we meet today's featured novelist, I want to announce that the winner of all three of my published books is:
azv444@ . . .
Congratulations! I'll contact you today for your snail mail address, and I'll get
The Guy I'm Not Dating, Too Good to Be True
, and
Beach Dreams
to you right away. I encourage readers to
keep commenting and/or subscribe at right in order to participate in future book give-aways!And now let's meet novelist Kathleen Y'Barbo, author of Beloved Captive (Barbour Publishing, 2008).
Kathleen Y'Barbo first discovered her love of books when, at the age of four, she stumbled on her grandmother's encyclopedias. Letters became words, and words became stories of far-away places and interesting people. Eventually Kathleen learned that her love of story could carry her off to places far beyond her small East Texas town. Then she hit the road for real, earning a degree in Marketing from Texas A&M before setting off to such locales as Jakarta, Tokyo, Bali, Sydney, Hong Kong and Singapore. Finally, though, the road led back to Texas.
Now the girl who only dreamed of books is a best-selling author of more than thirty novels, novellas, and young adult books. In all, more than 750,000 copies of her books are currently in print in the US and abroad. In addition, she is thrilled to not only write books but also to tell the world about them in her other job as exclusive publicist for Books & Such Literary Agency.
Wow! Your own story sounds like the dream-come-true stuff of novels, Kathleen! Now tell us a bit more about Beloved Captive's plot.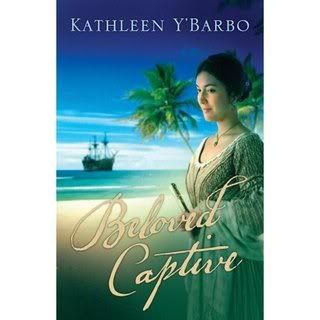 In this sequel to
Beloved Castaway
, Emilie Gayarre is learning to accept her mixed race heritage while finding fulfillment in teaching children of the key. There is no denying the attraction between Emilie and the handsome young naval commander, Caleb Spencer, who is shadowed by his own flock of secrets. But if her heritage is found out, even greater things than his career are at risk. Enjoy this historical romance full of risk and redemption.
Which character in your novel most interested you while you wrote? Why?
I loved writing about Navy Lt. Caleb Spencer, son of the law and the lawless and a man conflicted by duty not only to his family but to the country he loves. His was a story of a man trying to please everyone but God. Eventually he realizes it is impossible to please
anyone
but God. I found his a fascinating journey that held many parallels not only for my life but as a sort of modern day parable for anyone who might be held in bondage to the expectations family places on your life, whether knowingly or unknowingly.
Why will readers enjoy your novel?
One reviewer called
Beloved Castaway
, book 1 of the
Fairweather Key
series an "adventure romance." I love that! In writing this book, which is the second in the series, I really upped the adventure and the romance. I think readers love to be transported to places that are beyond the everyday. In
Beloved Captive
, readers will find themselves swept away.
If you were the casting director for the film version of your novel, who would play your lead roles?
I love this question, because this is exactly how I approach the characters in my books. I'm going to go a little off reality here because I actually chose two people whose time lines don't exactly add up. For Emilie, I would love to have a young Elizabeth Taylor in the role.
Caleb was written to look like Keith Urban, not an actor but definitely a recognizable face.
Ironically, Ruby O'Shea, a secondary character here and heroine of book 3, takes her characterization from Keith Urban's real-life wife, Nicole Kidman.
Oh, and Caleb's pipe-smoking companion? Definitely Sean Connery.
What facet of the writing craft comes easiest to you? Explain.
Research. I love it. I could happily research and never lift my nose from the book (or computer screen) to write a word!
What do you struggle with in your writing?
Time. Like most of you, I have a life outside of books that involves real flesh and blood people. I also have a job that places certain demands on my time. Between the two, I often give up the best-laid plans and put my writing aside when I should be typing twice as fast.
Other than your writing, what is something about your life, right now, that thrills you?
The people I meet, whether writers or readers, constantly thrill me. What other job gives you access not only to the names on the covers of books on my keeper shelf but also to people who tell you how much your words touched them. It's priceless, this reward for writing.
What is the last book you read that impacted you? How did it affect you?
I'm still reading it, actually. My pastor highly recommended
Fresh Wind, Fresh Fire
by Jim Cymbala. When I purchased it, a second book,
Fresh Faith
, came as part of the set. Wow! A few days ago I read this: "Unbelief talks to itself, faith talks to God." That's from
Fresh Faith
. I cannot recommend these books enough.
What are you working on now?
Line edits for my Waterbrook release,
The Confidential Life of Eugenia Cooper
. It's a fun Western set in 1880 Leadville and Denver and will be released in June 2009. After that, I'll start on my
Texas Hill Country Christmas
historical novella that will release in the fall of 2009.
Where else can readers find you or your writing online? Please include the link for purchasing your book!
Both
Beloved Captive
and its predecessor
Beloved Castaway
are available at
www.christianbook.com
and
www.amazon.com
.
Also, my amazing web designer Kelli Standish of PulsePoint Designs is working her magic on my website, so be looking for a whole new
www.kathleenybarbo.com
coming soon. A hint: the site will definitely reflect my Texas roots!
Thanks, Kathleen, for chatting with us today!
Readers, Kathleen has offered to sign a copy of
Beloved Captive
for the winner of our drawing on Monday, December 8.
To enter, leave a comment for Kathleen
, below. Leave your email address, in case you win, like so: trish[at]trishperry[dot]com. If you subscribe to my blog, at right (or if you're already subscribed)
you'll be entered an additional time
to this drawing and all future drawings.
Check back on Monday, when we'll draw the winner of Leah Starr Baker's novel,
The Bunko Babes
.
You can still enter for that drawing, below
.