July 31 already?! The toasty, lazy days of summer are slipping away too swiftly, and I'm not a big fan of wind chill, freezing rain, or packing lunches in the morning. Life is tough, isn't it?
To chase away the dreads, I'm doing a bonus author interview today, and that means
an opportunity to win yet another book! Here's our teaser:
As Aimee saw herself living in a swirling fire of torment and bitterness, she had to wonder--how in the world could anyone possibly help her now?
Today we meet
Shirley Connolly
, author of
Flame from Within,
Vintage Romance Publishing, April 30, 2008.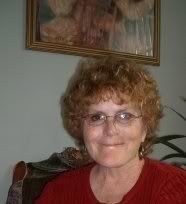 Shirley Kiger Connolly has always loved historical fiction and enjoys writing anything that includes the life of a soldier and how he might connect with her heroine. As a wife, mom, and grandmother of three, Shirley's historical-fiction romances are laced with nuggets of inspiration for the believer and the nonbeliever. When she is wearing her other writing hat, she stays busy penning her light-hearted devotionals meant to help believers keep looking up and introduce the nonbeliever into a simple relationship with God. Shirley's motto: "I am a Christian who loves to write books, not simply a writer who only loves to write for Christians." Shirley and her husband live on the Southern Coast of Oregon with their dogs, cats, and seven personally named chickens who she talks to daily. (And they talk back!)
Tell us a bit more about Flame from Within, Shirley.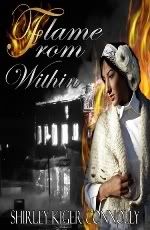 Young, plantation-bred, Amethyst Rose, raised with everything and spoiled early by her papa, prepares for her arranged marriage with Jonathan, the son of a Baron. As the war breaks out, however, everything changes. Aimee loses her betrothed on her wedding day, and not long after, a war-torn fire destroys her home and family. In order to save herself and her last two servants she must hide in an underground cave. Angry and bitter toward the Yankees and a God she's never known her only choice left is to leave her beloved Vicksburg to live down in a bordello run by her sister in the Louisiana The French Quarter. For Aimee, it's a decision guaranteed to destroy her respect, her innocence, and the family name. On the boat traveling South, Aimee becomes no longer concerned whether she lives or dies and gets entangled with a couple of hated Union officers, immediately drawn to her, who make plans to save her from her sister. Each in his own way, find ways to tug, not only at Aimee's heart but to reach her soul--before it is too late.
Which character in your novel most interested you while you wrote? Why?
Wow! Great question! There were several actually, but I think I had a lot of fun with Aimee's loyal servant, Lulu. I had great fun working her dialogue and character throughout the story. (I love to do dialogue with my characters, anyway.) Lulu was very outspoken and if anyone could work on Aimee by calming her down or getting her excited about something it was Lulu. She was also a very strong believer and her relationship with God shown throughout the story.
Why will readers enjoy your novel?
I tried hard to make my scenes the kind, which would make the readers, feel they simply had to move along to the next one rather than set the book down to pick up later. I also enjoy being descriptive as I tell my stories and there is usually a twist. I made sure to include one in
Flame from Within
too. People will enjoy being, caught by surprise by the one twist that is in there. I hope that becomes my trademark in all my stories.
Flame from Within
really is an affair of the heart, too, and about the torn feelings certain people have because of past experiences. What does it take in order to bring them back to forgiveness and compassion? As it takes place during the time of the War between the States, there is much bitterness going on. The goal is to reach that place of God's forgiveness we all need for our own lives and to have toward one another. I think readers will appreciate seeing how it all comes about in various peoples' lives throughout the book.
If you were the casting director for the film version of your novel, who would play your lead roles?
How fun! My hero would naturally be Mel Gibson, without a doubt since Clark Gable is unavailable.
Cary Elwes would play the hero's cousin and if he's not available, Matt Damon.

My antagonist would definitely be Johnny Depp.
My heroine would be Robin Wright but they would have to dye her hair coppery red and Nicole Kidman could be there if Robin turned down the role.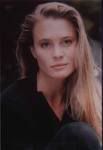 My heroine's controlling sister would need to be Margaret Kidder.
Lulu would be played by Halle Berry.

Nina Burdett...well, I need a contest for her.
I need people to send in suggestions for which actor should play her (at shirleylovestowrite@gmail.com).
She's a real slime who lives with Aimee's controlling sister. She has dark eyes with black slick hair and is petite and bossy and mean as all get out. The winning name I would choose would be by submissions.
I would have a great prize for the winner.
An all star cast for sure. Wanta' come to see my film?
I'd say your producers will be freaking out over your casting budget. But only the best for the film versions of our books, eh? I'll try to forgive you for casting Johnny as a bad guy. So, what facet of the writing craft comes easiest to you Shirley? Explain.
I'll wager it is working with my characters' dialogues and making them come out the way they truly talked regardless of their ages or where they came from. I used to write and direct plays for the children at my church and in our community when my kids were growing up. (Maybe I should be doing screenplays!) Dialogue just comes naturally for me. I also think plotting comes together quickly for me...once I get started. (That's the trick...getting started.) I have always got a story in my head and I love getting it down on paper. My crit partner appeared to agree with me on the dialogue and plotting as she went through my most recent mss.
What do you struggle with in your writing?
Writing mechanics--I have no excuse, either, with the writing courses I have taken and the fact that English was my favorite subject growing up. I also have a hardhead when it comes to getting what my editor calls vanity POVs correct. Where the person who is in POV describes something on his or her person, but there is no mirror. It's a woops I am still trying to catch when I go back over my manuscripts many times.
Choose an inanimate object to represent you. Explain what you have in common with that object.
Maybe a clock. It takes a lot to get me wound up. People have to get to know me a while before they know what makes me tick. I can seem very docile, but there is a lot about me when you see what's really there. You have to know just what to do to get my alarm to go off, and I can sit there and do nothing or keep my hands moving. It all depends on the condition I'm in. LOL
Hmm. And I suppose you become still for about ten minutes if someone gives you a quick whack on the top of your head, huh? Okay, time to move on. What is something about your life, right now, that thrills you?
Jesus loves me whether I deserve it or not. I'm so blessed because of it and thrilled that He even takes the time for me.
Amen to that. What are you working on now?
I just finished the sequel to
Flame from Within
, my working title is
Forever Thing
. As a newer author, I know each book I write will be and should be better than the one before, because we can only improve if we put our mind and heart to it. I am very excited about this mss. I have worked incredibly hard to hone my skills and take those things I've learned from editors and other writers and show the results in my finished product. It is a great story. I look forward to it being picked up by a publisher. I also have a three-book light-hearted devotional series coming out in 2009-10 all of which I am excited about.
What's the last book you read that impacted you? How did it affect you?
That impacted me...hmm--probably Michele Ann Young's Regency book,
No Regrets
. I love Regency stories and hope to write one. I read a lot of fiction (mostly historical, but not always) books for research purposes more than anything, especially since I write historical-inspirational. Young's style impressed me, and I can see why she won Book of the Year. On the inspirational side, I really enjoyed Irene Hannon's
Rainbow's End
just last week. She handled her scenes so well! Authors, who can leave me with something to remember, after I am finished reading their books, always impress me...so many do. It is difficult to name them all, Trish. I read about three books at the same time, I'm writing. I guess it goes along with the way my splattering brain works. Who knows?
Where else can readers find you or your writing online? Please include the link for purchasing your book!
Thanks for asking. My website and my blog is
A Pen For Your Thoughts
(I usually have a contest going at my blog for a nice gift or a signed book.)People can purchase my book at bookstores or online at Amazon or Barnes & Noble. They will get their best deal right now at Amazon where the book is on sale.
Thank you so much for having me, Trish! These were great questions!
Thanks, Shirley, and thanks for sharing a bit about yourself and your writing.
Shirley has agreed to give away a
free copy of Fire from Within
to the person whose name is drawn and announced on next Thursday's blogpost. If you subscribe at right (or are already subscribed), you will be automatically entered into the drawing.
You'll be entered an additional time
if you leave a comment below about Shirley's interview.