Trish Cunningham is pussyfooting around with a murderer to clear her best friend's name.
Before we meet novelist
Candice Speare
, let's see who won the drawing for Donn Taylor's books
Rhapsody in Red
and
Dust and Diamond
. The winner is:
vie@ . . .
Congratulations! I'll contact you today for your snail mail address, and we'll get your books to you right away. I encourage readers to
keep commenting and/or subscribe at right in order to participate in future book give-aways!And now let's meet novelist Candice Speare, author of Kitty Litter Killer (Barbour Heartsong Presents--Mysteries! Mid-December 2008).
Candice Speare lives with Mr. Winston Churchill the African Gray Parrot and Jack Pup in countryside of Maryland. She writes for Heartsong Presents--Mysteries! Her first two books,
Murder in the Milk Case
and
Band Room Bash
, were released earlier this year. Her third,
Kitty Litter Killer
, will be released in the late fall. Candice is a freelance content reviewer for Heartsong's cozy mystery line, working closely with associate editor Susan Downs.
Candice, tell us a bit more about Kitty Litter Killer's plot.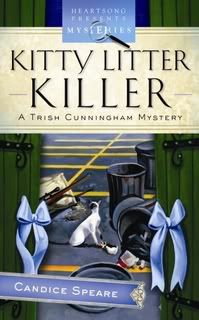 Amateur sleuth Trish Cunningham has retired from her short-lived foray into crime solving. No more walking deliberately into danger. Her short-term goal is to see her best friend Abbie marry fiance' Eric Scott in three weeks. But the brutal murder of Abbie's ex-husband could ruin the nuptials, especially since Abbie was the last one seen with him--when they had a hostile argument at a local convenience store. With evidence pointing at Abbie and the possibility of jail instead of a walk down the aisle, Trish comes out of self-imposed sleuth retirement. And as the clock ticks down to the wedding date, Trish once again puts herself in reach of the claws of a murderer--this time to protect her best friend.
Which character in your novel most interested you while you wrote? Why?
In this book, probably the character named Abbie because she had to work through some serious forgiveness issues.
Why will readers enjoy Kitty Litter Killer?
If the reader is a mystery lover, they'll like my books. Solid cozy mysteries with good spiritual themes.
What facet of the writing craft comes easiest to you? Explain.
Editing. Once the final rough draft is done, I love to go back and polish.
What do you struggle with in your writing?
Depends upon the day. I think my worst problem is hitting a wall and wondering if my first three books were a fluke, and I'll never be able to write again. (Of course, when I was writing my second book, I was afraid my first was a fluke. Then when I was writing my third book, I was afraid the first two were flukes. So that's obviously an ongoing issue for me.)
And the pile of flukes is going to get pretty daunting at this rate, eh? All right, Candice, choose an inanimate object to represent you. Explain what you have in common with that object.
Okay, this question totally flummoxed me. Finally I called my sister and asked her what she thought. She said I'm like a blender. When I'm on, I'm really moving. When I'm off, I'm quiet, mellow, and still. That works.
Other than your writing, what is something about your life, right now, that thrills you?
I'm training my dog to earn his CGC (canine good citizen certificate), and then hope to earn his therapy certificate so we can visit nursing homes together.
What a cool idea! During the last weeks of life for a late friend of mine, a lady used to bring her dog in to visit him, probably under the same program you're doing. He absolutely loved the visits. Very kind ministry, Candice. Now tell us: what is the last book you read that impacted you? How did it affect you?
I'm still reading the book that's really impacted me.
John Adams
by David McCullough, who is a fabulous nonfiction writer. The story of John Adams is fascinating. He and his wife Abigail had an amazing relationship. He traveled quite a lot. They constantly wrote letters to each other that began with salutations like, My Dearest Friend. That is so romantic to me. He treated her like she was his equal in all ways--interesting for that period of time. They inspire the romantic in me.
My Dearest Friend. How lovely. And what are you working on now?
A second cozy series and a thriller.
Where else can readers find you or your writing online? Please include the link for purchasing your book!
Contact me on my blog and Website:
www.candicemillerspeare.com
.
Murder in the Milk Case
and
Band Room Bash
are my first two books.
Thanks, Candice, for chatting with us today.
Readers, Candice has offered to sign a copy of
Kitty Litter Killer
for the winner of our drawing next Monday.
To enter, leave a comment for Candice
, below. Leave your email address, in case you win, like so: trish[at]trishperry[dot]com. If you subscribe to my blog, at right (or if you're already subscribed)
you'll be entered an additional time
to this drawing and all future drawings.
Check back Thursday, when we're meeting Golden Keyes Parsons, author of In the Shadow of the Sun King.