Venus Chau is working for the man she's always hated . . . but what if he's no longer the man she thought she knew?
Before we meet today's author,
Camy Tang,
and hear about her novel,
Single Sashimi
, let's congratulate the winner of our drawing for Debbie Thomas' newest novel,
Tuesday Night at the Blue Moon
. That book goes to:
lindaparkin@ . . .
Congratulations! I'll contact you today for your snail mail address, and we'll get your book to you right away. I encourage readers to
keep commenting and/or subscribe at right in order to participate in future book give-aways!And now let's touch base with novelist Camy Tang, author of Single Sashimi (Zondervan, October 2008)
Camy Tang writes romance with a kick of wasabi. She used to be a biologist, but now she is a staff worker for her church youth group and leads a worship team for Sunday service. She also runs the Story Sensei fiction critique service. On her blog, she gives away Christian novels every Monday and Thursday, and she ponders frivolous things like dumb dogs (namely, hers), coffee-geek husbands (no resemblance to her own . . .), the writing journey, Asiana, and anything else that comes to mind.
Welcome, Camy! What can you tell us about Single Sashimi?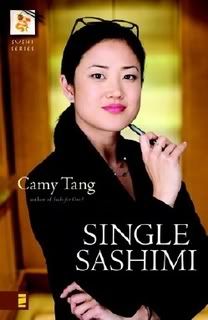 Video game developer Venus Chau would rather throw away her PS3 than work for Drake Yu again . . . except Grandma bribes Venus to do this favor for Drake's wealthy family with an opportunity for Venus to eventually launch her own video game company. She becomes Chief Operator Officer for his startup, but one wild youth group, a two-faced assistant, and her grandma's matchmaking might drive her insane! With the encouragement of her three cousins, Lex, Trish, and Jennifer, Venus discovers that even a wounded heart can undergo a beautiful transformation . . .
I can't wait to read this one, Camy! Which character in your novel most interested you while you wrote? Why?
Venus, of course! She's the kind of person I wish I was--successful, gorgeous, intelligent, aggressive. And at the same time, she's a little too much like me (can you say control freak?)
I can do more than say it, girlfriend. Why will readers enjoy your novel?
Single Sashimi
is a light, fun read that I hope readers will simply enjoy and be entertained by. I love "beach reads" and write them. This book is for readers like me!
If you were the casting director for the film version of your novel, who would play your lead roles?
I've always pictured Venus as Michelle Yeoh, but younger. She's got that ruthless glint in her eye that says she's going to skewer you, whether with her sword (Michelle) or in a boardroom (Venus).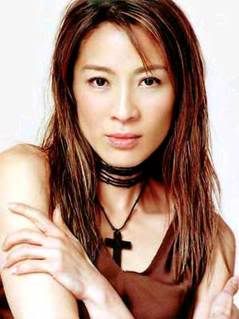 For Drake, I'd pick Will Yun Lee. I first saw him in the movie
Elektra
, and he was strong and intimidating. Drake has had a life-changing heart-attack that's made him rethink his purpose, so his ruthlessness is broken when the story opens.

What facet of the writing craft comes easiest to you? Explain.
Nothing is easy, are you kidding? The brainstorming can be like pulling teeth. The writing itself can be even worse. The revisions are like a kick in the teeth.
Wow, Camy, it's like you're my twin or something. Sigh. What do you struggle with in your writing?
When I get frustrated, I tend to want to give up and go do something else. I constantly have to force myself to keep going, to try to get over whatever wall I'm stuck at.
Choose an inanimate object to represent you. Explain what you have in common with that object.
I am a pink crayon. I have infinite possibilities, I'm not very elegant, but I'm a lot of fun. And I'm PINK!
Other than your writing, what is something about your life, right now, that thrills you?
Knitting! Okay, that sounds weird to say knitting thrills me, but it does. I love finishing projects and being able to wear them or give them away. It's a peak moment for me.
Readers, she isn't kidding. We sat together at a booksigning in Minneapolis, and she was knitting the cutest pair of socks ever. If the signing had lastest longer, I might have made off with them. So, Camy, what's the last book you read that impacted you? How did it affect you?
Demon
by Tosca Lee. GREAT novel. It's not very scary, but it gives such an incredible picture of God's sovereignty, God's grace and mercy, God's power. It reminds me of how small and how loved I am.
I think someone else mentioned Tosca's book on my blog lately. It really is a fantastic book. I'm giving it to my son to read--I think teens will enjoy its approach. What are you working on now, Camy?
I just turned in the manuscript for a novel coming out next year, a romantic suspense titled
Deadly Intent
that'll be released August 2009 from Steeple Hill's
Love Inspired Suspense
line. Here's a blurb I submitted with my Art Fact Sheet, although it might not be what's on the actual back cover:
THERE WAS A DEAD BODY IN HER MASSAGE ROOM
And massage therapist Naomi Grant is suspected of murder. She's frustrated and helpless as a web of lies closes in around her, framing her. She doesn't have time to worry about her shaky faith or think about her growing attraction to the victim's ex-husband, Dr. Devon Knightley.
Orthopedic surgeon Devon had only needed to claim his mother's necklace back from his ex-wife, but suddenly he's embroiled in a murder investigation and someone is trying to kill him. He wants to somehow protect Naomi from the trap being set around her, but can he keep them both safe against a villain with deadly intent?
What a departure! Sounds exciting, Camy! Where else can readers find you or your writing online? Please include the link for purchasing your book!
My website is:
www.camytang.com
. And I'm blogging five days a week AND giving away Christian novels at my blog:
http://camys-loft.blogspot.com
If people go to my blog, they can click on the pictures of my book covers on the right sidebar to take them to Amazon to buy the book!
Visit my website for a huge contest going on right now, giving away ten boxes of books and 30 copies of
Single Sashimi
.
Thanks for having me here, Trish!
Thanks for talking with us, Camy!
Readers, Camy has agreed to sign a copy of
Single Sashimi
for the winner of our drawing next week.
To enter, leave a comment for Camy
, below. If you subscribe to my blog, at right (or if you're already subscribed)
you'll be entered an additional time
to this drawing and all future drawings.
Check back on Saturday, when we'll give away a copy of Somaly Mam's
The Road of Lost Innocence
.
And on Monday, we'll give away a copy of Susan Page Davis and Megan Davis'
Treasure at Blue Heron Lake.
Plus, we'll meet Vicki McDonough, author of
Oklahoma Brides
.
Just leave comments at the pertinent posts, below, to be entered in each drawing.