As a change of pace, today, we're going to take a look at an important nonfiction book that either you or a woman you know
needs
.
But first, let's give away a wonderful novel! Today's drawing reveals the winner of the signed copy of
Megan DeMaria's Out of Her Hands
as:
jchoppes@ . . .
Congratulations! I'll contact you for your snail mail address today, and we'll get your book to you right away. I encourage readers to
keep commenting and/or subscribe at right in order to participate in future book give-aways!
Now let's take a look at today's authors.
Sharon M. Knudson
and
Mary Fran Heitzman
know how utterly lost and alone a woman can feel after experiencing the devastation of death or divorce. They know because they've been there themselves.
Today we feature Sharon and Mary Fran's uplifting, encouraging book,
Starting from Scratch When You're Single Again
.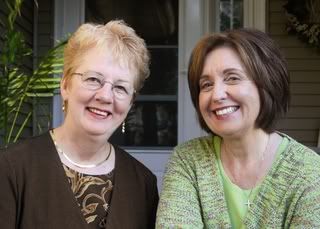 Sharon M. Knudson
is a full-time freelance writer with five book collaborations and hundreds of published articles. She speaks at Christian events and retreats, and also teaches writing courses on the craft of writing and getting published. Sharon served for four years as president of the Minnesota Christian Writers Guild and holds BME and MM degrees from Michigan State University. She lives with her husband in St. Paul, Minnesota.
Mary Fran Heitzman
writes essays, poetry, and magazine articles and is current president of the 130-member Minnesota Christian Writers Guild. She is a certified member of Toastmasters International and co-facilitates a Faith Interaction group in her church. When she isn't writing, she works with her husband at Heitzman Financial Group in Bloomington, Minnesota.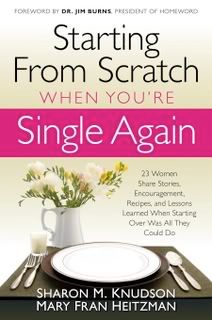 In
Starting From Scratch When You're Single Again
, the authors serve up true, poignant stories from widowed and divorced women in their early twenties to late seventies who survived a horrific death-blow to their dreams for a happy, secure future. With white-knuckle faith, each one found enough strength to not only survive -- but thrive.
Each woman's story and the lessons learned provide encouragement and spiritual refreshment. And as a bonus, her favorite recipe is included.
Mary, why did you write this book?
I'm neither divorced nor widowed, but I, too, have a heart for those who are starting from scratch. My father died when I was 16, and although she was never aware of the impression she made, my mother was an inspiration to me. While my faith in God faltered, hers remained intact. I watched how she made decisions--how she continued to put one foot in front of the other--how she guided my younger brother and me.
Today I work with my husband in the financial services business. We meet many women who, because of the loss or absence of their spouse, are faced with decisions that were once shared.
I wanted to offer all of these women hope and encouragement so they wouldn't feel alone or overwhelmed. I want them to know that others have survived and that they will, too. I also want them to know--if they are young mothers--that their children are learning how to cope through the example they set. Children are not harsh judges, but will admire them for their willingness to learn new skills, and for listening to, talking with, and leading them even when the road is strewn with uncertainty.
Sharon, from first-hand experience, I think widows and divorced women are treated differently by some members of the church. Do you agree?
When my marriage failed after thirty years, I was filled with tremendous guilt and shame. I had been a devout believer in Christ, an active leader in my church, the parent of two beautiful daughters, and the kind of person who loved both my own and my husband's extended family. It was as if I had received a ten-foot tall letter "F" on my imaginary "Report Card of Life."
Widows don't carry that kind of shame around, although they are consumed with grief, as was I. Friends and relatives know what to say to a widow--they offer counsel and comfort.
Mary, as you talked with women, what did you find helped them cope with their situation?
Many of the women we visited with often spoke of turning to Scripture. While some had a strong faith that allowed them to draw comfort from great passages in the Bible, others questioned God at first, or had feisty conversations with Him.
All were needy of, and appreciated, kind words and gestures from friends and family. But I was struck at how they all found comfort when their supporters were not available. Many of the women we visited with mentioned a devotional, a workbook, or some special story that encouraged them. Some started blogs or began a ministry. Many swallowed their pride and accepted help from others, including the government, recognizing that this was just for a season.
For most of these women, dependency on God Himself seemed to be the key ingredient when tragedy first struck. After that they allowed others to minister to them. And then eventually they took that one small step necessary to move forward and accept change.
Sharon, the first story in the book is from your personal experience and is titled, "Telling." Although I have been amazed at the support provided through my friends at church, I completely identify with the hesitation you describe when a church friend wants to "catch up" and you know you're going to have to drop that bomb. Why is talking to others--even friends--about your situation so hard?
When I suddenly got divorced, no one knew what to think or say. It was a complete shock to everyone (including me), and it felt like a bomb had gone off in the night. People want an explanation, and if one is not readily apparent, they make their own guesses as to what probably happened. Some gossip and take sides. Some get very angry and feel betrayed: in a way, their own security is threatened and they wonder, "If that could happen to her, could it happen to me?"
"Telling" came right out of my journal. It was written as I grappled with how to tell people what had happened just a few months after the divorce. We have included this as a book excerpt on our blog.
Mary, what is your best advice to a woman who finds herself single again?
As tempting as it might be, do not stay in bed with the covers pulled over your head. Accept invitations from friends and learn something new, no matter how small. If God seems far away, ask Him for just a little bit of faith. Eventually, it will grow.
Sharon, do you have a quote from the book to close with?
Mary and I designed beautiful bookmarks to give away, and they express what the stories in this book convey. The bookmark says, "Be thankful for whatever God is doing in and through your suffering. TRUST that eventually He will make everything right." (from page 212) God is in the business of redeeming and restoring lives, and this holds true for those who believe in Him no matter what.
Readers, I encourage you to visit Sharon and Mary's web site and blog at
www.StartingFromScratchBooks.com
And
Sharon and Mary have agreed to give a copy of their book
to the winner of our drawing next Monday. I encourage you to
leave a comment below
to be entered. Leave your email address, in case you win, like so: trish[at]trishperry[dot]com.
If you subscribe to my blog, at lower right, your name will be entered an additional time
, as well as being entered in all future book give-aways.
I thank Sharon and Mary for writing this book. I have been floored by how many women in the church are single again, either through the death of their husbands or the failure of their marriages. This is a timely book.
Be sure to check back here on Thursday, when we'll give away a signed copy of Becky Melby's novel,
Walk with Me.